Teen Faceplants into Wet Cement While Fleeing Police
A teenage boy fell-face first into wet concrete while attempting to escape from police in New Orleans, according to local media.
City police received a call on Tuesday, April 27, that a young male suspect had pointed a gun at someone while burglarizing a car, reported the news website NOLA.
Officers then spotted a boy on a bike on North Galvez Street who matched the description of the suspect.
They gave chase as the teenager headed down the 2000 block of Dumaine Street before riding through the concrete and landing in it, according to the New Orleans Police Department.
The aftermath of the incident was uploaded to Instagram by an account that shares images of potholes and streets in need of repair across New Orleans.
The video, which has been watched more than 26,000 times, shows workers smoothing over what appears to be a bike trail and several footprints in the cement.
A caption on the video reads: "Police chase on a bike leads suspect through wet cement, where he flips. An onlooker can be heard saying, 'Man that motherf***** went face first...' Workers repairing now."
An Instagram story on the same account shows a woman explaining that the road had been in need of repair for a long time and work had only just begun when the suspect arrived on the scene.
"In his defense, no one expected the street to actually be getting fixed," one social media user wrote in the comments.
Police later located the 13-year-old, who was allegedly found carrying marijuana and items taken from the car.
He was booked into the city's juvenile justice center on charges of aggravated assault with a firearm, possession of stolen items and possession of marijuana.
Police are also looking for another man in connection with the vehicle burglary.
Anyone with additional information on the incident is asked to call detectives from the New Orleans Police Department's First District on (504) 658-6010. To leave an anonymous tip, call Crimestoppers of Greater New Orleans on (504) 822-1111.
The New Orleans Police Department has been contacted for further comment.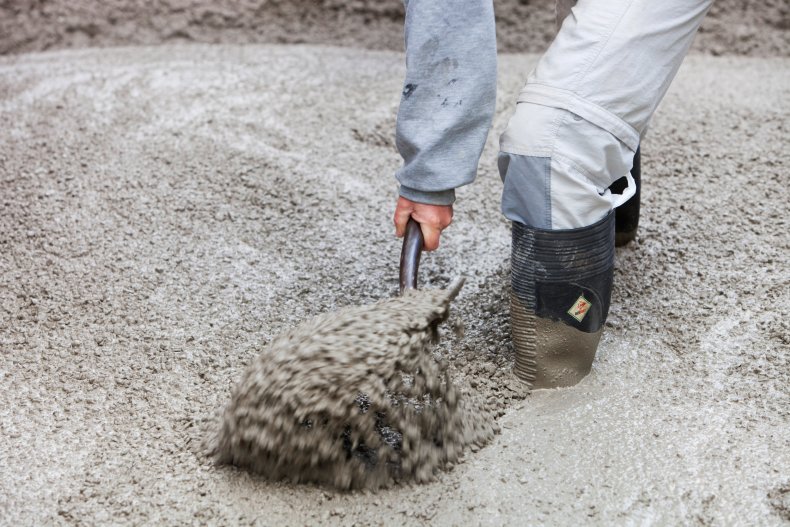 A similar incident took place last February in Portland, Oregon, where a man was arrested after allegedly driving through a "road closed" sign into freshly poured concrete.
Richard Reed was accused of causing more than $30,000 of damage by driving his pickup truck through the sign, near Southeast 38th and Schiller Streets.
Reed was charged with offences including criminal mischief and reckless driving.