Boy With COVID Spends Half a Year in Georgia Hospital
A 10-year-old boy has spent around half a year in hospital after contracting COVID last December.
Isaiah "Ziggy" Jackson was admitted to hospital last year in order to receive surgery for scoliosis—a condition where the spine is curved to the side.
The surgery was successful, but Jackson had to receive further treatment after he caught an infection. Then, he caught COVID.
Jackson's mother Qiana Busby told Atlanta news outlet WSB-TV 2 the virus "hit him hard," and the young boy was placed on a ventilator for weeks to help him breathe.
Busby said: "I was told by respiratory a couple times they didn't think he was going to make it."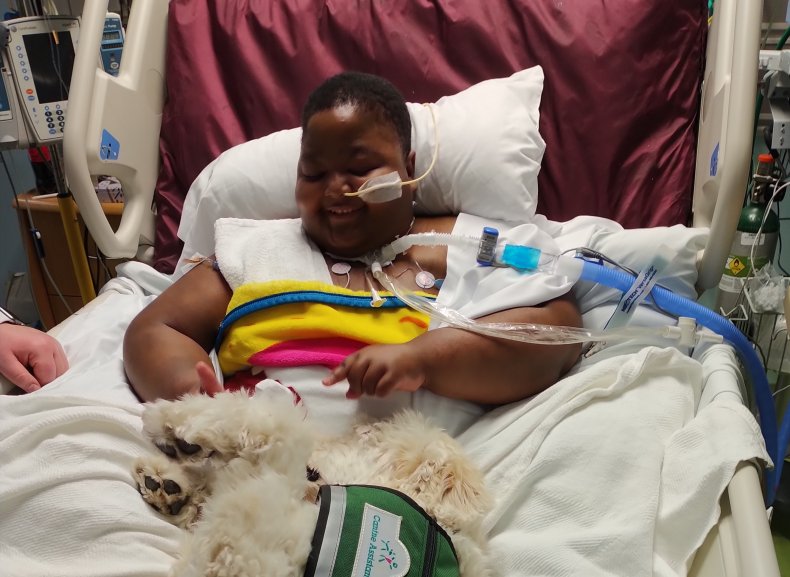 Jackson, who has battled obesity for years due to a condition known as Prader Willi Syndrome, spent a total of 183 days in hospital, the news channel reported.
He was eventually able to return to his own bed at home, where he enjoys playing with his collectible cars.
But his treatment is still ongoing. Jackson is due to start a period of rehabilitation as doctors aim to help him one day walk again. He also requires a tube to breathe.
Busby told WSB-TV 2: "it's a lot, but I'll take that any day over my child not being here."
Jackson said in a message to his classmates and teachers: "I miss you and I'll be back at school soon."
Busby is a paraprofessional educational worker at Atlanta Public Schools. For now, she acts as a full-time nurse for her son and is trying to raise money in order to help fund the boy's medical expenses and buy a wheelchair-accessible van.
A fundraiser she posted to GoFundMe had hit $15,750 of its $30,000 goal as of Wednesday morning. The fundraiser can be found here.
One donor said: "Good luck Ziggy! You are a brave warrior and my heart is with you."
Jackson is not the only person to have been hospitalized for an extensive period of time following a COVID infection.
Dave Smith, a 72-year-old man from Bristol in the U.K., experienced what was thought to be the longest recorded active COVID infection known after his illness lasted around 300 days.
In that time Smith recorded 42 positive PCR tests and was admitted to hospital seven times as his health improved and declined throughout his infection.
Smith finally tested negative several months after he first caught the virus in March 2020.