11-Year-Old Boy Dies After Falling 300 Feet Into Ravine While Ice Climbing In Catskill Mountains
An 11-year-old boy died after falling around 300 feet into a ravine while ice climbing in the Catskill Mountains in upstate New York.
The accident occurred at around 4 p.m. on Saturday in Platte Cove in Hunter, New York, Greene County Sheriff Peter Kusminsky told The Associated Press.
The boy, who has not been identified, had been ice climbing with a group of people when he fell in the area of Platte Cove, a steep valley that has a number of frozen waterfalls popular with climbers.
News 10 reported that the boy had been with his father, three other adults and two other children, aged 13 and 15, when he fell.
Kusminsky told The Times-Union that the group had completed an ice climb in an area that's known by locals as "The Dark Side" off Platte Cove Road.
The group were on their way back and were walking along a hazardous path covered with ice when the boy slipped and fell around 300 feet into the ravine.
"It had a rope tied between trees for safety, but apparently the child lost his footing and let go of the rope," Kusminsky told the newspaper.
He had been wearing proper ice-climbing gear, which included a helmet, at the time, Kusminsky added to the Associated Press.
Multiple first responders, including a helicopter, responded to the scene on Saturday afternoon.
Forest rangers went down into the ravine to find the boy dead, News 10 reported.
They decided that it was too dangerous to recover the boy's body on Saturday evening and decided to wait until Sunday.
According to News 10, forest rangers set off to recover the boy's body at 9 a.m. on Sunday and had done so by 4.30 p.m.
The boy's body was taken to Ellis Hospital Morgue in Schenectady, where an autopsy will be conducted.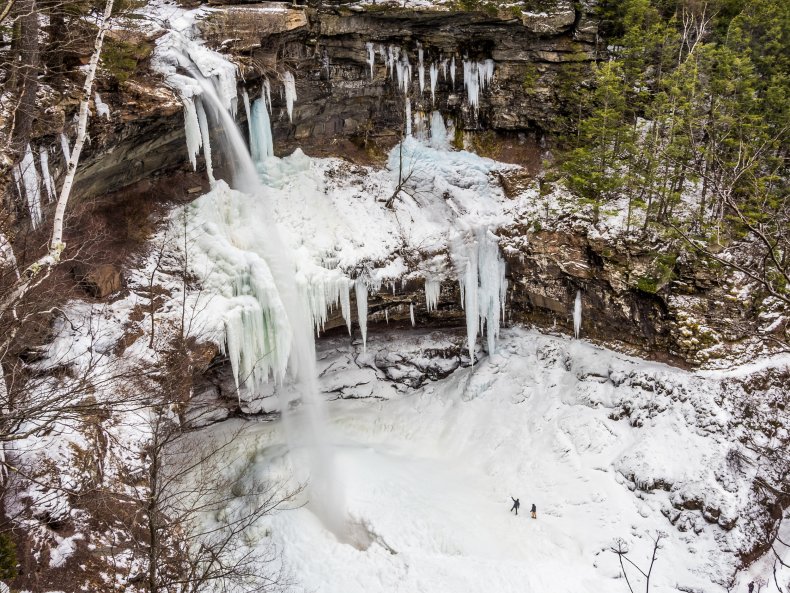 Meanwhile, Kusminsky said the decision on whether or not to close the dangerous path where the boy fell is in the hands of the New York Department of Environmental Conservation.
"I didn't hear of any plans for them to close it," he told The Times-Union. "I'm sure there will some warnings even though they're already posted. It is a popular climbing place."
The Greene County Sheriff's Office and the New York Department of Environmental Conservation have been contacted for additional comment.
Ice climbing is a popular activity for visitors to the Catskill Mountains and the region boasts hundreds of climbs.