A seven-year-old California boy has died after becoming infected with a "brain-eating amoeba," according to his family.
"We are sad and broken-hearted to report, that our sweet little boy has passed on," the family wrote on a GoFundMe page. "He is now in the loving arms of our Lord and family members who have passed before him. We are rejoicing in knowing he is no longer in pain and in the best of care."
The Tehama County Health Services Agency said in a statement that the boy was diagnosed with an "extremely rare" infection known as primary amebic meningoencephalitis (PAM).
Testing conducted by the California Department of Public Health and specialist laboratories indicated that the boy had been infected with Naegleria fowleri—a single-celled organism commonly found in warm freshwater, such as lakes, rivers and ponds, as well as geothermal water and soil.
Infections with this amoeba can cause PAM, a "rare and devastating infection" of the brain, according to the Centers for Disease Control and Prevention (CDC).
The disease destroys brain tissue—hence the "brain-eating" moniker—causing brain swelling and, in most cases, death.
In the years from 2010 to 2019, only 34 Naegleria fowleri infections were reported in the United States, CDC figures show.
The fatality rate for Naegleria fowleri infections is 97 percent, according to the CDC. In fact, only four people out of 148 known infected individuals in the U.S. between 1962 and 2019 ended up surviving.
The initial symptoms of PAM, which appear anywhere between one and nine days after infection, include a stiff neck, confusion, lack of attention to the surrounding environment, loss of balance, seizures and hallucinations.
After the appearance of symptoms, the disease progresses rapidly, usually resulting in death anywhere between one and 12 days after onset.
Risk of Infection in Lakes and Rivers
Naegleria fowleri can only occur when water contaminated with the amoeba enters the nose of an individual. In the vast majority of cases, this happens when people are swimming or diving in bodies of warm freshwater, such as lakes and rivers.
In very rare cases, people have been infected via other sources, such as when inadequately chlorinated swimming pool water or contaminated tap water entered the nose. You cannot get infected from drinking water contaminated with the amoeba.
Tehama County health officials said the most likely source of infection for this child was swimming in an unidentified freshwater lake in the county on July 30. Only 10 cases of Naegleria fowleri infection have been reported in California since 1971.
While infections with this amoeba are extremely rare, the Tehama County Health Services Agency said there were a number of preventative steps people could take, including:
Swim in a swimming pool instead of untreated bodies of water like lakes and rivers.
Holding your nose or using nose clips when taking part in water-related activities.
Avoiding putting your head underwater in hot springs and other warm freshwater bodies.
Avoiding water-related activities in all warm freshwater bodies during periods of high temperatures.
Avoiding digging in or stirring up mud and scum while taking part in water-related activities in shallow, warm freshwater areas.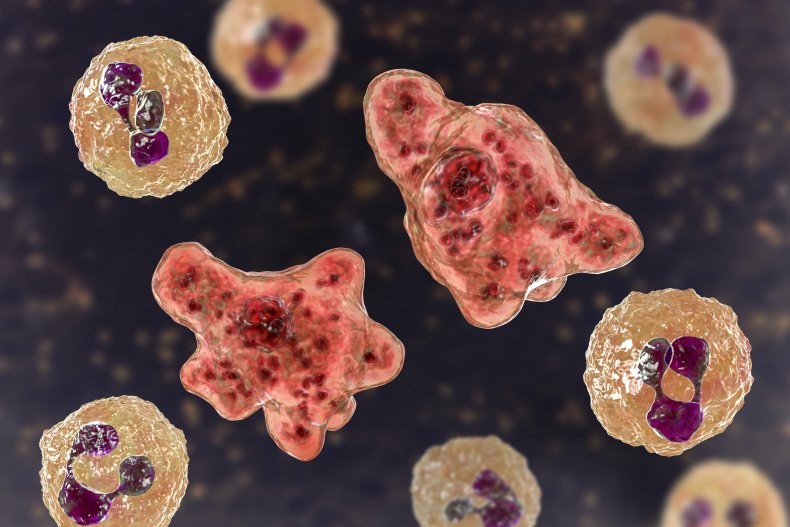 About the writer
Aristos is a Newsweek science reporter with the London, U.K., bureau. He reports on science and health topics, including; animal, mental health, and psychology-related stories. Aristos joined Newsweek in 2018 from IBTimes UK and had previously worked at The World Weekly. He is a graduate of the University of Nottingham and City University, London. Languages: English. You can get in touch with Aristos by emailing a.georgiou@newsweek.com.