#BoycottABC Trends After Network Plays Ad Showing Alexandria Ocasio-Cortez Photo on Fire During Democratic Debate
The hashtag #BoycottABC was trending on Twitter after the network aired a political advert featuring a burning photo of Rep. Alexandria Ocasio-Cortez during the Democratic debate on Thursday night. Many Twitter users were outraged by the advert.
It shows the New York Democrat's photo burning away as Elizabeth Heng, a Republican activist from California, speaks about the "face of socialism and ignorance" and her father's experience in Cambodia under the Khmer Rouge.
"Does Alexandria Ocasio-Cortez know the horror of socialism? My father was minutes from death in Cambodia before a forced marriage saved his life. That's socialism: Forced obedience, starvation," Heng says, showing images of life under the communist regime.
"Mine is a face of freedom. My skin is not white, I'm not outrageous, racist, nor socialist. I'm a Republican."
The advert was paid for by Heng's PAC, New Faces GOP, which promises to fight against "extreme, socialist Democrats" and to "elevate the next generation of Republicans so that we can not only survive as a party, but expand beyond the boundaries we've set for ourselves."
Ocasio-Cortez, a self-described democratic socialist, hit back on Twitter after the ad ran. "Republicans are running TV ads setting pictures of me on fire to convince people they aren't racist. Life is weird!" she tweeted.
"Know that this wasn't an ad for young conservatives of color - that was the pretense. What you just watched was a love letter to the GOP's white supremacist case."
Heng responded: "Not Republicans. Me. Are you really calling me a racist @aoc? I'm calling all Democrats out for supporting an evil ideology. Or are you just in Congress to hang out with celebrities and tweet out ridiculous ideas like the green new deal?"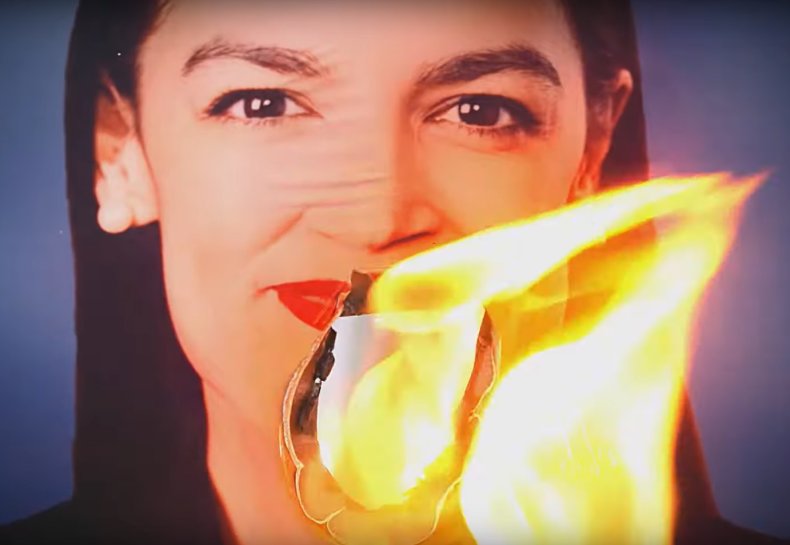 Addressing the network's Twitter account, the writer Jack Wallen tweeted: "You really screwed the pooch on this one. That ad was violent, disgusting, and nothing but right-wing propaganda. Just because some politician paid you to air an ad, doesn't mean you should kick your morals to the curb for a payoff. #BoycottABC is the result."
New York State Senator Alessandra Biaggi tweeted: "This #ad essentially condones violence against women & this leader, is incoherent, & if you don't remove it, I hope your bottom line suffers by this turning into: #boycottabc & #BoycottDisney."
Not everyone agreed. Andrew Surabian, a GOP strategist and former special assistant to President Donald Trump, tweeted: "A Cambodian woman makes an ad highlighting the Cambodian Genocide/the horrors of socialism and @AOC has the audacity to call it 'racist?' Instead of responding to the content of the ad, #BoycottABC is now trying to bully tv networks into not running it. Wonder why that is?"
ABC did not respond immediately to Newsweek's request for comment.