For Gay Men, Boycotting Equinox Gym is a Complicated Proposition | OPINION
For many gay men, the gym is more than just a place to work out—it's a safe haven for socializing, networking, maybe even meeting a new boyfriend.
Nowhere is this more true than at Equinox, the high-end fitness chain known for its luxe facilities, expert classes and hefty fees. (An annual membership can run more than $3,000.) In New York and other queer meccas, Equinox has replaced the bar as the nexus of LGBT life.
So many gay men were shocked to hear Stephen Ross, chairman of the board of Equinox's parent corporation, Related Companies, was hosting a high-ticket fundraiser in the Hamptons on Friday for Donald Trump's reelection bid.
One reason Ross' support for Trump felt like a punch to the gut is that Equinox has built its brand, at least in part, on being an inclusive, LGBT-friendly place.
In New York, boycotting Chick-Fil-a—whose CEO, Dan Cathy, donated to groups supporting conversion therapy and opposing same-sex marriage—was easy: The chain didn't have any locations in the city until fairly recently. The same goes for boycotting Coachella, which is owned by Republican billionaire Philip Anshutz, who has funneled hundreds of thousands to fight LGBT equality. Few Manhattanites were flying cross-country for a music festival to begin with.
But this? This hits home.
"I know several friends who live and breath Equinox," says gay filmmaker Jeff L. Lieberman. "It'll be interesting to see how this decision affects them."
Equinox—which also operates SoulCycle, PURE Yoga and the budget fitness chain Blink—has run LGBT-centric ads and classes and appeared at Pride parades for years. (It's 2019 Pride month campaign spotlighted vogue dancers and raised $20,000 to support the house ball scene.)
By Wednesday, several gay male celebrities were calling for their social media followers to dump Equinox.
Star Trek Discovery's Wilson Cruz tweeted he was cutting up his membership card—he also launched a petition calling on Equinox's corporate leaders to stop the fundraiser.
"It's important Equinox know WHY we're going to cancel our membership," the out actor wrote. "This fundraiser and it's ties to Stephen Ross, is a betrayal to our communities after masquerading as a corporate ally during Pride. You can't use us to make money and then use it to work against us. No."
Out comic Billy Eichner asked Equinox in a tweet, "What's your policy for canceling memberships once a member finds out your owner is enabling racism and mass murder?"
Eichner later revealed he had canceled his membership.
"Money talks, especially with these monsters. If it's too inconvenient for u to trade one LUXURY GYM for another, then you should be ashamed," he wrote, adding that he meant no disrespect to Equinox employees caught up in the controversy.
TVLine.com's Michael Ausiello tweeted that, when he ended his membership on Wednesday, "the rep on the phone said they are being 'overwhelmed' with cancellations."
Some Twitter users have been sharing the hashtag #GrabYourWallet and linking to a related site that posts updated info on companies and brands giving money to Trump.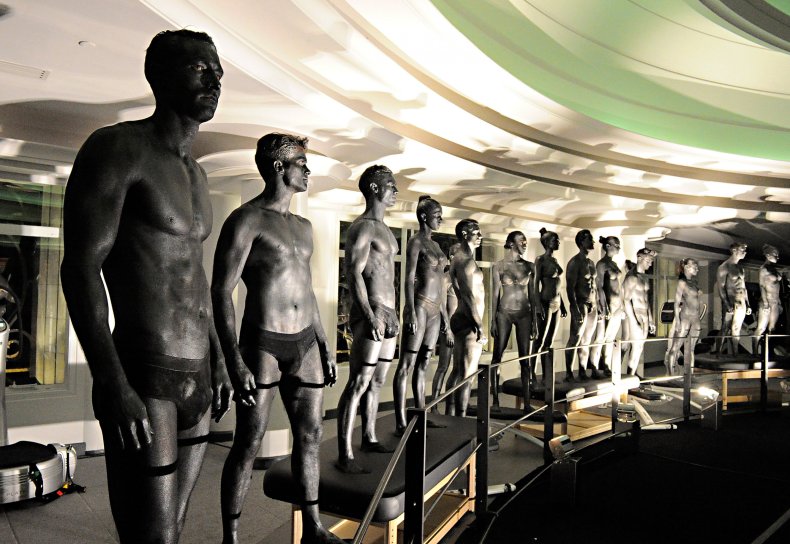 But elsewhere on social media, some gay men have been dancing around a boycott—insisting they're locked into long-term contracts or that Equinox is the only decent facility in their area.
One member who's canceling his memberships told Newsweek he felt conflicted.
"Rod and I have been members for 10 years and love the Equinox experience," says Steven Lindsey, a gay writer based in Dallas. "We have both agreed to cancel to make a point—but Equinox is such a part of our daily routine that this one is tougher than most."
He also questioned the "unwritten rules" of a boycott: "If I'm paid up through the end of the month, does going to Equinox until then make me a hypocrite? If Equinox agrees to make an equivalent donation to the eventual Democratic candidate would that make up for it?"
Lindsey, who has boycotted Chick-fil-A off-and-on, also wondered about the snowball effect of snubbing businesses that support the president: "Where does it stop? I can pretty much guarantee that the majority of places I visit have owners or investors involved in political activities that don't align with my beliefs, but just don't know about it because they're not hosting high-profile fundraisers."
On Wednesday, the company tweeted a statement that Equinox and SoulCycle "have nothing to do with the event and do not support it."
The message claimed it was corporate policy for no company profits to be used to fund politicians and that Ross was merely "a passive investor and is not involved in the management of either business."
A gay Equinox employee in New York told Newsweek he was "torn."
"It's horrible that he supports Trump, but at the same time, the culture that's cultivated at Equinox is wonderful and accepting," said the staffer, who requested anonymity. "I'm trying not to just react and look at things how they are. At some point aren't we all sort of supporting companies and brands that have board members who support Trump. I mean, we can look at our families—my grandfather voted for Trump; I don't agree with him at all, but I'm not going to not talk to him or leave him out of my life."
And a former Related Companies employee told Newsweek it would be disingenuous to just cancel your gym membership.
"A lot of the gay men complaining about Equinox have posted photos in front of the Vessel at Hudson Yards, which is Stephen's," he said. "They also use CitiBike, which Related [Companies] partially owns."
Ross has also ties to the High Line, Bluestone Lane coffee, hip eateries like Milk Bar and Momofuku, and dozens of other properties in the city. Boycotting Ross' businesses might also mean skipping New York Fashion Week, as organizers are in talks to move it to the Shed at Hudson Yards.
"I'm not trying to defend Stephen's decision—he should know better," said the ex-staffer. "But things are never black and white in real life."