Boycott Hershey's Calls Over Trans Woman in International Women's Day Promo
Some social media users have called for a boycott of Hershey's products over its decision to include a transgender woman in its International Women's Day advertising campaign in Canada.
The chocolate manufacturer brought back its SHE bar for a third time on March 1, to "shine a light on the women and girls who inspire us every day."
In Canada, this is being branded as HER, with bars featuring the faces of five women chosen to be part of the campaign.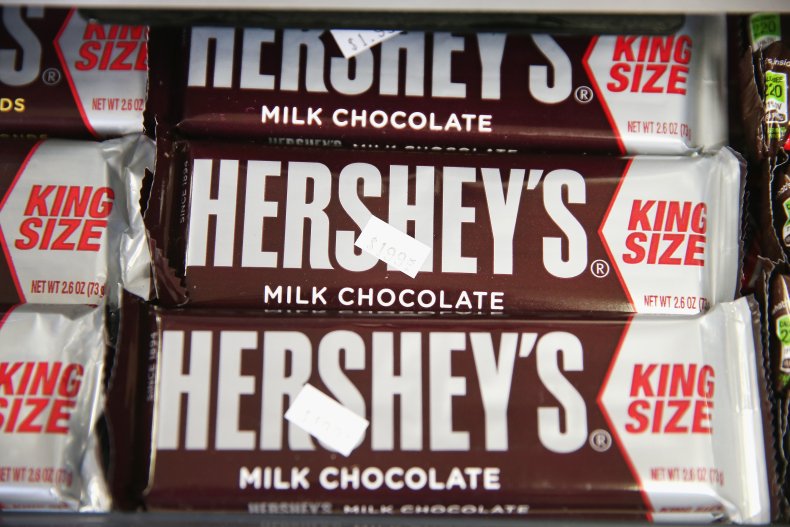 One of those chosen for the promotion is Fae Johnstone, a transgender rights activist, who said they were honored to be featured.
Transgender rights is an issue that is proving deeply polarizing. In the U.S., a 2022 survey by the Pew Research Center found that 38 percent of Americans believe society had gone too far in accepting transgender people, while 36 percent said it had not gone far enough.
"I grew up with few trans role models. Many young trans folks haven't met a trans adult," Johnstone wrote on Twitter. "I hope this campaign shows trans girls they can dream big and change the world too."
Newsweek has contacted Hershey's and Johnstone for comment.
Johnstone's inclusion in the campaign has prompted outrage from some, who accused the company of sidelining "real women."
"You get the feeling that these companies *always* despised women -- they were just waiting for the right moment to stick it to us," Abigail Shrier, author of Irreversible Damage: The Transgender Craze Seducing Our Daughters, tweeted. "Here's the thing about real women, Hersheys: we have long memories."
"A biological MAN fronts the new Hersheys campaign celebrating women for International Women's Day," Oli London, an internet personality who in 2022 announced plans to detransition, wrote. "This is misogyny at its finest! A real slap in the face to actual women!"
However, some women have shown support for Johnstone's inclusion in the campaign's line-up.
"Thank you for representing us so beautifully," Sarah Daniels, an actress and Twitch streamer, told Johnstone.
"She is a woman," Erin Marie Hogan, a film and TV actress, wrote. "If terfs [trans-exclusionary radical feminists] don't like it they're free to f*** off."
The row over the Hershey's campaign is emblematic of a wider debate about the inclusion of transgender women in female issues and spaces. Some argue transgender women should be treated the same as other women, while others claim they are different and wish to protect hard-won women's rights.
An increasing number of Americans believe sex is assigned at birth, but a majority are in favor of protecting trans people from discrimination.
International Women's Day will take place on March 8. Its origins lie in the U.S. and European suffrage movements of the early 20th century and it was adopted by the United Nations in 1977.