'Boycotting' Kyrsten Sinema, Joe Manchin's Funders Could Help Voter Rights: MLK III
Martin Luther King III, the son of Reverend Martin Luther King Jr., has raised the prospect of a consumer boycott of companies linked to political donors of Senators Kyrsten Sinema and Joe Manchin.
"We have to look at those that are supporting candidates like Senator Sinema and Senator Manchin and begin to target them," 64-year-old King told Newsweek.
The two Democrats joined Republicans last week to scupper Joe Biden's bid to reform the Senate filibuster rule, something which the president hoped would help a federal voting rights bill, the Freedom to Vote: John R. Lewis Act, pass.
King said there would be further pressure put on Democratic Senators over their stance.
Part of this strategy he said would involve looking at the groups and businesses "that are funding these candidates."
"It may entail some level of boycotting," he said over the phone on Thursday.
"I think that when businesses understand and engage in a more prominent way, then you know, the elected officials also begin to engage in a different way."
He added that campaigners were "looking at all kinds of techniques...to help push this legislation along and get it brought back up."
Sinema and Manchin back the voting rights bill, but oppose reducing the filibuster rule that currently requires 60 members to pass most legislation in the 50:50-split chamber.
In the tied chamber, their votes on Wednesday meant the filibuster change was defeated 52-48.
It has dealt a serious blow to the legislation that would create national automatic voter registration, allow all voters to cast ballots by mail and ease voter ID laws: topics critics say have been targeted by state Republicans across 19 states.
"I don't think history is going to treat them [Sinema and Manchin] well," King said.
Politico reported on Wednesday that top donors have already announced that they would cut off funding to Sinema as a result of her opposition to passing voting rights legislation.
"We are terrified about our prospects as a democracy if we do not pass the Freedom to Vote Act and John Lewis VRA Act," the donors wrote in a 1,400-word letter.
King, meanwhile, has accused the pair of "hypocrisy" for agreeing to bypass a GOP filibuster in a deal struck by congressional leaders to raise the debt ceiling last month, but not a bill protecting voter rights.
He also questioned whether they were "genuinely" supportive of the voting rights bill because "if they were, they would have created a pathway."
After Wednesday's vote, Sinema said in a statement that she backed the voting rights bill but opposed "separate actions that would deepen our divisions and risk repeated radical reversals in federal policy."
Manchin said last week he would not vote "to eliminate or weaken the filibuster," and told CNN on Thursday, "I'm not a Washington Democrat, so the base they have is a different base than I have."
When contacted for comment, a spokesperson for Manchin referred Newsweek to the senator's comments on the Senate floor on Wednesday, when he referred to how key legislation, such as COVID-19 relief "passed with broad bipartisan support."
"While some of the Senators have changed their positions, I have not," he said, "I would hope you would give me the same opportunity and not attack my allowing one party to exert complete control in the Senate with only a simple majority."
Sinema's office has also been contacted for comment.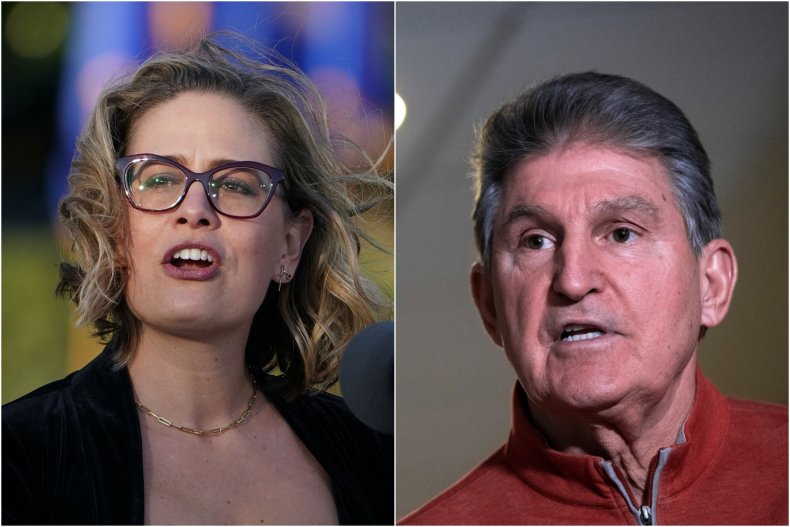 King said he was "greatly disappointed" with the Senate vote but he had been encouraged over the last month that a coalition of nearly 200 organizations, including labor unions and ministers, joined together to lobby for the legislation.
"What we're glad about is that 48 senators came on board" for some some filibuster reform. "All of the candidates on the Democratic side that are running for office are now saying they support filibuster reform," he said, "so I think that's the good part about it."
"We have got to continue to challenge our nation to become a better nation, a more inclusive nation, a nation that leaves no one behind," he said.
Last year, King cofounded the Give Us The Ballot group which help nonprofits working at a local level fight voter suppression.
He had been campaigning for the voting rights bill, whose advocates say is essential to counter 34 laws passed in 19 GOP-led states restricting voting rights, particularly among people of color.