Boycott Over NFL Protest Policy Grows With Celebrities and Public Figures Leading Charge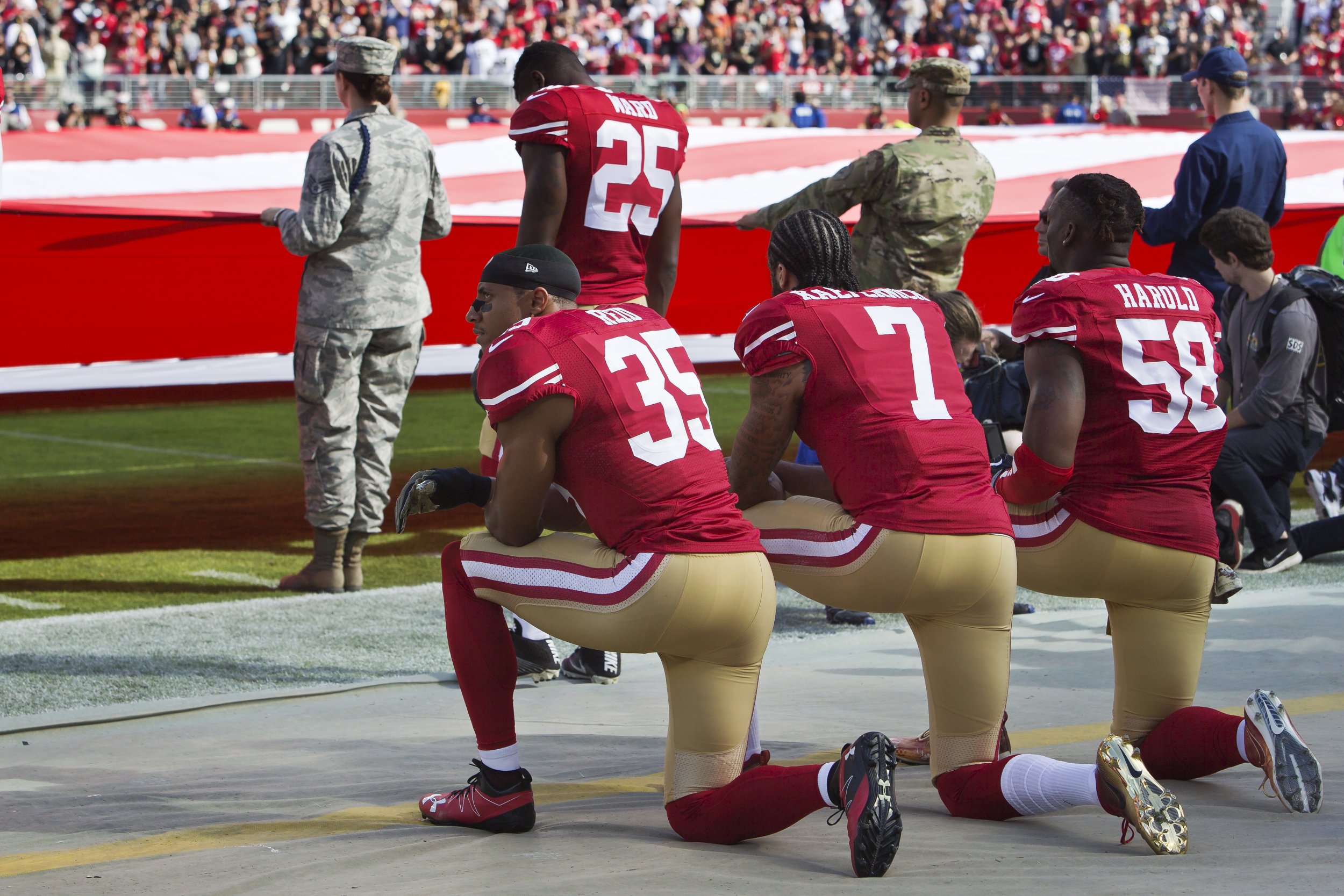 A movement to boycott the National Football League (NFL) over a new policy that imposes fines on players who protest during the national anthem is advancing on social media, boosted by celebrities and public figures who slammed the revised conduct policy.
The policy, implemented in an attempt to quash growing furor over players kneeling during "The Star-Spangled Banner," was unveiled on May 23 after a meeting of 32 team owners. It states that players will no longer be required to be present on the field for the anthem, but the league reserves the right to fine teams made up of players who choose to openly protest.
"Clearly our objective as a league and to all 32 clubs—which was unanimous—is we want people to be respectful at the national anthem," said NFL commissioner Roger Goodell at a press conference announcing the new code. "We want people to stand. That is all personnel. And make sure that they treat this moment in a respectful fashion. That is something that we think we owe."
Backlash to the decision from progressive celebrities, activists and politicians exploded on social media. The protests, started by former San Francisco 49ers player Colin Kaepernick and adapted by other players, including teammate Eric Reid, were a powerful stand against racism in the United States and a testament to free speech, they argued.
"Friends who know me, know that I love football," tweeted Democratic lawmaker Keith Ellison on Sunday. "But I won't be watching this NFL season because of the unfair cowardly and idiotic kneeling ban. #BoycottNFL."
Mike Colter, star of the Netflix show Luke Cage, also tweeted that he would be yanking his support for the league, using the #boycottNFL hashtag. He accused the NFL of embracing a myopic approach toward improper conduct.
"Why doesn't the NFL regulate fans alcohol consumption the way they do its players who want to help bring attention to injustice by peaceful demonstrations?" Colter wrote, tweeting a picture of what appeared to be inebriated football fans.
Columnist and social justice activist Shaun King, who works with Harvard's Fair Punishment Project, tweeted on Sunday that he'd spoken with several NFL players who would be "sitting out" the season over the league's efforts to keep protesters from playing, an assertion that Newsweek could not independently confirm.
"Several star @NFL players have told me they are considering sitting out the season until the de facto ban of Eric Reid and Colin Kaepernick is removed and both men are given spots back on rosters," King tweeted to his nearly one million followers. "They aim to get 25% of the players to sit out with them."
Others who joined in and supported the idea include comedians Wanda Sykes and Chelsea Handler, as well as Brooklyn Nine-Nine director Paymen Benz. Conservative actor James Woods also tweeted support for the boycott, though his reasons were different from most celebrity counterparts: He apparently felt the new policy was too lenient in allowing players to stay off the field during the anthem.
Whether the boycott will move from social media to the field remains to be seen. Boycott movements that rise up on Twitter are typically fleeting, as are their consequences. Recent efforts to punish Netflix over a development deal with former President Barack Obama quickly died out. And while advertisers initially ditched Laura Ingraham's Fox News show after she made controversial remarks about shooting survivor David Hogg, the host rebounded in ratings after a brief vacation. A similar Sean Hannity boycott was even less effective. Meanwhile, those who pushed Adidas to drop Kanye West after he made ill-advised statements about slavery were disappointed when the brand said it would stick with the musician. The list goes on.
There have, however, been exceptions: Campaigns directed at Publix and Dick's Sporting Goods over perceived support for the National Rifle Association resulted in the companies halting political campaign contributions and pulling guns from shelves, respectively. Similarly, online campaigns directed at stores carrying Ivanka Trump's eponymous brand made headway when Nordstrom announced it would stop carrying her line because of low sales.
In a previous interview with Newsweek about online boycott movements, Charlton McIlwain, a professor at New York University who specializes in media and social movements, said the efforts rarely changed revenue totals for companies. Digital audiences have short attention spans and even shorter memories, he said.
"Even if it proliferates for a moment, what we know from research suggests this opposition will remain within a narrow echo chamber," said McIlwain. "It will likely not spawn any significant action. It may make some noise, but very soon there will be another furor."