#BoycottDWTS Trends After Reports Former WH Press Secretary Sean Spicer Will Compete in Dancing with the Stars
When it was announced that Sean Spicer was cast on Season 28 of Dancing with the Stars, the show drew backlash from its own host, Tom Bergeron. Now, Twitter users are calling for a complete boycott of the show.
Spicer served as press secretary and White House communications director for President Donald Trump in 2017.
Dancing with the Stars, which debuted in 2005, pairs professional dancers with a cast of celebrities that include actors, musicians, public figures and other well-known people who usually aren't typically considered worthy of a dance floor.
ABC shared its roster Wednesday morning, and it did not take Twitter very long to respond with a boycott threat once Spicer's name was revealed.
Bergeron said on Wednesday he opposed having Spicer on the show in a lengthy tweet. He said that after a planning meeting with the show's new executive producer a few months ago, Bergeron expressed he wanted "a joyful respite from our exhausting political climate and free of inevitably divisive bookings from ANY party affiliations."
Twitter got fired up with a trendingy #BoycottDWTS hashtag that mostly targeted Spicer's time as a member of Trump's administration, calling him a "fascist liar" who "endorsed hatred" and had a "failing career" that ABC is "helping him to revive."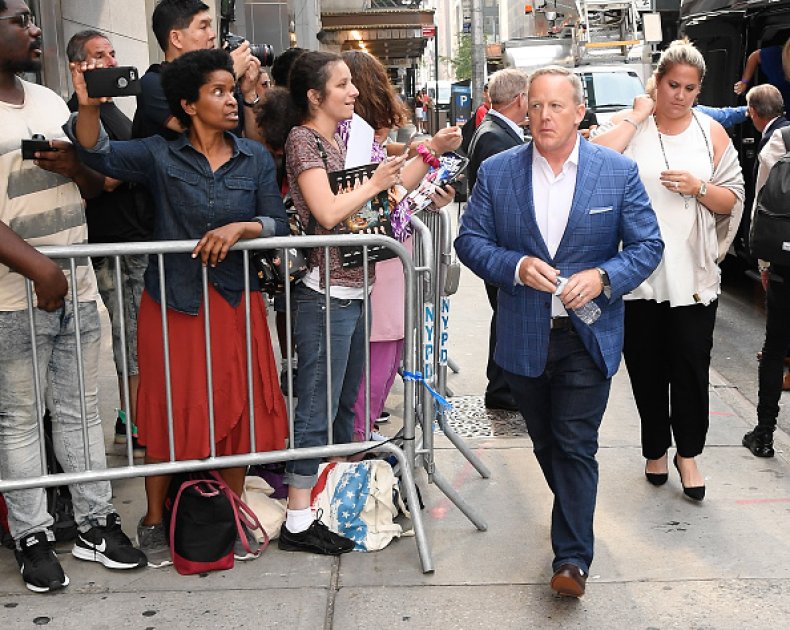 First, Spicer tweeted that he was going to join the show. He said, "It's time to have some fun. Excited to join a great cast and show."
This user said she will boycott ABC altogether for including Spicer on the show, saying, "Won't watch @ABCNetwork anymore...why would they give a platform to this lying, sycophantic apologist for the rapist racist in the White House?"
One user said, "Rewarding someone that constantly lied to the American people shame on you!"
Another person reminded others that Energy Secretary Rick Perry, who is also a former Governor of Texas, was also on the show.
"This administration is full of third rate Hollywood wannabes. ... In addition to Emmyless reality tv host, @realDonaldTrump, let's not forget the current secretary of energy, @SecretaryPerry was also on this reality show."
One Twitter user with the handle "God" said the show has "Stars," not "Nazis."
"I see that you have added Sean Spicer to the next season of 'Dancing with the Stars.' You are supposed to have stars on the show, it's not 'Dancing with the Nazis,'" he wrote.
Of course, Twitter being Twitter, #BoycottDWTS wasn't only about boycotting the show, ABC in its entirety or even everything related to the parent company of Disney.
Several comments poke fun of the numerous recent Twitter boycotts and how they are here one day and gone the next. This one says he will boycott those who boycott.
Then there was Ray Lewis, the former NFL linebacker with the Baltimore Ravens who was inducted into the NFL Hall of Fame in 2018. Lewis was one of the celebrities announced for this year's lineup.
Lewis stood trial as a witness for a double homicide in 2000 and pleaded guilty to obstruction of justice. The next year, he was the NFL Defensive Player of the Year and led the Ravens to a Super Bowl victory, where he was named MVP.
So while the Spicer comments stirred, there were those who said people should boycott the show because a "murderer" was on the show, even though Lewis was never found guilty for murder.
The list of celebrities for Season 28 of Dancing With The Stars, scheduled to begin airing Monday, September 16 on ABC, are:
Lauren Alaina – country music star
Christie Brinkley – supermodel
Ally Brooke – pop star
Hannah Brown – The Bachelorette
Karamo Brown – TV host
Kate Flannery – TV star
Ray Lewis – NFL Hall of Famer
Kel Mitchell – comedian/actor
Lamar Odom – two-time NBA champion
Sean Spicer – former White House press secretary
James Van Der Beek – TV icon
Mary Wilson – member of The Supremes