#BoycottHomeDepot Was Based on a Lie. Americans Need to Know the True Story of Bernie Marcus | Opinion
You may have come across his name this month. Bernie Marcus has been in the news because the company he co-created, Home Depot, was being threatened with boycotts after he told a journalist he supports President Donald Trump and his campaign for re-election.
That interview with a reporter in Atlanta quickly turned into headline fodder after radical progressive activists began pushing the hashtag #BoycottHomeDepot. "If you plan on buying a hammer, wood, or ANY home improvement items from Home Depot," one Twitter user warned on July 8, "you may as well send donations DIRECTLY to Trump's 2020 campaign."
There was one problem: The boycott was based on a lie. When Home Depot's spokesperson was reached for comment, she explained that Marcus no longer ran the company, had left almost 20 years ago and was speaking as a private citizen. "In fact, as a standard practice, the company does not endorse presidential candidates," she added.
But facts don't much matter to radicals.
Marcus posted his own rebuttal on Facebook. "The people who work [at Home Depot] are affiliated with both political parties or no party at all. They are of all religions and all colors and backgrounds. Why would people want to hurt them?" he wrote.
The activists didn't have an answer. They didn't do their homework or didn't care, but their craven attempt to destroy the market value of Home Depot as a way of punishing Marcus for supporting the president died almost as soon as it began.
That short episode revealed a crucial difference between Marcus and his opponents: He spent a lifetime building things, while the radical redistributionists spend their time destroying things.
Indeed, Marcus and his former partners—Ken Langone and Arthur Blank—created a company that helps people build all kind of things: decks, kitchens, gardens and anything anyone would need to make their home a more beautiful place.
Indeed, Home Depot drove the do-it-yourself home improvement revolution that's now ingrained in our culture, with the massively popular TV channel HGTV and do-it-yourself stars like Chip and Joanna Gaines.
It is a heck of a story, Home Depot's. The first two stores opened in Atlanta in 1979, and by 2018, there were 2,284 stores in North America, with 413,000 employees and sales of $108 billion.
Marcus and his co-founders also created great wealth for anyone who owned shares in the company. An investment in the stock symbol HD in the early '80s experienced a 493,000 percent return, according to The Motley Fool. And that's not counting the gains experienced if investors reinvested their dividends.
And it isn't just the rich who own HD shares. It's one of the most widely owned stocks in America: Pension funds of many teachers, firemen, retired auto workers and widows, not to mention university endowments and church and nonprofit reserves, as well as the 401(k) packages of hard-working Americans across the country, all include HD shares. These people are rooting for Home Depot's management to continue its outstanding track record serving customers. Because serving customers is what drives wealth and shareholder value in America, not theft and appropriation, as hard-core progressive activists would have us believe.
What's really hard to calculate is how much value Home Depot unleashed by streamlining and leveraging the buying process. Just as Henry Ford brought down the price of cars, the frackers brought down the price of gas and oil, and Sam Walton—and now Jeff Bezos—brought down the price of everything, Marcus and his co-founders drove savings and service to a high art form.
This is something no government bureaucracy can pull off. And yet few academics or artistic types tell stories about such things. Stories about America's great companies and how they came to be. Stories of free enterprise and how it changed the world.
Marcus' life is much more than an inspiring free enterprise story. It's an inspiring personal one, too. And a classic story of the American dream, and traditional American values. Values like hard work, perseverance and generosity.
Marcus was a not a son of privilege. He was born in 1929, the son of first-generation Russian Jews, and grew up in a tenement in Newark, New Jersey. His father made cabinets and was a good craftsman but a terrible businessman.
"It was his mother, crippled with arthritis from an early age, who instilled in him the qualities that he carried into later life, including an irrepressible optimism, a determination to beat the odds, and a constant awareness of tzedakah: the Jewish obligation to give generously," wrote Andrew Sullivan in Philanthropy magazine.
"We had no money," Marcus noted to Sullivan. "Five cents was a major issue in our lives. Occasionally, as a special treat, the nickel would be spent for ice cream. But just as often, my mother would say, 'We can't have the ice cream today, we're planting a tree in Israel instead,' and the nickel would be sent off, if not to Israel, then to one charitable cause or another. I grew up knowing that this is what you do. It's bred into me."
Marcus also inherited from his mom an unwavering sense of patriotism. "This was paradise to my parents, after what they'd been through," he said. "The day my mother became a citizen, she cried like a baby."
Marcus was lucky to grow up when the culture reinforced classic American values. The studio moguls and directors of his youth—men like Jack Warner and Frank Capra—understood the American dream because they were themselves beneficiaries of it: They were first-generation immigrants. They didn't come here to change America: They came to have America change them.
But the most important characteristic Marcus inherited from his mother was his ability to read people and understand them. "Dealing with people is probably my forte," Marcus told Sullivan.
He dreamed of being a psychiatrist but studied pharmacy instead. It was his short stint as a partner in a local pharmacy in New Jersey that Marcus discovered his real passion: retail sales.
Like most American success stories, his did not happen overnight. In 1968, he joined Handy Dan Home Improvement Centers and was a senior executive there. In the mid-1970s, the company fell on hard times, and Marcus and co-worker Blank found themselves out of work in their 40s. They could not have known it at the time, but it would end up being the best thing that ever happened to both men.
Weekend warrior home improvement types, it turns out, spent a lot of time shuffling between hardware stores, lumber yards and garden centers. Why not, Marcus and Blank wondered, put all of that under one roof, make the stores bigger and cut out the middlemen by going direct to the manufacturers? And a brand was born.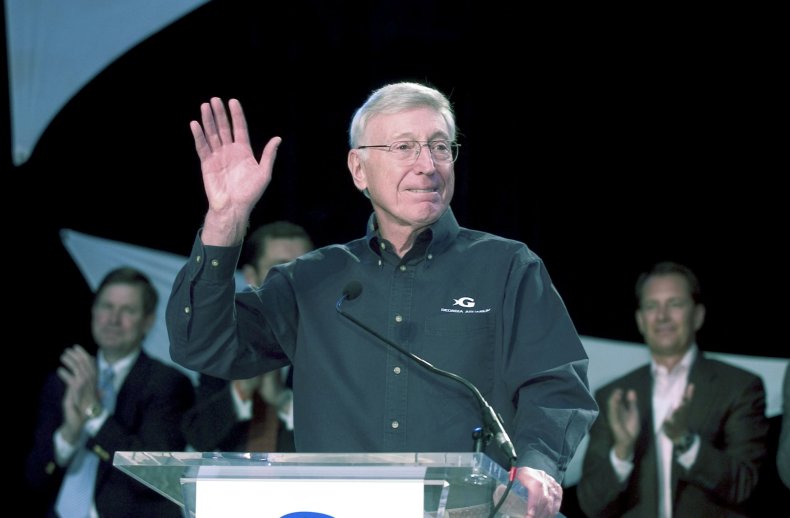 Home Depot didn't just rely on scale and distribution to thrive. Sales mattered—and service too. "From the beginning, the aim was to demystify the mechanics of plumbing, electrical wiring and construction," Entrepreneur.com noted. "To this end, the founders staffed their stores with knowledgeable salespeople who could answer shoppers' questions and guide them to the proper equipment. They also began offering free clinics on all aspects of home remodeling and repair."
The rest was retail history. Marcus retired a wealthy man, but the best part of his life was still to come: giving away the wealth he'd earned.
He gave $250 million to build the world's biggest and best aquarium, which is named not after Marcus but the state he calls home. The Georgia Aquarium has generated over $1 billion in economic activity from the millions of tourists who have visited—and transformed a neighborhood.
Autism and Alzheimer's research play a big part in that giving. Marcus also supports veteran groups and has a keen interest in Israel. "I'm proud of the fact that I'm Jewish," he told Sullivan, "and what happened with the Holocaust is not going to happen if I can do anything about it."
Marcus has given away more than $2 billion since his retirement and plans to give away most of his wealth before he dies. He celebrated his 90th birthday in May, and Forbes recently estimated his current net worth at $6.1 billion.
It is quite a story. And yet, somehow, men like Marcus are portrayed as the bad guys in our society? As part of the greedy 1 percent hurting this country? And making life harder for the middle class?
Marcus' life is a fierce rebuttal to much of what passes for conventional wisdom about wealth creation in America's classrooms, newsrooms and media conglomerates—all of which are dominated by people who either don't know the story of men like Marcus or don't care. And who know and care even less about free enterprise.
What can be done? Our entrepreneurs need to build storytelling platforms of their own. And tell the stories of our nation's job and wealth creators. And free enterprise itself. It's the greatest killer app ever created, free enterprise, and has unleashed more innovation, health and lifestyle improvement than any other system known to man.
Stories like Home Depot's and Bernie Marcus' aren't possible without free enterprise. Or the owner of the local body shop or restaurant.
The story of America isn't either.
Lee Habeeb is vice president of content for Salem Radio Network and host of Our American Stories. He lives in Oxford, Mississippi, with his wife, Valerie, and his daughter, Reagan.
The views expressed in this article are the author's own.​​​​​