#BoycottStateofUnion Trends as Trump Prepares to Give His Final SOTU Address Before the 2020 Election
In response to the recent impeachment of President Donald Trump, some House Democrats are choosing not to attend the annual State of the Union address Tuesday. Others across the country are joining in solidarity by refusing to watch Trump's speech, resulting in the hashtag #BoycottStateofUnion becoming a trending topic on social media.
While Trump was impeached by the House of Representatives, he is expected to be acquitted Wednesday in the U.S. Senate. If that holds true, Trump will remain in office and is expected to run for reelection.
Texas Democratic Congressman Al Green tweeted Tuesday morning that he would not be in attendance for the State of the Union address.
"Because of an impeached, reckless, ruthless, lawless, shameless, corrupt, & unapologetically bigoted president - who is still engaging in a coverup, the state of the House, the state of the Senate, and the #StateOfTheUnion are divided. I will NOT attend #SOTU2020," Green tweeted.
Other House Democrats who will not be in attendance include Tennessee's Steve Cohen, Florida's Frederica Wilson, Hank Johnson of Georgia and Earl Blumenauer of Oregon.
New York representative Alexandria Ocasio-Cortez also tweeted that she would not be attending Trump's speech Tuesday night.
"After much deliberation," Ocasio-Cortez tweeted, "I have decided that I will not use my presence at a state ceremony to normalize Trump's lawless conduct & subversion of the Constitution. None of this is normal, and I will not legitimize it. Consequently, I will not be attending the State of the Union."
Former Florida congressional candidate Pam Keith tweeted, "I'll be boycotting the State of the Union. Who's with me?"
Twitter users stated a variety of reasons for not tuning in to Trump's address, but many of them focused on Trump's perceived affinity for not telling the truth and his appreciation for high ratings on television.
"I'm boycotting the SOTU because I don't need to watch a madman lie to me for two hours on a Tuesday evening," tweeted @numberboxer.
"We ALL need to show our Contempt for Donald Trump by NOT watching his State of the Union Address! The one thing Trump HATES is LOW RATINGS! I will NOT be watching either!" tweeted @Legends_Hollow.
Musician Jeff Hendrick wrote, "Americans who care about saving their democracy should absolutely tune out the Liar in Chief #Trump tonight and #BoycottStateofUnion Poor ratings would be a nice little slapback for the #GOP."
"Why would we listen to a pack of lies spewed by a hateful, criminal illiterate who is damaging our planet beyond belief?" tweeted comic Elayne Boosler. "The fact that he gets tv time says a lot about how society has changed. Before, this guy would have been hidden in the basement."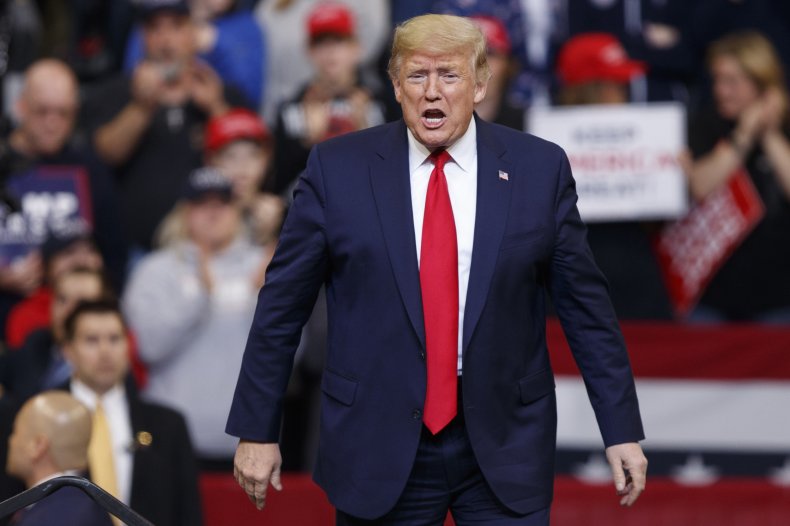 Some Republicans are saying that tonight's address will be a triumph for Trump and his administration. Trump's former press secretary Sarah Huckabee Sanders tweeted, "The Democrat party is imploding before our eyes."
"@realDonaldTrump will seize control of this race and cement his legacy as a transformational leader ushering in a new era of American Greatness," Sanders added.
Arizona Republican Representative Andy Biggs said he would be in attendance at tonight's event.
"I'm looking forward to attending tonight's #SOTU address and hearing President @realDonaldTrump's vision for the future of the United States," Biggs tweeted. "I believe that President Trump is going to give America an optimistic - 'look what we've done and where we're going' type of address."
Newsweek reached out to the White House for comment but did not receive a response in time for publication.
Tuesday's speech will be Trump's third State of the Union address. According to NPR, Trump will be speaking about the U.S. economy, health care, immigration, national security and issues regarding the American family.
"The theme of the State of the Union is the great American comeback," said a senior Trump administration official to reporters on Friday. "In his address, the president will lay out a vision of relentless optimism."