A new viral video may just show the end of a relationship after a boyfriend failed a loyalty test at a party—despite going there with his girlfriend.
TikToker iKnowAyrel is known for doing his "loyalty test" videos, but the one he posted last Tuesday—a clip from a longer YouTube segment—feels particularly shocking. In the video, iKnowAyrel meets two women, and asks if they're single. One is, but the other isn't. He asks if they'd like to participate in a loyalty test, where the single woman calls the other's boyfriend and pretends to want to get together behind her back.
"I can't believe he showed up, most people probably would of caught on," iKnowAyrel told Newsweek.
The women laugh and say it won't work.
"That's not gonna work," the woman with a boyfriend, named Yasmine, says. "He's literally here. We all came together."
"He's here right now?" iKnowAyrel asks, shocked.
"He's inside!" she replies. "I think he's in the living room or something. He can't be that dumb."
Given that everyone believes it's unlikely the boyfriend will come out, the women agree to give it a shot. iKnowAyrel tells the single woman to call the boyfriend, and say that Yasmine left the party angry and called a car to pick her up.
"Hey, so Yasmine just left, and I know, like, we're best friends and whatever, but she totally Ubered without me, and I'm, like, really p***ed off, and I was just wondering if you, like, want to slide," she asks. "I know it's weird, like, she's my best friend. But I was just wondering, do you want to?"
In the YouTube version, the conversation is much longer, and the boyfriend takes more convincing, but the end result is the same as in the TikTok.
"Just... long as my girl don't find out. I mean, like, she's gonna trip trip," the boyfriend says.
"So are you down to come out for sure?" she asks.
"I mean, yeah, I'm down. Just give me a second, I'll be there," he replies.
While the boyfriend can't hear through the phone, Yasmine's bestie apologizes profusely to her.
The TikTok only shows a brief look at Yasmine confronting her boyfriend, but the YouTube clip shows the full thing.
"She's my best friend, and you really, really believe that?" Yasmine asks.
"And you believe her, how long have we been together?" the boyfriend counters.
"I'm here listening to the goddamn phone call!" Yasmine replied.
"Well then tell me what the f*** I said, because obviously I don't remember," he answered, and she fills him in that he agreed to "slide" with her best friend.
The two continue fighting, when the boyfriend drops a bombshell: "Single, I've been single. You thought we were in a relationship? You thought we were in a relationship? You try to flip this on me, I flip it on you."
"Didn't you come in here?" Yasmine asks.
"Yeah, I mean, it is what it is," he replies.
At this, the two break up, and iKnowAyrel follows Yasmine away.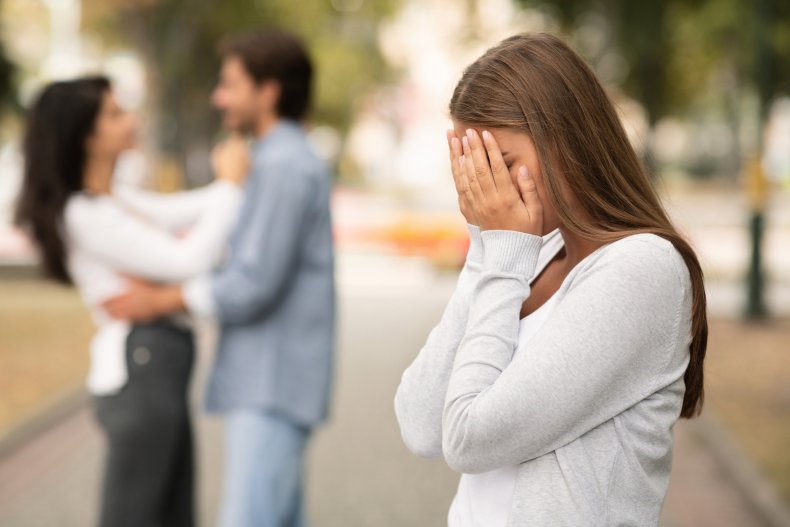 Cheating in a relationship can be ruinous, even if it's just a loyalty test like in the video. While for some people it's a deal breaker—and it appears unlikely Yasmine will reunite with her boyfriend after this—it can be possible for a relationship to continue after one partner has cheated.
Relationship expert Dr. Tina B. Tessina told Bustle that if a relationship can be saved after cheating, there needs to be a heart-to-heart conversation between the couple to determine whether or not it was a single mistake or a continuing thing.
"See if your partner is in denial, makes excuses, and/or blames you," Tessina said. "This means he or she is invested in the cheating behavior and not ready to change. However, it's a good sign if your partner truly recognizes he or she has a problem, is willing to get help to fix it, and will be accountable for rebuilding trust."
Tessina also recommends seeing a couple's therapist and looking at other problems in the relationship that may have lead one partner—or both!—to cheat. It's also worth looking into whether or not forgiveness is in the cards. But the most important question is the biggest: Does the couple still love each other?
"Love is a lot more like partnership than romance. Loving each other means not only focusing on what you want from your partner, but also being concerned with their happiness, too," Tessina said.
Update (3/24/2022, 4 p.m.): This article has been updated to include comment from iKnowAyrel.