Boy's Adorable Reaction to Surprise Puppy Melts Hearts: 'I Cried a Bit'
Puppies always bring happiness to a home, and it doubles up when the owner is a little child who's been begging his parents for a dog for years.
A child's reaction to his first puppy has gone viral, melting people's hearts all over the internet. In a post shared by the child's mother, who goes by the username OurLayeredHome on TikTok, the child can be seen tearing up with joy at the sight of the puppy.
The post, which has so far reached over 600,000 likes, 3,000 comments and 7,720 shares, features a video of the boy's first encounter with his puppy and a caption that says: "When you're not having more children. But you're blessed with one that deserves a BFF."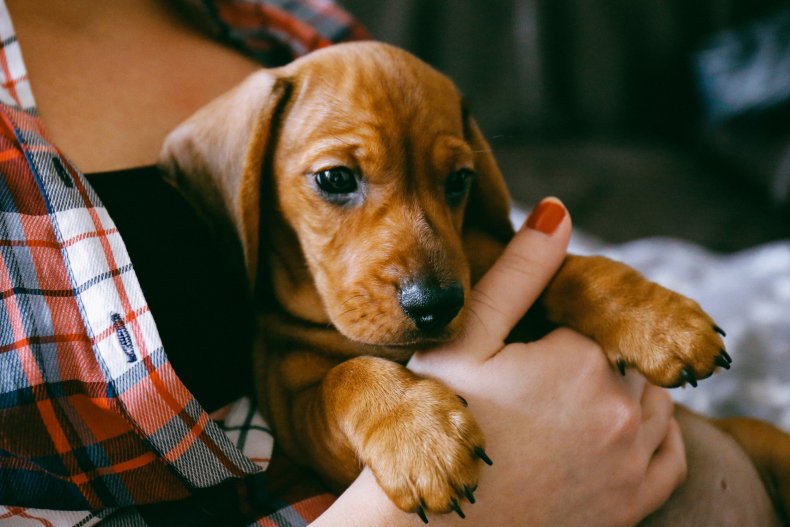 In the video, the boy can be seen wandering around the house when his mommy calls him for a surprise, and once he realizes what the surprise is, his face lights up and with a huge smile, he says: "We finally got Angus!" before jumping around all over the room.
Later in the video, the boy introduces himself to the dog, a tiny brown Dachshund, who immediately loves his new owner and the two start chasing each other around the house.
According to the American Academy of Child and Adolescent Psychiatry (AACAP), taking care of a pet helps children develop valuable social skills, like treating people kindly and patiently.
While it is good for kids to learn how to care for a pet, there must be parental supervision. The AACAP suggests that children under four should be supervised at all times when around pets as they aren't yet capable of controlling their aggressive and angry impulses.
Young children under 10 years of age are unable to care for a large animal, a cat or a dog, on their own, and their parents must oversee the pet's care even if they believe their child is old enough to care for a pet.
If children become lax in caring for a pet, parents may have to take over the responsibility on their own, or a new home may have to be found for the animal.
Most users were left in tears by the video. One user, CHAN, commented: "Omg [I'm] crying what a lovely grateful little angel." Damian said: "When he squeaked I cried a bit." And user3594425706454 added: "We finally got Angus got me straight in the feels!" Laney said: "He's gonna love that dog forever."
Another user, Help me save, wrote: "The look on his face.that doggie is so so cute." And another one said: "Crying at them playing and running! He has a new best friend!" Felicity added: "Oh bottle that joy up and hand that stuff out. Sweet boy."
Sarah commented: "This made me feel all warm and fuzzy inside and brought be so much joy. Thanks you so much for sharing." And melissalrumsey added: "Ohhhh and you got the BEST breed, teach your sweet boy to watch Angus' little back because they are so prone to back issues. Love, love, love...so sweet."
Some other users took the chance to appreciate the poster's house. Angela Pineau said: "The dog is super cute but can we talk about your impeccable taste in decor?
Abigaylbowden added: "THIS. Your house is GORGEOUS." Ames From Michigan wrote: "Your house is magical."
Do you have funny and adorable videos or pictures of your pet you want to share? We want to see the best ones! Send them in to life@newsweek.com and they could appear on our site.