'The Boys' Season 2 Ending Explained: Finale Sets Up Season 3 Villain
The Boys Season 2, Episode 8 was released a few hours early onto Amazon Prime Video, meaning fans have already started to watch the finale and learn how it sets up Season 3, which has already been ordered.
WARNING: The following contains spoilers for the Season 2 finale of The Boys
The Season 2 finale, titled "What I Know," saw the downfall (for now) of Stormfront (played by Aya Cash) and revealed the full extent of Ryan's (Cameron Crovetti) powers— even if his mother Becca (Shantel VanSanten) paid the ultimate price for that.
In the earlier parts of the episode, A-Train (Jesse T. Usher) released evidence stolen from the Church of the Collective about Stormfront's Nazi past, leading to her popularity taking a massive nosedive.
While this information circulates among the press, the good guys try to save Ryan from his father Homelander (Anthony Starr). Billy's (Karl Urban) first plan is to allow Vought to take Ryan if they promise him and his wife Becca's protection, but he then backs out of the deal, meaning that he has to save his wife and Ryan himself.
The two plots then come together, with Stormfront coming for revenge while the team tries to get Ryan and Becca back from Homelander. When Stormfront tries to kill Becca, Ryan lets out a rage-fuelled eye blast that leaves Stormfront with severed limbs and a mangled face. However, it also kills his mother.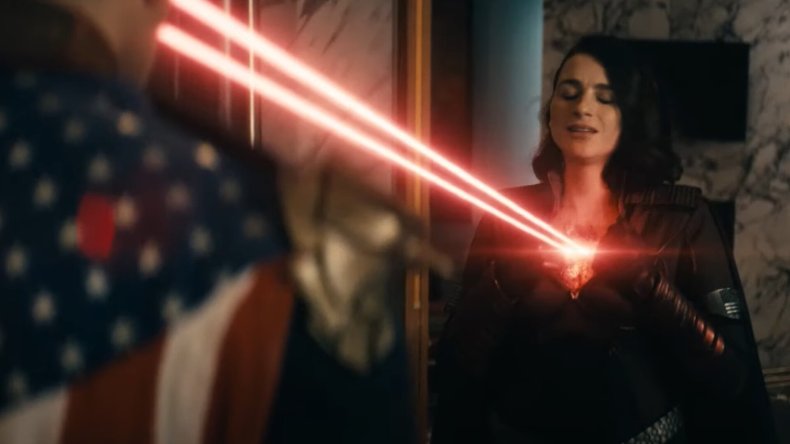 Ultimately, it is Queen Maeve (Dominique McElligott) who finally gets Homelander to give Ryan up by blackmailing him with the plane crash tape. He, Homelander and Starlight (Erin Moriarty) reach an agreement, and blame all the recent events on Stormfront, who they say is locked away somewhere.
However, as The Boys Season 2 viewers know, she has regeneration powers, so when Season 3 rolls around expect to see a rejuvenated Stormfront back and deadlier than ever causing trouble for the supes.
She will not, however, be the only villain The Seven face in the next season. "What I Know" also revealed who has been exploding heads the whole season—Victoria Neuman (Claudia Doumit), the anti-superhero Congresswoman. Her anti-Vought campaign is soon to continue in the next batch of episodes, meaning no supe (or their head) is safe.
According to Dormit, speaking to GameSpot, even she did not know her character was a villain until late into filming the show. She said: "I remember, I'd run into [showrunner Eric Kripke] on occasion on set, he'd be passing to go somewhere else, and he would just say to me, 'Big stuff for Neuman, very exciting! We've got some big stuff coming!'
"I'd have no idea what he was talking about. And I'd get the script for the next episode. And she's like, at a rally. I was like, 'Yeah, this is exciting, I guess!'...It was just so confusing how excited the writers were and everyone was for this character."
The Boys Season 2 is streaming now on Amazon Prime Video; Season 3 is coming in 2021.