'The Boys' Season 2 Episode 4 Release Date: When Will the Next Episode Air?
Amazon Prime Video has released the first three episodes of The Boys Season 2, which introduced us to the new member of The Seven Stormfront (played by Aya Cash). However, the character's true colors came out at the end of the last episode, leaving fans eagerly awaiting the next installment of the series.
The Boys fans do not have that long to wait luckily, before Season 2, Episode 4, titled "Nothing Like It in the World." After the release of the first three episodes, the remaining installments will air weekly. This means that the next episodes of the superhero show will come to Amazon Prime Video on Friday, September 11.
As for what time it will drop on Amazon, episodes are expected to be released at midnight PDT. When it comes to the streamer where you are will depend on your time difference from the west coast of California, which is currently seven hours behind GMT/UTC.
WARNING: The following contains spoilers for Episodes 1 to 3 of The Boys Season 2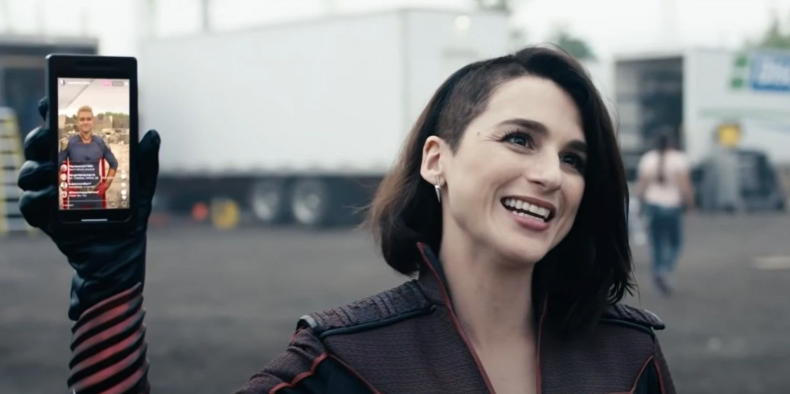 Episode 4 will come out after the big reveal about Stormfront in the latest episode. In "Over the Hill with the Swords of a Thousand Men," Stormfront lived up to her Nazi-inspired name by revealing she had some hateful opinions of her own. She also killed the brother of Kimiko (Karen Fukuhara), Kenji Miyashiro (Abraham Lim).
In Episode 3, the character made her way through an apartment complex, killing ever person of color within the building and snapping Kenji's neck while calling him a "f****** yellow b******."
In a recent interview, Aya Cash teased what would happen next with her character. The actor said to Entertainment Weekly: "We can have a dialogue about extremism and about racism and it's gonna be done in a way that both honors what is true in that and also has some fun with it because this is a satire. This is something that turns things on its head."
In a TV Guide interview, meanwhile, showrunner Eric Kripke teased that the next set of episodes will start the biggest battle of The Boys Season 2: Between Stormfront and Homelander (Anthony Starr).
He said: "The problem for Homelander is Stormfront isn't playing his game. She's playing a completely different game that he doesn't know how to play. And that's the problem because usually Homelander sets the terms of engagement. But she puts him on the spot immediately and he's not used to dealing with that kind of person, someone who doesn't respect slash fear him."
The Boys Season 2, Episode 4 will be released on Friday, September 11. The Boys Season 1 and Season 2 Episodes 1 to 3 are streaming now on Amazon Prime Video.