'The Boys' NYCC 2018 Panel Recap Includes Simon Pegg Surprise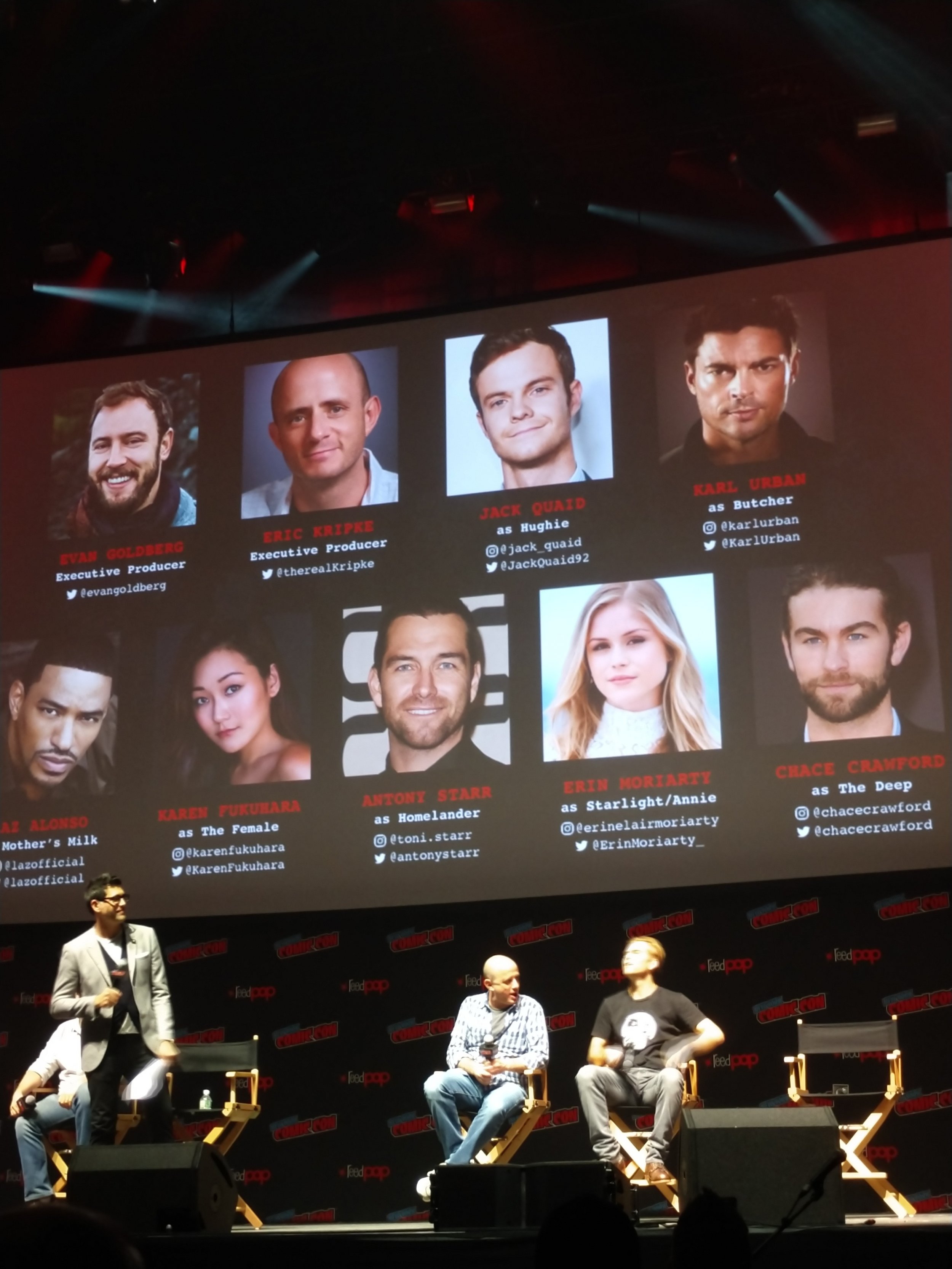 The Boys is a new Amazon series that looks at the messed-up side of a world of superheroes. Follow the titular team as they deal with the dirty underbelly of superhero crime and take on the Seven, a prestigious supergroup full of corruption.
Executive produced by Evan Goldberg and Eric Kripke, The Boys stars Jack Quaid as Hughie, Carl Urban as Butcher, Lans Olanzo as Mothers Milk, Antony Starr as Homelander, Erin Moriarty as Starlight/Annie, Karen Fukahara as The Female and Chace Crawford as The Deep.
At The Boys NYCC 2018 panel, the cast and crew shared a brash clip that showed off a group of superheroes being heroic, and The Boys flipping them off.
"We had done Preacher but we wanted something in our real world," Goldberg said.
Kripke agrees. He explained that The Boys is meant to remind viewers of what's going on around them.
"Every good genre is a metaphor for something, The Boys reflected today's society in a way few few things do. The world now reflects the world of The Boys way more than when Garth Eniss wrote it. We are making the most topical show on television."
The heroes in the world of The Boys aren't who they appear to be. Antony Starr said "every character is putting on a front to an extent" and their hidden dark sides are what inspire The Boys, particularly Hughie.
"If superheroes really existed, they would be like our highest paid athletes. Hughie worships these heroes but he finds out all at once how awful they are," said Quaid.
Not all of The Boys are so naive, however.
"Butcher knows that they are corrupt, deviant, represent themselves to be something they are not, he's out for revenge. He will stop at nothing to achieve his goal," said Urban. "Homelander is a character with a different moral compass, he cares deeply for what I call my babies and if they step out of line they get reprimanded."
Another clip shown at the panel was a scene ripped straight from the comics—Butcher telling Hughie to plant a bug for them and join the team. Billy Zane is also in The Boys for "one cinemax scene with a bunch of saxophone" fighting in an alley said Kripke. He's also part of Terminal Beauty 3, a fake movie set in the world of The Boys .
Simon Pegg then surprised the panel with an appearance, including Quaid.
"I've never been more insecure that I'm not Simon Pegg. He's my literal hero," he said, moments before Pegg popped out.
Pegg will play Hughie's father in the show, although when Ennis and artist Darick Robertson created Hughie for the comics they based the character's look off of Simon Pegg. Now, though, Pegg is too old to play Hughie but he's still excited to be part of the project.
"I always anticipated this moment would happen, I didn't think I'd get to play Huwie. The artist was a fan of my show Spaced, and Drew my face not thinking about it. I'm so happy that this happened and it felt so perfect to be Jack's father," Pegg said at the panel. His character, Dougie Sr., is basically a lump who sits around eating pizza rolls all day. He explains that he represents what Hughie's future would've been had he never met Butcher.
"One of the most challenging thing was eating pizza rolls. I had to eat three and felt very unwell by the end of the day," said Pegg.
Throughout the first season, The Seven will learn more about The Boys as the show starts at a time period that takes place before the events in the comics. The Boys don't have powers in the show either, The Female is the only one with powers.
"The show takes a bunch of blue collar people and puts them against the elite. The interesting thing is seeing how they use their deviousness to outsmart them," said Urban.
Ultimately, the show will have to differ slightly from the comics in a variety of ways. Goldberg explained that the comic didn't pull punches, and went really crazy because "Garth goes there." However, the show will take a more measured approach.
"It leads you to absurd moments, but it's grounded in reality. It's insane but not silly," said Goldberg.
The Boys is set for release on Amazon Prime in 2019.