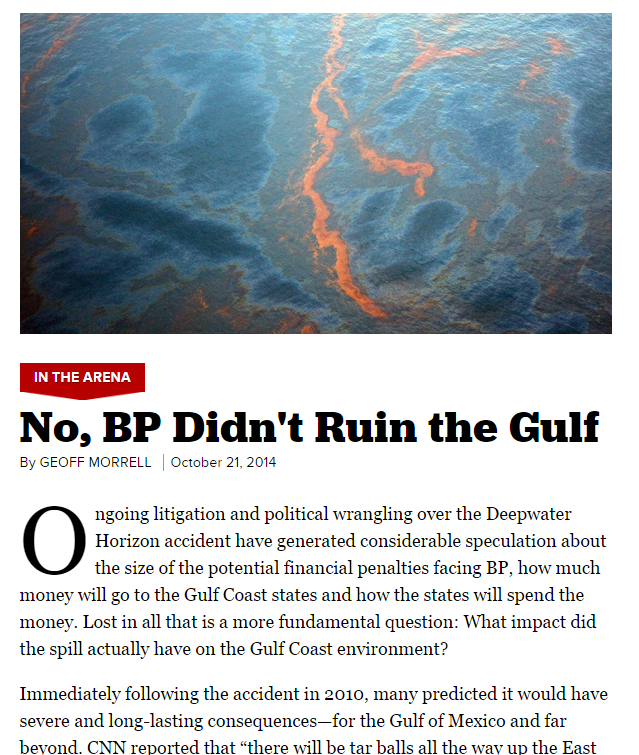 "No, BP Didn't Ruin the Gulf," argues a Politico Magazine story published Tuesday and appearing on Politico's front page today. That piece is written by Geoff Morrell, a journalist you likely haven't heard of because he is not a journalist at all.
He is, readers will learn if they scroll all the way to an author bio at the bottom of the piece, "senior vice president of U.S. communications and external affairs for BP."
This piece, Morrell tweeted, is "a must read for those who care about the facts."
Those facts turn out to be pretty generous to BP. Though he acknowledges that the Deepwater Horizon spill caused 11 deaths and significant harm to wildlife, Morrell points to recent studies arguing that "most of the environmental impact was of short duration and in a limited geographic area." In conclusion, he says, BP shouldn't be thought responsible for "damages caused by the acts of others, or those conjured up by opportunistic advocacy groups."
Despite his unusual journalistic pedigree, Morrell (or whoever wrote his headline) has a pretty strong sense of SEO: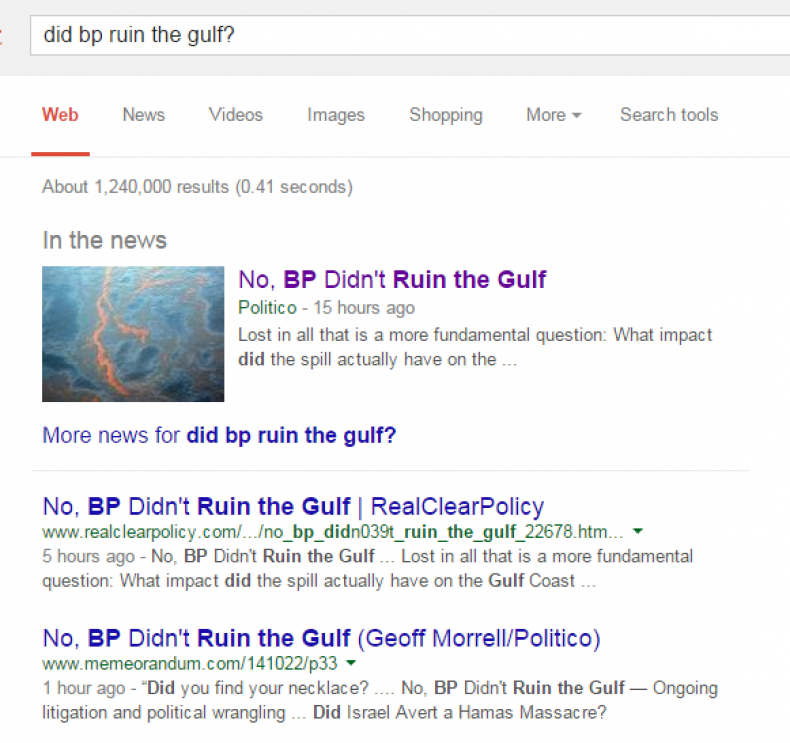 This is not sponsored content—or at least is nowhere identified as such—though BP is a sponsor for Politico White House correspondent Mike Allen's "Playbook" newsletter, as Whisper's Slade Sohmer points out:
Politico has published several anti-BP pieces as well, though not in at least a year (and both examples are clearly in the Opinion section rather than the magazine).
We've reached out to several Politico staffers and will update if we receive a statement. In the meantime, enjoy the memes while they last:
Update: As of Wednesday afternoon, Morrell's piece is now filed to the "Opinion" section of Politico Magazine. The story was earlier filed to "Environment" and not clearly marked as an Opinion piece, as this screenshot shows: