BP, White House Agree to $20 Billion Escrow Fund for Spill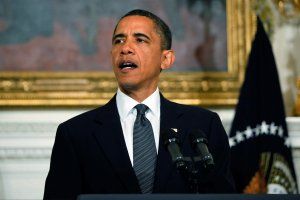 Although President Obama's speech on the Gulf of Mexico oil spill Tuesday night has been widely panned, he can take heart in the fact that he's more likely to be judged on his actions than his words. And on that count, he got a victory this afternoon.
Obama and BP executives emerged from their much-anticipated White House meeting with a tentative deal to create a $20 billion escrow fund to pay for damage claims related to the weeks-old oil spill.
"This $20 billion amount will provide substantial assurance that the claims people and businesses have will be honored," Obama said in a statement. "And it is not a cap. The people of the gulf have my commitment that BP will meet its obligations to them."
According to officials, the plan allows for BP to pay the money into escrow—in essence, a system allowing for money to be put into a fund, with a different party distributing the money. But BP won't have to put up all the cash at once.
That's a rare piece of good news for the company, which has seen its stock price nosedive since the April explosion that began the spill. The gradual payments might help to sooth stockholders and will avoid an accounting nightmare for the company. A BP collapse would be disastrous for the U.K. economy. The company also announced after the White House meeting that it will suspend all dividend payments to shareholders for the rest of the year—eliminating what would have been a $10 billion payout.
The administration was apparently worried that BP's promises to pay for all spill cleanup weren't good enough, as concerns about the company's solvency and ability to pay surfaced. It also wanted to get BP to commit to paying an amount above and beyond the $75 million liability limit currently in federal law.
The fund will be overseen by Kenneth Feinberg, a attorney with experience in sensitive, high-profile gigs. He came to prominence as special master of the September 11th Victim Compensation Fund, a U.S. government purse for victims of the 9/11 attacks, a role in which he took some heat but was generally acclaimed. More recently, he has served as special master for TARP executive compensation—or, as he's been better known, "pay czar"—in charge of overseeing pay packages for bank bosses bailed out by the federal government, a role that hasn't wrapped up yet. He'll be acting as an independent third-party administrator.
Obama has been hammered for his handling of the spill, but the public has been widely supportive of efforts to crack down on BP—and, in fact, polls show they'd like him to be harder on the company. And in a statement today, he showed he'll continue to hound the company: "We will continue to hold BP and all other responsible parties accountable."