Brackets Bust After Oral Roberts Shocks Ohio State in March Madness Opener
Oral Roberts University shocked the basketball world Friday afternoon by upsetting the Ohio State Buckeyes in overtime, 75-72, in the first round of the NCAA men's basketball tournament. This could leave many people ripping up their tournament brackets by now, just five games into the tournament known as March Madness.
It was the first NCAA tournament win for Oral Roberts since 1974, and it dashed the hopes of Ohio State, which was once considered one of the best teams in the country this year. It's the first major upset of the 2021 tournament.
Oral Roberts became just the ninth No. 15 seed to ever beat a No. 2 seed in the first round, and Friday's game is already being called one of the greatest tournament upsets of all time.
The Golden Eagles advance to face the No. 7-seed Florida Gators in the second round on Sunday.
Oral Roberts took a six-point lead over the second-seeded Buckeyes with two minutes remaining. Ohio State chipped away at the lead, cutting it to three with 1:09 left on the clock, and then cut it to one point after E.J. Lidell drained a 3-point shot with 17 seconds left.
ORU's Kevin Obanor made two free throws to give the Golden Eagles a 75-72 lead, and Ohio State missed a pair of 3-point attempts as time expired in overtime.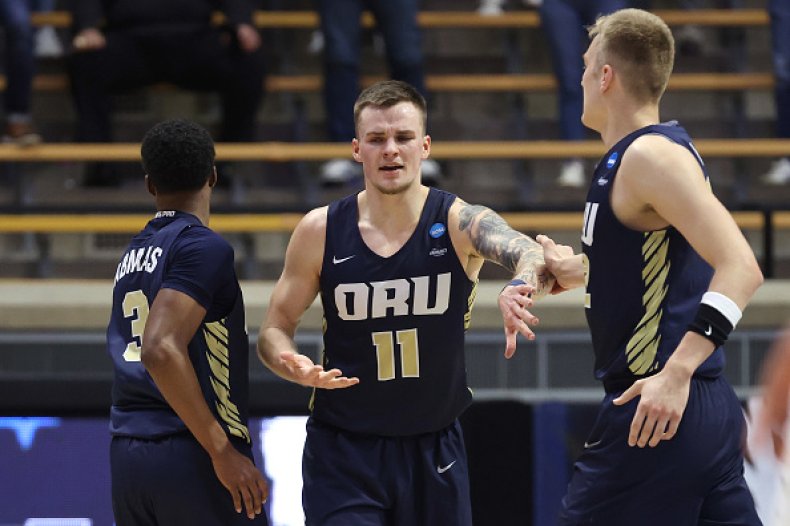 Obanor led all scorers with 30 points, and his teammate, Max Abmas, poured in 29 points. Oral Roberts made 11-of-35 shots from beyond the 3-point line while the Buckeyes were ice cold, shooting 5-of-25 from beyond the arc. Liddell led Ohio State with 23 points.
Ohio State, from the powerful Big Ten Conference that put nine teams into the tournament, was projected to make a deep run in the tournament. They were ranked in the top four late in the season.
Oral Roberts (17-10), which needed to win the Summit League Tournament championship just to get into the NCAA tournament, has now won six-consecutive games. Prior to that, the Golden Eagles lost four out of six games to fall to 11-10.
The tournament tipped off around noon with 16 total games on both Friday and Saturday's first round to whittle the field to 32 teams. There will be eight games Sunday and eight more on Monday to set the Sweet 16.
All games in this year's tournament are being played in Indiana, with the bulk of them in Indianapolis.
Florida needed overtime to knock off No. 10-seeded Virginia Tech, 75-70. Baylor, the No. 1 seed in the South Region, cruised to a 79-55 win over Hartford. Illinois, the top seed in the Midwest Region, bounced Drexel, 78-49.