Watch Every Ridiculously Charming Brad Pitt Acceptance Speech Of the Awards Season
Brad Pitt has been a force during this year's awards season, accepting accolades and stealing the hearts of film lovers across the country.
After maintaining a relatively low profile following his messy split from Angelina Jolie in 2016, Pitt has re-emerged from the shadows, reminding everyone why he's been one of Hollywood's most adored and beloved actors ever since his breakout performance as the undeniably handsome cowboy hitchhiker, J.D., in the 1991 classic, Thelma & Louise.
He's already collected multiple awards for his portrayal Cliff Booth in the Quentin Tarantino film Once Upon a Time…in Hollywood—which he's also up for best supporting actor at the Academy Awards on Sunday—and he's used his time at the podium to charm the socks off of film critics and fans alike with his heartfelt acceptance speeches.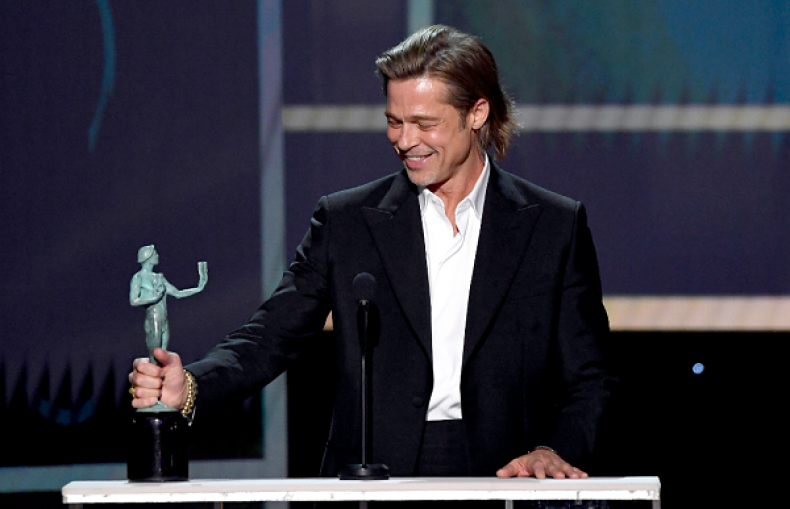 He's poked fun at his Once Upon a Time castmate Leonardo DiCaprio, referencing DiCaprio's character death in Titanic—"I would have shared the raft," he teased at the Golden Globes—and kidded Tarantino's "sad and desolate" hometown of Torrance, California, among other things at the New York Film Critics Circle Awards.
He's also dished out a few self-deprecating jokes and made light of his own demons. "Let's be honest, it was a difficult part—a guy who gets high, takes his shirt off, and doesn't get on with his wife. It was a big stretch," Pitt teased at the SAG Awards.
Somehow, he's managed to bring the humor to his speeches even when he's not present to accept the award. Pitt couldn't attend the BAFTAs on Sunday, but through his Once Upon a Time co-star Margot Robbie, who accepted the award on his behalf, the 56-year-old took a dig at his own love life while also cracking on Britain's Brexit ordeal.
"Hey, Britain. Heard you just became single. Welcome to the club. Wishing you the best with the divorce settlement," Pitt said via Robbie.
The father of six has also used his acceptance speeches to unveil his human side too, thanking Bradley Cooper, at the National Board of Review Gala, for helping him break free of his addictions: "I got sober because of this guy and every day has been happier ever since," he said.
More than anything, though, Pitt has appeared incredibly humble through all the acclaim and awards he's received this season. He expressed his love for the film community and thanked the legends alongside him in the best supporting actor category as well as the many people that have helped him along the way.
"We all know what we do is a team sport and we elevate each other, and I've gotten to work with some amazing, amazing people," Pitt said at the SAG Awards. "You all elevated my game. I certainly hope I did the same for you."
See Pitt's 2020 award acceptance speeches below.