Brad Raffensperger Says Georgia Runoffs 'Running Smoothly' as Polls Average 1 Minute Wait
Georgia Secretary of State Brad Raffensperger gave a positive midday report of the state's two Senate runoff elections, which he said are "running smoothly."
"After wait times averaging just 2 minutes on November 3rd, Georgia's election administration is hitting a new milestone for effectiveness and efficiency," Raffensperger said in a statement. "I have always said that after every election, half the people will be happy and half will be disappointed, but everyone should be confident in the reliability of the results."
According to Raffensperger's office, there have been no reports of long lines, and wait times at polling stations across the state averaged just one minute. The only reported issue, which occurred in Columbia County, was resolved by 10 a.m. Eastern time and didn't halt the voting process.
"Election Day for the Georgia Senate runoffs has progressed with few issues and almost nonexistent wait times," the statement read. "As of 12:45 pm, no polling locations reported wait times longer than 30 minutes and only 1 location reported wait times longer than 20 minutes."
Tuesday's contests are essentially rematches of the November 3 general election as Republican incumbents Kelly Loeffler and David Perdue face Democrats Raphael Warnock and Jon Ossoff, respectively.
The outcomes of the races will determine which party has majority control of the U.S. Senate in the 117th Congress. Republicans must keep at least one seat in order to maintain control. But if both Ossoff and Warnock win, the upper chamber would be split 50-50 and Vice President-elect Kamala Harris would be responsible for casting any tie-breaking votes.
The high stakes of the twin runoffs fueled record-breaking early-voting turnout. According to Georgia Votes, a website that tracks early-voting data, 3,093,375 voters already cast their ballot before January 5.
Polls conducted just before the election showed both races to be neck-and-neck. A survey from Targoz Market Research found Ossoff and Perdue tied with 50 percent support each among likely voters. The same poll found Warnock leading Loeffler by 2 percentage points, which was within the poll's margin of error.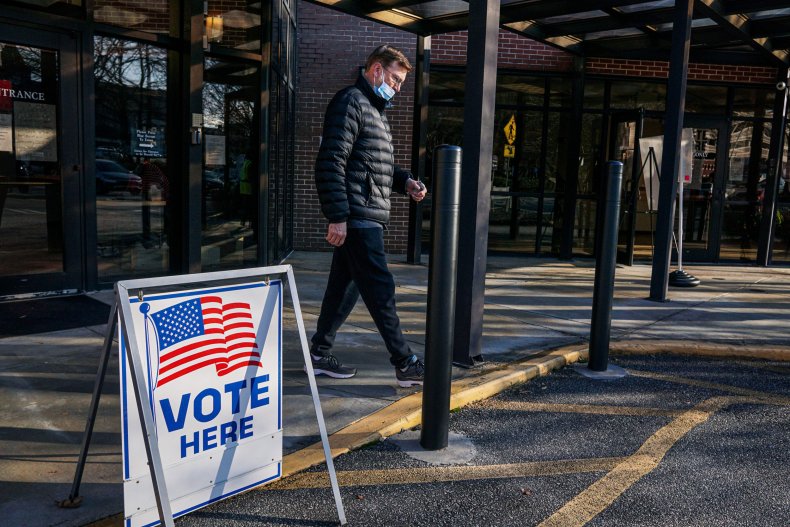 Raffensperger and other Georgia officials have repeatedly defended the state's electoral process as President Donald Trump and his allies continue to launch baseless allegations of fraud.
During a rally in Dalton on Monday night, Trump asserted there was "no way" he lost Georgia and that it was a "rigged election" despite numerous recounts and audits that have affirmed President-elect Joe Biden's win in the Peach State.
Election officials fact-checked Trump in real time on Tuesday as he tweeted that the state's 12th Congressional District, where Columbia County is located, was experiencing problems. He claimed, "Ballots are being left in lock boxes, hopefully they count them."
Gabriel Sterling, the state's voting system implementation manager, said Trump had "old intel" and that the issue had already been remedied.
Newsweek reached out to all four campaigns for comment on the Election Day voting process but did not receive a response prior to publication.