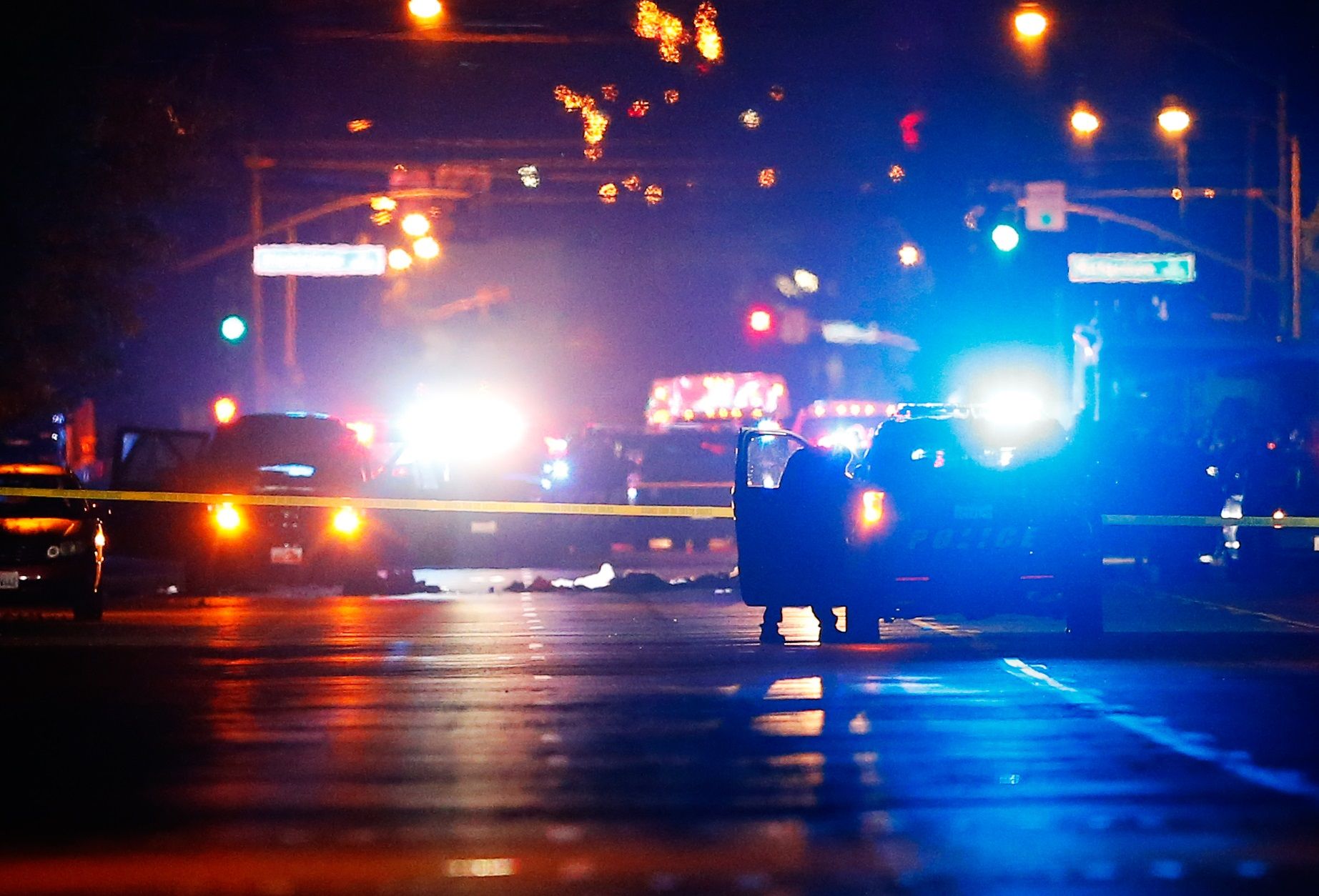 Updated | Mere hours before two suspects opened fire on a company gathering Wednesday in San Bernardino, California—killing 14 people and injuring at least 21 others—the president of the Brady Campaign to Prevent Gun Violence had sent a letter to Senate leaders urging them to expand background checks to all sales of firearms to prevent suspected terrorists from purchasing guns.
In most states, background checks are required only at federally licensed firearms dealers, not at gun shows or on the Internet. Federal law doesn't apply to about 40 percent of total gun sales that occur each day. The Brady Campaign works to extend background checks at the national level to all sales of firearms, including at gun shows and online.
On Wednesday, Brady Campaign President Dan Gross specifically warned Senate Majority Leader Mitch McConnell and Minority Leader Harry Reid that failing to expand background checks leaves the country vulnerable to attacks. He asked them to bring legislation immediately to the Senate floor to block known or suspected terror suspects and others who pose risks to public safety—such as convicted felons and domestic abusers—from buying guns.
"It is our great fear that if Congress continues to do nothing to address these significant loopholes in our nation's background check laws that make guns easily available to people intent on doing us harm, that this issue is a time bomb waiting to explode," he wrote in a letter dated December 2.
"If it winds up resulting in the loss of American lives to terrorism on our own soil, Congress will have to answer as to why it did nothing about it," Gross added.
The Brady Campaign confirmed that Gross sent his letter to McConnell and Reid around 10:30 a.m. ET Wednesday—a few hours before the deadly San Bernardino incident.
Police have identified Syed Farook, 28, and Tashfeen Malik, 27, as the suspects in Wednesday's shooting. The couple allegedly opened fire on a company holiday gathering, then fled the scene, triggering a manhunt and eventually a shootout with police. The FBI investigation is still unfolding, but police said they haven't ruled out terrorism.
Known and suspected terrorists are not included in the nine categories that federal law prohibits from purchasing or owning firearms. In his letter, Gross cited an Al-Qaeda video from 2011 in which a spokesman for the group encouraged followers in the United States to buy weapons at gun shows.
Later on Thursday, Reid is expected to force the Senate to vote on amendments to curb gun violence, according to a tweet on his Twitter account. Democratic Senator Dianne Feinstein of California has sponsored a proposal under consideration that would prevent known or suspected terrorists from buying guns at federally licensed dealers.
Speaking from the Oval Office Thursday, President Barack Obama said the shooters in San Bernardino perhaps had "mixed motives." He also said gun safety can't be left solely to the professionals.
"We are going to have to search ourselves as a society," he added, "to make sure we can take the basic steps that would make it harder—not impossible—but harder for individuals to get access to weapons."
This story has been updated to include the increased number of injured people in the San Bernardino shooting, from 17 to 21.​