The Braille Clothing Brand Changing the Fashion Game
From models in reptilian masks (did you see the lime green lizard with a pierced eyebrow?!) to egg-accented bustiers, you truly see it all at New York Fashion Week. But as designer Alexa Jovanovic watched the 2023 show, she struggled to find the one thing she was looking for.
"I'm always looking out to see how much disability inclusion is actually involved," Jovanovic tells Newsweek. "I was really disappointed in this year's fashion week from the disability angle."
The 28-year-old is changing that with her own brand called Aille Design, created to make the space more inclusive. The unique clothing line, pronounced "eye," features fully legible braille beadwork.
"[Aille] is "so much more than just a clothing brand," Jovanovic said. "We're creating the braille fashion movement and that means bringing representation to all aspects of disability and inclusion."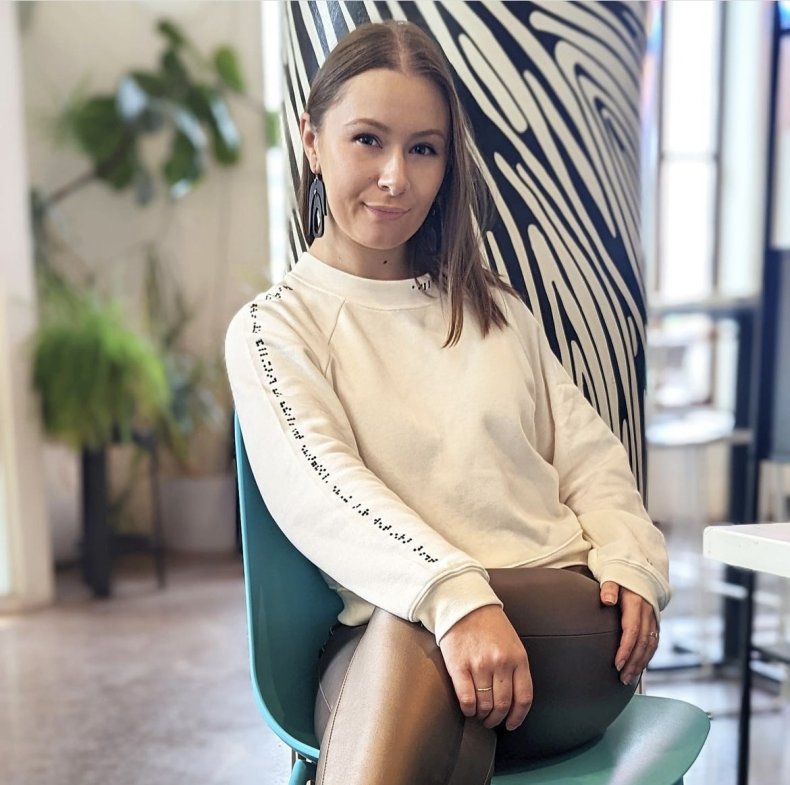 Designed for Inclusivity, Accessibility
Her team works with visually impaired individuals when designing new pieces and the braille messaging. At first, the messaging was a physical description of the item and how to care for it– think garment tag. It's since expanded and includes motivational phrases like "diversity includes disability" and custom messaging.
Jovanovic also wanted to create a product that was accessible and easy-to-wear, especially for those living with disabilities. The fabric doesn't need ironing, is machine-washable and designed for walkability, making it ideal for those with guide dogs or a cane. While created with the visually impaired in mind, the clothing is for everyone. Since launching three years ago, the brand now offers blazers, dresses, sweaters, pants and more, all handmade in Buffalo, New York.
The Blue Dress
Aille's signature piece, the blue dress, took more than two years to design and describes the color blue from the perspectives of ten blind women.
"We worked really closely to learn about the personal experiences of these ten women," Jovanovic explained.
Along with phrasing, she asked each woman what they want the dress to represent and how to make it as accessible as possible. The finished product features those stories down the front of the dress in braille. The dress is crafted using more than 2,600 beads and the back is designed with a long zipper for easy use.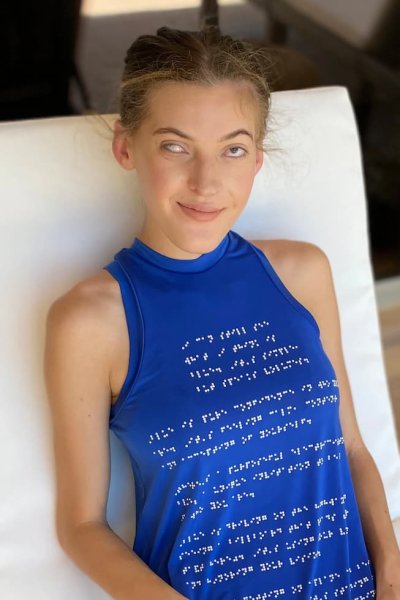 How it Started
Aille Design started as a research project in college, Jovanovic remembers sharing the details to her then-boyfriend Jake Walsh on their first date.
"I had just submitted our patent application for a few pieces and he was so enthusiastic about it from day one," she said.
"I thought it was just really cool," Walsh said, recalling their date at the art museum. "It was impressive to me she was doing all this work and she was getting the patent and developing this unique idea herself. I was very impressed from the beginning."
Fast forward six years, the two are now married and in business together. Jovanovic focuses on the design and creative end, while Walsh takes care of the business aspects.
"Being able to do this as a team effort has been absolutely phenomenal," Jovanovic said.
The duo plan to collaborate with mainstream companies within the space to increase awareness of disability inclusion and look forward to seeing more representation on next year's runway.