Outdated Mail Sorting Machine Thrown Out at USPS Center in Colorado
A mail sorting machine was recently thrown out in Colorado on the orders of embattled Postmaster General Louis DeJoy.
DeJoy has recently come under scrutiny over changes that have slowed down mail deliveries and raised concerns about how the United States Postal Service (USPS) will handle the expected rise in mail-in ballots during November's presidential election.
Following outcry, DeJoy made assurances early last week he would suspend operational changes to the USPS until after the election "to avoid even the appearance of any impact on election mail."
But according to an initial report by KREX, a brand new mail sorting machine was thrown out at a USPS Distribution Center in Grand Junction days after that pledge. KREX later updated its story to note the machine was not brand new and was outdated.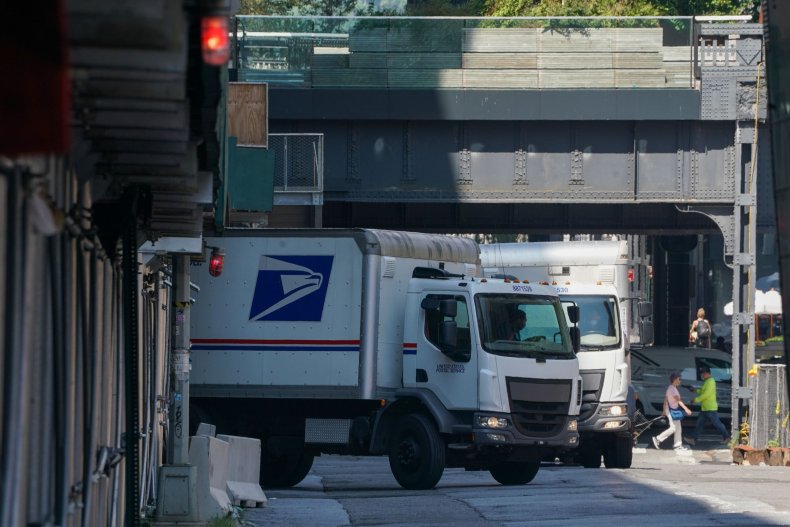 Earlier this month, CNN reported that the USPS planned to remove 671 mail sorting machines in cities across the U.S. this year. The agency reportedly started removing these machines in June.
Democrats alleged that DeJoy, who has previously donated to President Donald Trump, is working with the president to make it harder for Americans to vote by mail in the coming election.
In DeJoy's appearance before the GOP-led Senate Homeland Security and Governmental Affairs Committee last week, he maintained that mailing sorting machines that have already been disconnected across the country will not be reinstalled ahead of November's election, even while acknowledging a "dip" in the USPS's service.
House Speaker Nancy Pelosi blasted DeJoy's decision to pause changes as "wholly insufficient" and said it does not reverse the damage already done to the USPS.
"The Postmaster General frankly admitted that he had no intention of replacing the sorting machines, blue mailboxes and other key mail infrastructure that have been removed and that plans for adequate overtime, which is critical for the timely delivery of mail, are not in the works," she said in a statement after speaking with DeJoy last week.
Others, including senators Elizabeth Warren and Bernie Sanders, have called for DeJoy to resign or be fired.
"The @USPS Board of Governors has a responsibility to serve the public interest. That means delivering the mail on time – not acting as accomplices for the Postmaster General's," Warren tweeted after the USPS Board of Governors publicly backed DeJoy. "If the Board won't fire Louis DeJoy and reverse the damage, they should resign too."
Sanders added in a tweet: "Millions rely on the Postal Service for prescription drugs that treat diabetes, high blood pressure and more.
"Trump's attack on the Postal Service doesn't just threaten our election, it could very well be deadly as well. Postmaster General DeJoy must go."
Correction 8/29/20, 11:40 a.m. ET: An earlier version of this story and headline misreported the condition of the voting machine and circumstances under which it was discarded, based on an anonymous source from a local news outlet. We regret the error.