When Maria Sharapova takes to the courts of Wimbledon, she does not smile. She chases balls with the aggression of a Doberman Pinscher, grunts like a hyena in heat, and blasts rocket-like serves at her opponents. During intense matches she's pure terror—a leggy, blonde monster ready to obliterate the person on the other side of the net.
But on the evening of June 18, the Wednesday before the start of Wimbledon, she's more beauty than beast as she sits inside the Sugarpova Candy Lounge—a pop-up shop in Wimbledon village promoting her eponymous line of gummy bears, gumballs and soft chews. Sharapova wears a white V-neck t-shirt with a plunging neckline; the Sugarpova logo—a pair of cherry red, puckered lips—sits just south of her breasts.
She's fielding questions from Laura Robson, an injured British tennis player who is reporting on Wimbledon for the BBC.
"What made you go into sweets?" Robson asks.
"When I was a little girl I loved sweets, whether it was a little piece of candy or a lollipop that I got after practice or an English lesson," Sharapova says. "Two years ago it just hit me: 'Why not do something with candy and create a business of my own?'"
Robson suggests that gorging on liquorice-flavoured rainbow swirls with a marshmallow center may not fit with Sharapova's training regimen. But Sharapova, seven years Robson's senior and ranked 86 places above her, simply laughs. She navigates the conversation back to her core message: she is a hands-on businesswoman. "I've visited the factory," she says. "It was a cool experience seeing how it was made. It's pretty much a colorful rainbow liquid that is turned into a liquorice or gummy bear."
The players smile at each other. The conversation winds through a series of banalities. We learn that Sharapova puts on her left shoe before her right. She has a pudgy, eight-year-old dog, who is currently in summer camp. She loved the Spice Girls when she was younger. Eventually Sharapova guides Robson—and the BBC camera crew—past racks of Sugarpova tank tops, available for £16. Meanwhile, children and grown men have lined up outside.
It's fitting that the sound of cha-ching emanates from Sharapova's candy shop on Wimbledon High Street. In 2004, ten years ago this week, Sharapova upset Serena Williams in the Wimbledon final, catapulting Sharapova, then 17, onto the cover of Sports Illustrated and turning her into the world's most marketable female athlete. Lucrative deals with Cole Haan, Evian, Honda, and Samsung followed, all capped off with a Nike deal that guaranteed her $70 million. The four Grand Slam titles that have followed have activated millions in bonuses.
She comes into this year's competition buoyed by her victory at the French Open earlier this month, and with both Williams' sisters failing to reach the second week of the Wimbledon singles for the first time in eight years, Sharapova's path to the final looks clearer. She plays her fourth round match against Angelique Kerber today.
Last year Forbes magazine listed her as the world's highest-paid female athlete for the tenth straight year. She topped the list with $29 million in earnings – $23 million of which came from endorsements rather than prize money. Sharapova may have entered Wimbledon as World No. 5, but her earnings put her $8.5m ahead of World No. 1 Serena Williams. She's adding more sweets to her honey pot. Sugarpova, launched in August 2012, is now sold in more than 30 countries. In 2013 the company sold 1.3 million bags of candy, and will likely double that figure this year. In April Sharapova became an equity owner in sun protection brand Supergoop. In June she became the face of Avon's new fragrance, Luck. And this fall she launches her own line of sleepwear.
"Everything she has is because of that win at Wimbledon," says Max Eisenbud, the agent who has guided Sharapova through contracts, deals and endorsements since she was 11. "You don't get this candy shop without that."
It's the evening after Sharapova launched her candy lounge, and she's standing inside the Selfridges food hall in London. She's wearing a black sleeveless dress, which brings into sharper focus her main accessory: a cup of Pinkberry frozen yogurt topped with Sugarpova Smitten Sour Mini, a sour rainbow candy strip.
In March, Pinkberry, the upscale frozen yogurt franchise founded in West Hollywood, inked a deal to offer Sugarpova as a topping in its shops around the world. Now Sharapova is walking a series of journalists through the partnership, as hundreds of fans line up for autographs and photos. Some began queuing at six in the morning. Others, including a group of Japanese tourists, snap photos through a glass window.
When it's finally my turn, I ask her why she chose to leave her face off of the Sugarpova packaging, despite her agent's protests. "I wanted the brand to live on its own," she says. "Of course in the beginning your ultimate fans are buying the product. But two years down the line people are buying it because of the quality and creativity of the packaging. It makes them happy. They see it, they love it, they bring it to birthday parties."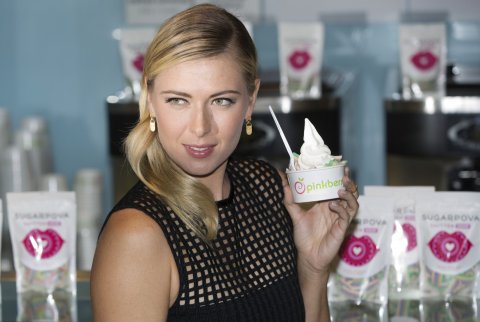 The First Maria
Designer gowns and candy toppings are a far cry from Sharapova's humble roots. Her mother became pregnant with her 10 months after the Chernobyl nuclear disaster. The Sharapovs lived 40 miles from the site, so fled to Nyagan, Russia, a petroleum and gas centre in Western Siberia. In 1993 Martina Navratilova spotted a six-year-old Sharapova at a tennis exhibition in Moscow and encouraged her parents to move to Florida so Maria could train at the elite Nick Bollettieri Tennis Academy. She and her father Yuri arrived in Florida with no English skills and just $700 of borrowed money. "He worked a lot of construction jobs, and at restaurants and golf courses, and helped out at tennis academies," Sharapova says. Within six months she had secured a scholarship to Bollettieri's academy.
Enter Eisenbud, a straight-talking, balding man with a New Jersey accent. He began representing Sharapova in 1999, shortly after he joined IMG, the leading international sports agency that represents athletes like Novak Djokovic and Serena Williams. Maria was just 11 years old at the time. Even at that young age she understood his role: to help her cover expenses, such as tournament entry fees, stringing her racket and hotel rooms.
"Tennis is an expensive sport, especially for families that don't have a lot of money," she says. "Booking a hotel at a tournament may seem like a small thing, but help like that was important for my family and I to get to those tournaments and get the right coaches."
When his charge was 13, Eisenbud began to understand how marketable she may one day become. In the spring of 2001, Sharapova filmed a segment with HBO's Real Sports. The interviewer asks the following question: "If you had a choice between winning Wimbledon or making $20 million in endorsements, what would you choose?" The teenager stares straight into the camera and shows a glint of business-savvy: "I would want to win Wimbledon, because then the millions will come."
Her response floored Eisenbud. "That wasn't anything from me, and it wasn't media training," he says. "That's probably the first time I realized this girl's going to be really special."
Eisenbud sought to distinguish Sharapova from Anna Kournikova, perhaps the world's most recognised tennis star in the late 90s. "Kournikova was blonde and Russian and everybody wanted to make the comparisons," Eisenbud says. "And, you know, no woman likes to be compared to another woman." Snapping back at one journalist, Sharapova once said, "I'm not the next anyone. I'm the first Maria Sharapova."
Differentiating the two served purposes beyond vanity: it also addressed the Kournikova conundrum. Despite rising to number eight in the world, and blazing a trail for Eastern European tennis players, Kournikova became known more for her beauty than her talent. She famously appeared in an advertisement for Berlei Shock Absorber Bras wearing her only her B-cups and panties. The tag line? "Only the ball should bounce." She appeared in barely-there bikinis for spreads in FHM, Maxim, and Sports Illustrated, repeatedly appeared on People's 50 Most Beautiful People list, and regularly topped Google's annual rankings for search engine terms. Despite all her promise, she never won a WTA singles title. In 2004, ESPN ranked her #18 on its list of the "Biggest Flops of the Last 25 Years."
Eisenbud could see what was coming, so he made a conscious effort only to allow media interviews when Sharapova won junior tournaments. "That forced media to speak about her winning," he says. "That means the press always positioned her as a winner."
Sharapova protected her own brand as a teenager as well. "We would be at dinner and maybe somebody was drinking a beer or alcohol was at the table," Eisenbud says. "Obviously, she wasn't drinking it. But she didn't want anybody taking a picture of her with alcohol, so she'd peel off the labels."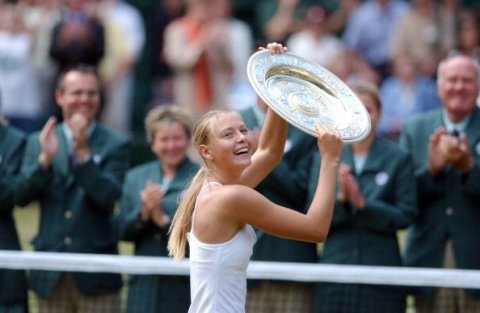 Gold Rush
In 2004, Sharapova entered Wimbledon as the #13 seed. In a shock result, she thrashed top seed and two-time defending champion Serena Williams 6-1, 6-4, marking the most lopsided women's final at the All-England Club since 1992. "I want to cut up this trophy," a giddy Sharapova said during her on-court interview, "and give it to everybody, this whole crowd."
It soon became evident that she could now afford to hand them all bags of money instead. Within an hour, Eisenbud received nearly 800 emails from potential sponsors throwing ludicrous sums of money his way. He exercised extreme caution, bypassing lucrative deals with a mind to choosing blue chip brands that might pay less, but would set the right tone for Brand Maria in the future.
"Before she won Wimbledon the Sharapovs didn't have much money, and they wanted to get paid," says Eisenbud. "We did some lucrative, one-year deals that paid her a lot of money. They were Japan-only so didn't affect the global brand we were building." (Those deals included Pepsi and Honda, even though Sharapova did not have a driver's license at the time). She signed just one global deal, with Motorola, which was poised to launch its popular Razr line of mobile phones. That deal stemmed directly from Sharapova's match with Williams: after her victory, she tried to phone her mother on court, but her unbranded cell phone wouldn't work.
Eisenbud had laid the foundation for those deals in Japan years before. When she was still a junior, he secured her a deal with Tokyo-based NEC computers. "We encouraged her to play in Japan because it was a big market and they like blondes," he says. Today Japan is the country that consumes the most bags of Sugarpova annually.
In subsequent years Canon, TAG Heuer, and Land Rover, among others, came knocking. Rising to the top of her sport mattered, but so did the fact she chose tennis to begin with. Women's tennis remains far and away the most visible and lucrative of all female sports. It's the only professional sport where female athletes compete at the same high-profile tournaments as the men, year-round, and no other women's sport can match its global scale. Currently the top 10 female players hail from 10 different countries. Seven of the 10 highest-paid female athletes in 2013 were tennis players.
Anita Elberse, a professor of marketing at Harvard Business School, who teaches a case study on Sharapova every year, says there is a dearth of marketable female athletes. "In the world of tennis there is Maria, the Williams Sisters and then the list almost stops already," she says. "That gives the ones that are on that short list enormous power. They have even more opportunities to benefit from their position."
Sharapova became a brand ambassador for Porsche in 2013. A spokesperson at the German automaker says Sharapova helps them reach new target groups like women and younger Porsche drivers. "Maria is an exceptional athlete," she says. "She combines top performance in her sport with elegance and power. These are precisely the qualities that are embroiled in our sports cars."
Endorsers like Sharapova can influence the bottom line. Elberse has found that a firm's decision to sign a celebrity, particularly an athlete, as an endorser leads, on average, to a sales increase of 4%. "That's a significant sum of money," she says. When athletes win important tournaments or championships these same firms see a boost in both sales and stock prices. "So if you have a consistent performer like Sharapova who is constantly a contender there is a strong payoff for the brand."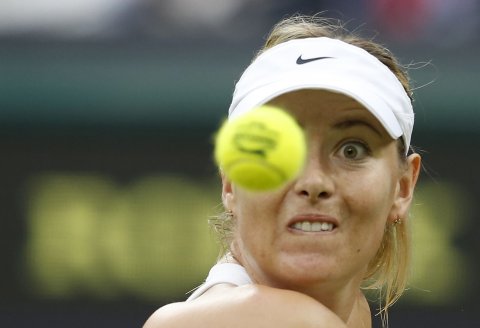 Five Birds, One Stone
Eisenbud is standing next to a sushi stand inside Selfridges food hall, watching Sharapova sign autographs. A disgruntled fan comes up to him to complain that the person who took his photo has captured neither him nor Maria. Eisenbud disarms him with his coarse charm: "Sheesh," he says. "Whoever took this photo should be shot in the head!" The man gets back in line.
Problem-solving is Eisenbud's forte. As Maria has sealed more and more sponsorship deals, he has had to work hard to make sure sponsors get along. He organises meetings and social events so they can learn to like each other, and he spends most of his day meeting-and-greeting with sponsors and making sure schedules don't conflict. He plans every hour of every day six months in advance. On-court outfits that Sharapova will wear to major tournaments are determined 18 months in advance, giving Nike time to tweak them and bring them to market.
Eisenbud and Sharapova exchange up to 50 emails a day. He blind copies her on important emails to keep her in the loop. "There are about 10 days a year where I just want to cry," he says of the constantly changing schedule. "But I'm a master of killing like five birds with one stone."
It's not an exaggeration. At precisely 6:20pm security guards on walkie talkies rush Eisenbud, Sharapova, and Sharapova's publicist through the crowds of the food hall, through the perfume section, and up two flights of stairs to a personal shopping area. It's a pre-determined route that was timed the day before (taking four-and-a-half minutes). Over the next 22 minutes, Sharapova's assistant stylist helps her change into an Antonio Berardi dress, and then a series of Porsche SUVs whisk Sharapova's team off to the Goring Hotel, where Sharapova takes photos with racing driver Mark Webber, also a Porsche athlete, in front of a new Porsche 918 Spyder. During a brief rain delay, Sharapova and her publicist, crouched under an umbrella, discuss what she'll be wearing to the ESPY Awards on July 16th. Webber then drives Sharapova to the Women's Tennis Association (WTA) Pre-Wimbledon Party, a mandatory event for Top 10 players. She walks down the red carpet and disappears into a sea of flashing cameras. When she emerges, Eisenbud is already waiting for her.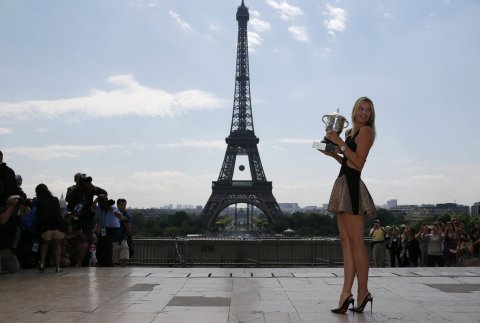 Haute Maria
Sharapova began nurturing her own business ventures in 2008 when reconstructive shoulder surgery sidelined her for 10 months. "I have played tennis since I was four years old and everything was on automatic pilot," she says. "Suddenly there was a stop sign in front of me and I didn't know if I would come back."
So, drawing on the endless meetings she had previously had with other brands, she began to think about developing Sugarpova and her own fashion interests. She negotiated a deal with Cole Haan, the luxury fashion label, to design a collection of shoes, handbags and accessories. She recalls meeting with Vogue editor Anna Wintour for advice. "Anna said, 'Well, it would be an amazing honor to do that. But you have to realize that this is your first chance and your biggest chance and you have to do it well.'"
She took that advice seriously. Merideth Gilmor, Sharapova's publicist—who was the head of communications at Cole Haan at the time—says that Sharapova broke the stereotype of guest designers who lend their name and little else. "She comes to the first meeting with mood boards, full sketches, colour and material swatches and heel treatments—high heel, short heel, stacked heel," she says. "She had done her research. The CEO looked at me and he was like, 'Oh my god. This girl has got it.'"
She raises her python-print ballet flat to illustrate the point. "The lacing on this ballet flat was not originally there," she says. "Maria was like, and then we were like, how do we connect Maria with the ballet flat? The lacing. Lacing on a tennis racket. Lacing on a ballet flat." It went on to become one of the company's best-selling shoes.
During Sharapova's 10 months off the courts, Eisenbud tried to calm sponsors' nerves. The majority did not worry about her injury, and appreciated her offer to work extra days since she suddenly had extra time on her hands. Only one, Canon, chose not to renew her contract, wary that she might not return to her previous form. It proved to be their loss. Lindsay Hymson, the director of public relations at TAG Heuer, says the injury ultimately made Sharapova a stronger ambassador. "Our brand is not about celebrating success," she says. "It's about the mental fortitude that helps someone overcome adversity. It's about the inner strength, like Maria's, to continuously challenge herself after a shoulder injury and to win two French Open titles."
Eisenbud admits that the deals and sponsorships he has helped negotiate add stress and strain to Sharapova's packed schedule. That, he says, makes her on-court achievements all the more admirable.
"All these other players, they come to Wimbledon and all they need to do is focus on playing tennis," he says. "She comes to Wimbledon and she has the Sugarpova pop-up, the events, the parties. I think people take for granted just how her everyday business is running and that she is still playing tennis. She had practice this morning, and she did fitness after that. She's got to get up tomorrow and practice again. Twice, you know."
I sigh, but Eisenbud shakes his head. "There is an amazing machine behind her. Don't feel sorry for Maria Sharapova."