Brandi Love Wants Ron DeSantis To Run in 2024 if Donald Trump Doesn't
Brandi Love has said she will be backing Ron DeSantis to run for president in 2024 if Donald Trump doesn't run again.
The adult film actress, who identifies as a conservative, spoke to Newsweek after she was ejected from a Turning Point USA event last week.
"Everyone knows I'm the 'MAGA MILF' so I would be thrilled to see Trump run again. I really don't think he is going to," the porn star, whose given name is Tracey Lynn Livermore, told Newsweek.
"Even I can admit that Donald Trump has an obnoxious arrogance about him that rubs some people the wrong way. But so do most who ascend to the levels of success he did. Steve Jobs, Mark Zuckerberg, Elon Musk, etc. They are all like this."
Love said she vehemently supported Trump due to his "policy positions."
"He basically said screw the swamp, screw the system, this country does not belong to 'The Capital' it belongs to We The People. He put America first."
She added: "You simply cannot argue that prior to COVID, all people, of all colors, genders, political persuasions and religions were doing better than at any time in history."
Love said that if Trump decides not to run for office again then she will be backing the current Florida governor.
"If Trump doesn't run in 2024 then I'd like to see DeSantis run," she said. "I'd hate to lose him in Florida but he has that same irreverence for DC, the media and the swamp as Trump has."
Love also spoke about being an adult performer who is vocal about politics.
"I miss the days when players played, organizations knew their purpose and adult entertainers could simply entertain," she said.
"I hate the fact that I'm out here having to fight for us as a group not to be canceled on Tumblr, Facebook, Instagram and at the same time fighting my own not to be canceled from shooting pro scenes in Los Angeles.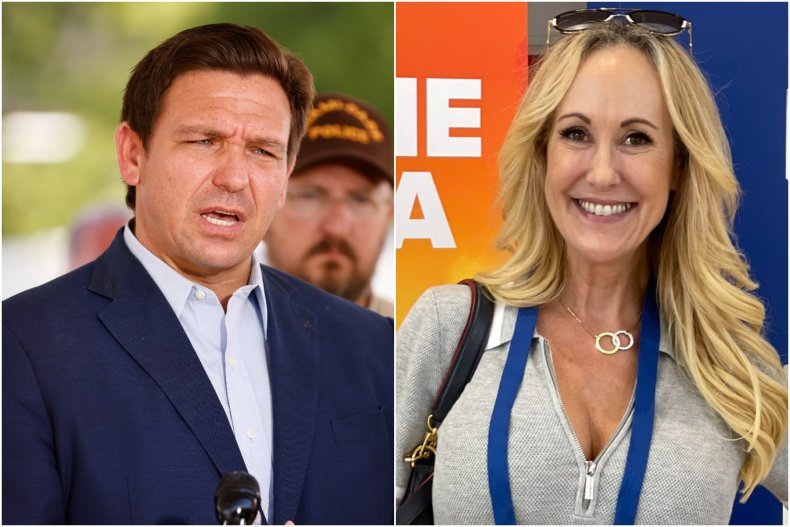 "I can't believe I'm having to stand up and fight for America to remain America and at the same time fight against factions from my own political side of the fence."
The 48-year-old made headlines last week when she condemned Turning Point USA and branded the group a "religious cult" after she was banned from one of their conferences.
Turning Point USA (TPUSA) is a right-wing organization that advocates conservative values on high school and college campuses.
TPUSA told Newsweek on Sunday night that the decision to eject Love was "in keeping with its standard operating procedures to not involve porn brands, influencers, or personalities that post or publish sexually explicit and pornographic content."
Love added to Newsweek: "I wish less of us [porn stars] had to speak out. Common sense and Americanism has been replaced by a dangerous tribalism."