Georgia Set to Execute 72-Year-Old for 1979 Murder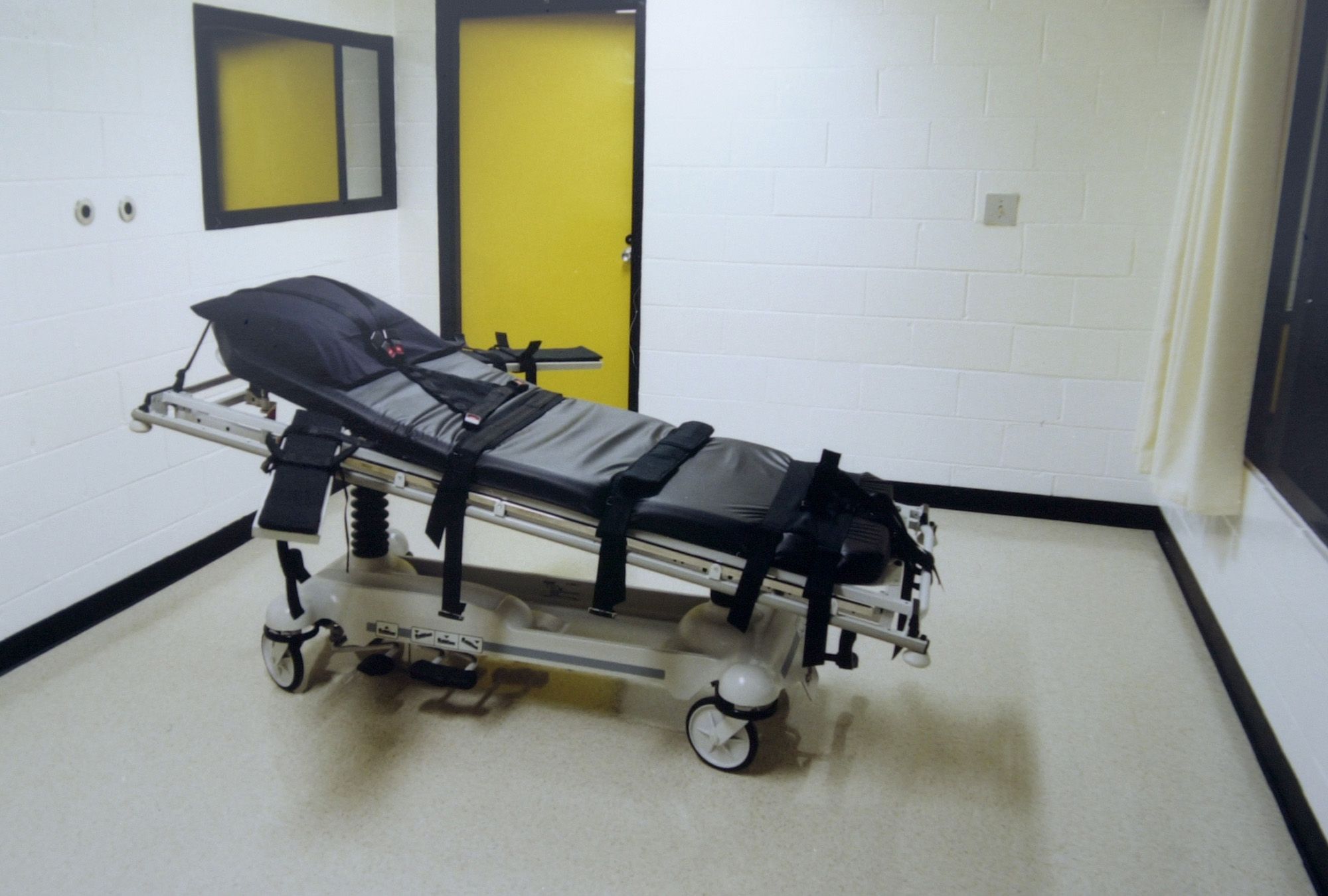 Georgia is set to execute its oldest death row inmate.
Brandon Astor Jones, 72, is scheduled to die by lethal injection at 7 p.m. Tuesday, less than two weeks shy of his 73rd birthday. He will be the oldest person the state has ever executed.
Jones was convicted in the 1979 murder of Roger Tackett, a 29-year-old Cobb County convenience store manager, during a robbery.
At around 1:45 a.m. on June 17 of that year, a police officer drove a stranded motorist to a local convenience store to use a pay phone. As the officer pulled up to the shop, he noticed that a few things were awry. The lights were on inside, even though the store was usually closed at that hour, and a car with an open driver's side door was parked out front.
After hearing several gunshots, the officer entered the store and found Jones and his friend Van Roosevelt Solomon inside. Tackett was dead on the storeroom floor, shot five times, according to The Atlanta Journal-Constitution, once in the thumb and twice each in his hip and head. The cash register drawer had been removed and was later found wrapped inside a plastic bag. The officer promptly took the two men into custody.
Tests showed that each man had recently fired a gun or had handled a gun that was recently fired, but each denied killing the victim. Both men were convicted that year and sentenced to death.
Solomon was executed by electric chair in February 1985, but a federal judge ordered a new sentencing hearing for Jones in 1989 because jurors had violated protocol by bringing a Bible into the deliberation room. Jones was resentenced to death in 1997.
Although Jones has been sitting on death row for nearly four decades, he hasn't been forgotten. Sometime in the early 1990s, his case caught the attention of an Australian woman named Sue Bond, and the two began corresponding, she says. Bond, who is vehemently against the death penalty, says it was their common love of writing that drew the unlikely friends together.
"He writes about conditions in prison, his family, love of country, music, politics, gender relations—you name it," Bond tells Newsweek. She started a blog in 2007 to showcase Jones's work, which he sends to her via snail mail, in order to attract potential correspondents. Bond also began a Facebook group for Jones in 2012.
In one of his pieces that is among Bond's favorites, Jones wrote to 3-year-old Amelia who lives in Liverpool, England. He describes his love of wood, which is often hard to come by in prison, and recalls a three-year period in which he went entirely without encountering wooden objects. But fate seemed to make him a small concession:
"One day they served spaghetti, with the usual prison meat sauce poured over it. Prison food is, to speak charitably of it, bland at best. It takes a bit more courage than I have at my disposal to eat a serving of prison spaghetti sauce.
"Undaunted in my never-ending quest for something good—even if it looks so bad I dare not eat it—I always stir around in whatever is served. You never can tell what you might find. It is not uncommon to discover a toe nail, roaches, rocks or any kind of hair you can imagine. In that particular batch of meat sauce I found a bay leaf, but surprisingly nothing more.
"I picked it out, took it to the cell, washed it off and placed it between two layers of wax paper. I then put it amid the pages of my heaviest book. That was over six months ago. Yeah, yeah, yeah...I know, just because it is all dry, flat and hard that does not make it a fine ebony board, but for me it does share a familial kinship (in a leafy fashion) with the tree of life that is rooted deeply in my soul."
The news of his execution date being set after so many years came as a shock to his supporters, Bond says, but has been especially distressing for his family. "He is 72, not in great health, and has done a lot of good by his writing over all those years," she says. She cites his "writing about the situations that lead people into poverty and crime and how societies might alleviate these situations."
For Jessica Henry, an associate professor of justice studies at Montclair State University, Jones's execution doesn't make much sense, as it doesn't satisfy the typical justifications for the death penalty. The very long delay is unlikely to function as a deterrent to others, she argues, and his poor health and age indicate he would not likely be a threat to society.
In a recent Huffington Post editorial, Henry called Jones's crime "certainly serious and worthy of punishment." But she contends that after nearly four decades, he is no longer the same person who committed the crime, and that there is something "arbitrary and cruel" about making someone live under the threat of death for so long.
"If he could take that day back, he would," Bond says. "[Justice] could never be served by execution."
The U.S. Supreme Court rejected Jones's appeal in October. His Facebook page, which some of Jones's family members have since taken over, is encouraging supporters to write to Georgia's State Board of Pardons and Paroles to stop the execution.
The widow and daughter of the man Jones murdered do not intend to watch his execution. "I will be at peace, being with my mom," Katie King, who was 7 when her father was killed, told the Journal-Constitution.
Conversely, Zuberi Solomon, who was 2 when his father and Jones committed their crime, has asked to witness the execution. He told the Journal-Constitution that he wanted to "see the face of the person that destroyed two families," suggesting Jones is entirely to blame for the murder.
"They've lost their father [and husband]," Solomon said. "You feel sympathy for them. I definitely know what it feels like. Senseless."
If completed, the execution will be Georgia's first in 2016. The state's last execution was on September 30. Kelly Renee Gissendaner, who persuaded her lover to murder her husband, died by lethal injection.