Brandon Elliot, Arrested in New York Attack on Asian American Woman, Was Homeless
Brandon Elliot, the man charged in the brutal attack on an elderly Asian American woman, was homeless and living in a New York hotel that was being used to house the homeless.
Elliot, 38, was charged with assault as a hate crime, attempted assault as a hate crime, assault and attempted assault early Wednesday, a spokesman for the New York Police Department confirmed to Newsweek.
The spokesman said Elliot was living at the Four Points by Sheraton at 326 West 40th Street in Midtown Manhattan.
ABC7 reported that Crimestoppers tips had directed police to the hotel, where residents identified Elliot as homeless. Officers spent Tuesday watching the hotel and surrounding area, the station reported.
Police arrested Elliot at the hotel later on Tuesday night, the New York Daily News reported.
Marriott, which operates Four Points by Sheraton hotels, and the NYC Department of Homeless Services have been contacted for comment.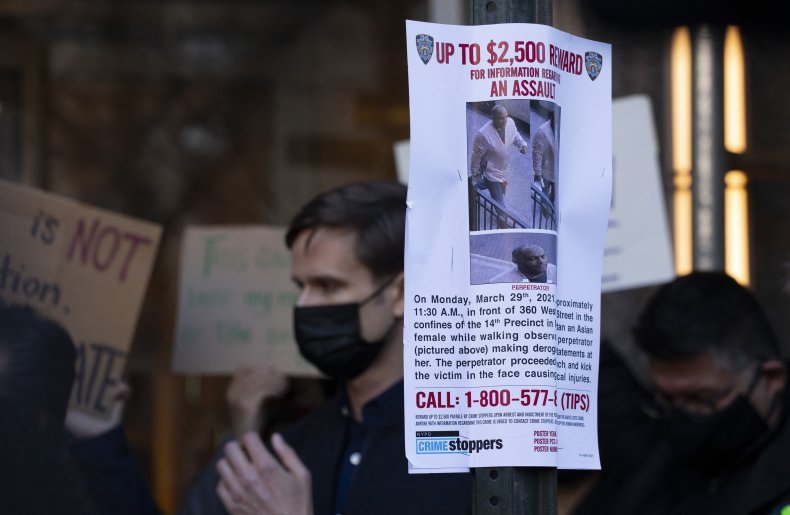 The newspaper reported that Elliot was released from prison in late 2019 on lifetime parole and supervised release after being convicted of murdering his mother. He was 19 when he was arrested after fatally stabbing his mother in front of his sister, then 5, in the Bronx in 2002. He was also arrested in 2000 for robbery.
NYPD Commissioner Dermot Shea praised the officers who arrested Elliot on Twitter, writing: "Great work by your @NYPDDetectives, identifying & apprehending the assailant, all within 48 hrs — always seeking justice for victims."
The hotel is located just a few blocks from where Monday's attack on the 65-year-old woman occurred.
She had been walking to church when a man kicked her in the stomach, knocked her to the ground and and stamped on her head repeatedly outside a luxury apartment building at 360 West 43rd Street. He also shouted anti-Asian slurs.
Elliot's arrest came after police blanketed the neighborhood with wanted posters and offered a $2,500 reward for information.
The attack, the latest in a nationwide spike in anti-Asian hate crimes, prompted outrage.
Some bystanders were also criticized for not intervening to stop the assault.
Surveillance footage captured a security guard in the apartment building closing the door on the woman as she lay on the ground, shortly after the assailant walked off.
The Brodsky Organization, the company that manages the building, has announced that the employees involved in the incident have been suspended "pending an investigation in conjunction with their union."