Brandon and Julia May Have Just Had Their '90 Day Fiancé' Ending Spoiled
One of TLC's most talked-about couples may be at the center of some major spoilers that are available online right now. Brandon and Julia, who just connected in America on 90 Day Fiancé, have given fans a reason to believe that they're already married and still happily together.
A photo, seemingly posted online by a friend of Brandon's, shows him and Julia together on New Year's Eve. It implies that Julia and Brandon are married—which is the only legal way that Julia could still be in America beyond the limitations of her 90-day K-1 Visa.
Screen Rant recently shared the photo, which was uploaded to social media. There's no denying that Brandon and Julia look like a couple in the image. He's holding her up beside two friends.
If Brandon and Julia do actually make it down the aisle, it might be shocking to some viewers. Early predictions from some fans note that the couple seems strong, but Brandon's family also has a chance of getting in the way.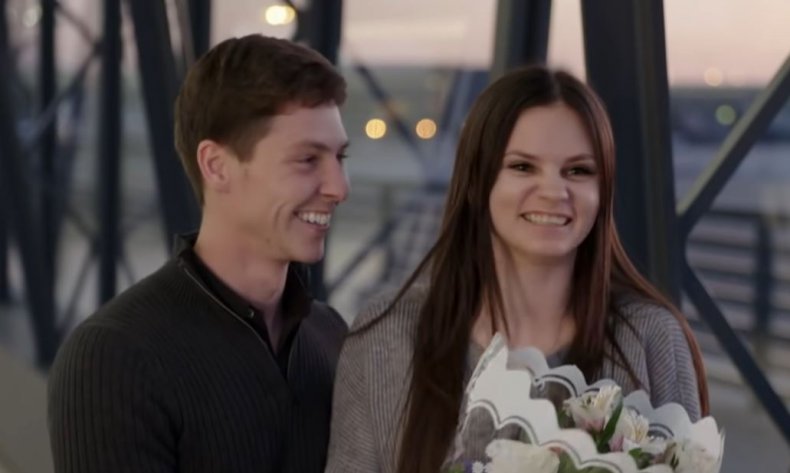 Brandon's mom, Betty, has already become this season's biggest villain because of her overbearing nature. Some examples? Betty scheduled a gynecology appointment for Julia before the Russian immigrant had even moved to America. The mother made it clear that she wants her son's fiancée to be on birth control, despite Julia's own wishes.
Betty has also forced Julia and Brandon to sleep in separate rooms, to discourage any physical intimacy in the family home. Some fans can understand where the mother's coming from, but they've questioned why Julia was given a packed "storage room" to sleep in, while Brandon got a beautiful bedroom to himself. Julia is also expected to work on the family farm, even though she doesn't have any interest.
People on Twitter have suggested that Julia and Brandon wouldn't have very many relationship issues without his overbearing family members. But some of their problems stem from Brandon, too. Fans are wondering why he won't stick up for Julia. Instead, he simply nods his head at all of his parent's suggestions. Meanwhile, Julia has attempted to speak up for herself.
One of the couple's latest confrontations with Betty involved Julia and Brandon being reprimanded for apparently using the family hot tub while wearing clothes. Betty has a strict rule that hot tub users must bathe in the nude so as to not contaminate the water. (This all-nude policy strikes many as hypocritical, since Betty is so serious about Brandon and Julia sleeping in separate rooms.) You can watch the super-awkward clip here.
All things considered, though, we find it a little surprising that Julia and Brandon may actually get hitched. That's not to say their relationship is erratic—it actually seems to be one of the more stable connections ever featured on 90 Day. It's just that Betty is... a lot, and enough to put a strain on any relationship. But if the couple does make it work, we're hoping that their life together is far removed from Brandon's parents.