Brandon Sanderson, Neil Gaiman and More Sci-Fi and Fantasy Writers Join TorCon, Here's How to Watch
On Monday, science-fiction and fantasy publisher Tor Books announced TorCon, a virtual books convention featuring some of the biggest names in speculative fiction.
Launched in association with Tor.com and Den of Geek, TorCon will be held from Thursday, June 11, through Sunday, June 14, and will feature more than 20 authors across eight panels. But virtually attending TorCon will take a little advanced planning, because—while panel attendance is free and unlimited—registration is required for each event. Here's how to make sure you get to hear from Brandon Sanderson, Neil Gaiman, V.E. Schwab, Nnedi Okorafor, Christopher Paolini, Mary Robinette Kowal, Grady Hendrix, Paul Tremblay, Cory Doctorow and more.
The TorCon events will be primarily hosted on the Crowdcast livestreaming platform, with simulstreaming on Den of Geek's Facebook Live page. Advanced registration for each panel is available on individual event pages, either via Crowdcast or Eventbrite.
"Our hope is that TorCon will bring the convention experience to people in their homes and create a way for fans to connect with each other," Tor's Executive Director of Publicity Sarah Reidy told Newsweek. "We wanted to use our platform to give our readers virtual access to their favorite authors and to introduce them to some new potential favorites, while making space for a variety of discussion about genre, fandom, books, and writing."
Here's the full TorCon schedule, including links to register as virtual attendees for each panel.
Christopher Paolini and Brandon Sanderson in conversation
Thursday, June 11 at 7 p.m. Eastern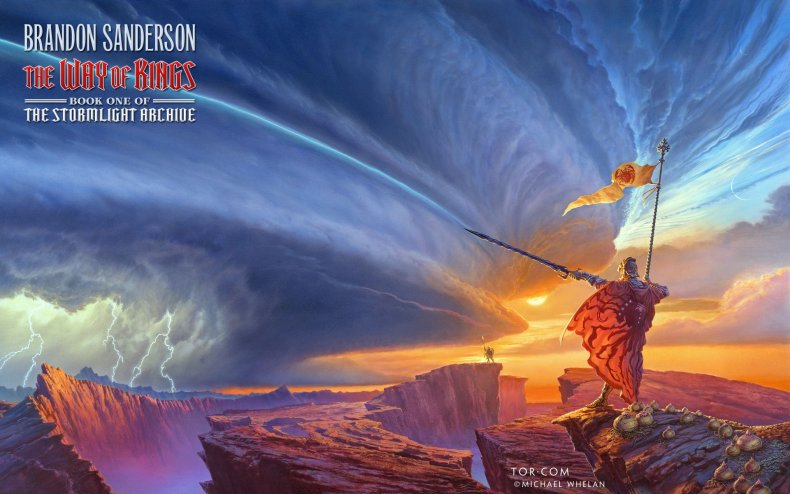 Sanderson is the author of the sprawling fantasy series The Stormlight Archive, including its upcoming entry, Rhythm of War. (You may also know him as the writer who completed Robert Jordan's The Wheel of Time series.) Paolini is known for his fantasy Inheritance Cycle, which began with the bestselling Eragon, but his latest, To Sleep in a Sea of Stars, is the first in an adult-oriented science-fiction series. Together, they'll discuss not only their upcoming books and projects, but also the broader sci-fi and fantasy landscape.
For this one, questions will be taken in advance and can be submitted to the comments field of the Tor.com TorCon announcement.
Neil Gaiman and V.E. Schwab in conversation
Friday, June 12 at 5 p.m. Eastern
The author of Vicious and A Darker Shade of Magic, V.E. Schwab (her latest is The Invisible Life of Addie LaRue) joins Neil Gaiman (his latest is The Annotated American Gods) for a conversation and Q&A, with participants able to submit questions via Crowdcast.
Saturday, June 13 Events
TorCon's Saturday begins at 1 p.m. Eastern with "Books & Brunch," a Facebook Live reading series featuring The Calculating Stars and Relentless Moon author Mary Robinette Kowal. (Kowal also wrote one of the best Twitter threads of 2019, describing the link between peeing in space and NASA's foundational gender bias.) Register here.
Then, at 5 p.m. Eastern, authors K.A. Doore (The Unconquered City), S.L. Huang (Burning Roses), Arkady Martine (A Memory Called Empire) and Kit Rocha (Deal With the Devil) will team up for Chaotic Communal Storytime, and together create a new story based on your writing prompts, submitted live on Zoom. Register on Eventbrite here.
Wrapping up TorCon's Saturday at 8 p.m. is a Nighttime "Drive-In" screening of Night of the Living Dead. While the landmark zombie movie director George Romero died in 2017, his co-author on the upcoming zombie novel The Living Dead, Daniel Kraus, will host the virtual screening alongside horror authors Paul Tremblay (Survivor Song), Grady Hendrix (The Southern Bookclub's Guide to Slaying Vampires) and Cassandra Khaw (Nothing But Blackened Teeth). Register on Eventbrite here.
Sunday, June 14 Events
The second in the "Books & Brunch" Facebook Live reading series will take place at 1 p.m. Eastern on Sunday, teaming authors Jenn Lyons (The Ruin of Kings) and Nathan Makaryk (Nottingham). Register here.
The lines between fantasy and science-fiction have blurred for years, but how are authors today breaking genre fiction traditions? Panelists Kate Elliott (Unconquerable Sun), Andrea Hairston (Master of Poisons), Ryan Van Loan (The Sin in the Steel) and Alaya Dawn Johnson (Trouble the Saints) will team up for "Chaos & Cosmos" at 4 p.m. Eastern to discuss the role of chaos in creating new, fantastical worlds. Register here.
Cory Doctorow and Nnedi Okorafor in conversation
Sunday, June 14 at 7 p.m. Eastern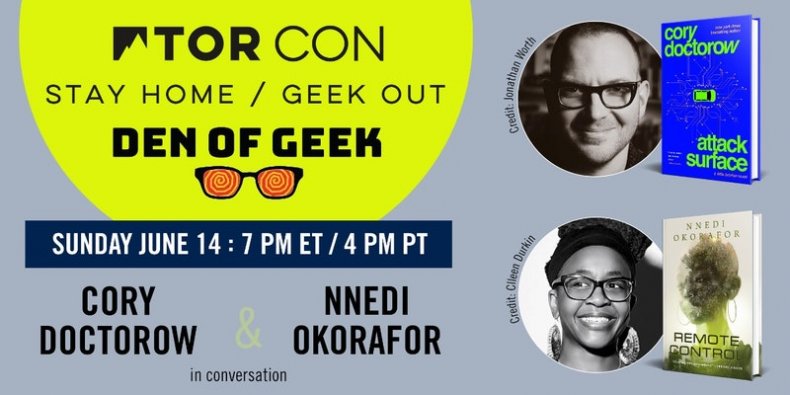 TorCon ends Sunday with a Den of Geek moderated discussion featuring Cory Doctorow (Attack Surface) and Nnedi Okorafor (Binti, Remote Control).