Brandon Sanderson Says He'll Complete 'The Stormlight Archive' Book 4 This Week
On Tuesday, fantasy author Brandon Sanderson launched a Kickstarter campaign to fund a 10-year anniversary edition of the first book in his bestselling fantasy series, The Stormlight Archive. The leather-bound edition of The Way of Kings soon became the most-funded publishing project in Kickstarter history, approaching $5 million raised by Thursday afternoon. But it was during a celebratory live-stream that Sanderson provided an update on what comes next, describing his imminent completion of the fourth book in the series, Rhythm of War.
"I will finish Stormlight 4; this week is the goal, at the very latest over the weekend," Sanderson said during the Tuesday stream.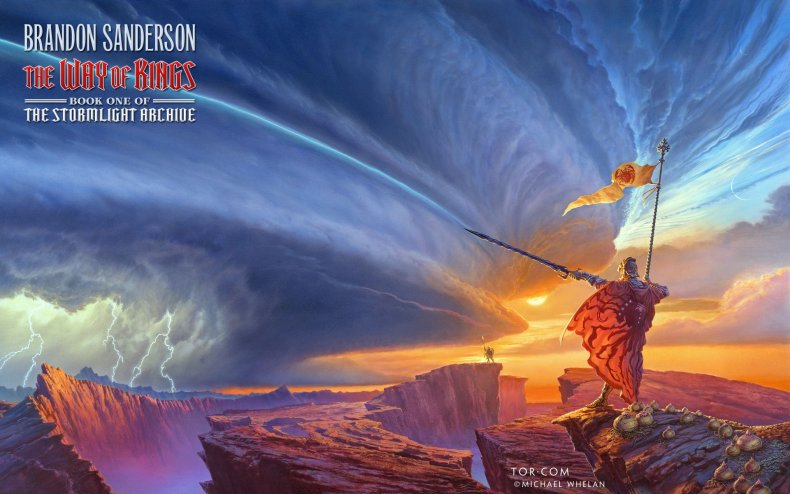 Known for providing regular updates on his writing, complete with progress bars featured on his website, his fifth and final draft of the fourth book in The Stormlight Archive series is currently pegged at 70 percent complete. It's that last 30 percent that he intends to complete this week or this weekend before "sending it on to production" so it can be printed in time for its November release date.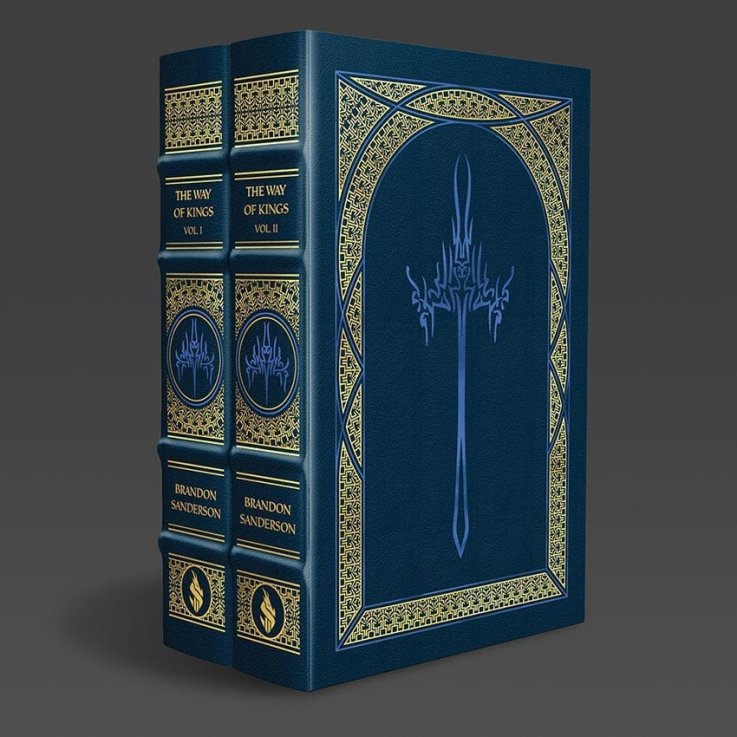 Brandon Sanderson launched a Kickstarter for a leatherbound version of 'The Way of Kings.'
Brandon Sanderson / Dragonsteel Entertainment
Sanderson also took a number of questions during the more than two-hour live-stream, leading to reveals of art from the inside of the new edition of The Way of Kings, discussions of his taxonomy of "hard" vs. "soft" magic systems and even digressions about The Lord of the Rings movie adaptations. His pet macaw periodically interrupted, or responded by reaching out with its foot when Sanderson prompted it with the command, "Use the Force!"
When asked by a fan whether or not he worries people won't like his latest book, Sanderson answered, "Nope."
"Not with Rhythm of War, because—particularly with Stormlight books—I have a very exhaustive beta reading process. I know how people, in general, are going to respond to the book," Sanderson said. "What I worry about is: I will try something and it will be misinterpreted, or I won't have the skill to achieve what I want to achieve. That, hopefully, we will be able to iron out through beta reads—for me not to be surprised."
He went on to describe how much trouble the fourth draft of Rhythm of War gave him, describing it as the "I hate it, I need to escape from it" draft. The final draft is going considerably better, so Sanderson described himself as "pretty confident that you guys are going to really enjoy the book."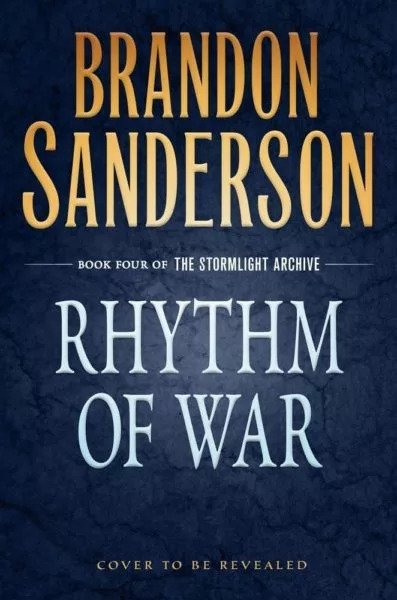 A placeholder cover for Brandon Sanderson's upcoming 'Rhythm of War.'
Tor Books
That's not the only Stormlight Archive writing Sanderson has on the immediate horizon. As part of the rewards for The Way of Kings Kickstarter, Sanderson pledged to write a new novella, similar to the Edgedancer novella released in 2016, which was set between the second and third books in The Stormlight Archive series. His new novella will be set between the third book, Oathbringer and Rhythm of War.
"Of course, my part in this is I have to write the novella," Sanderson said, describing the work to follow after the blockbuster Kickstarter.
"I think my next job is spending one week doing a revision on Songs of the Dead," Sanderson said, referencing the upcoming "necromancer urban fantasy" he's coauthoring with Peter Orullian. "So I'm going to do a draft on that, then it is writing the novella for about the next month, so we'll start posting updates on that."
Sanderson also confirmed he has a title for the upcoming novella, which will be released in an e-book and print editions to Kickstarter backers.
"You'll be very excited by the title, I suspect," Sanderson said.
The Stormlight Archive Book 4, Rhythm of War, is slated to be released November 17.