A Brave Friendship Spans the Border Between Israel and Gaza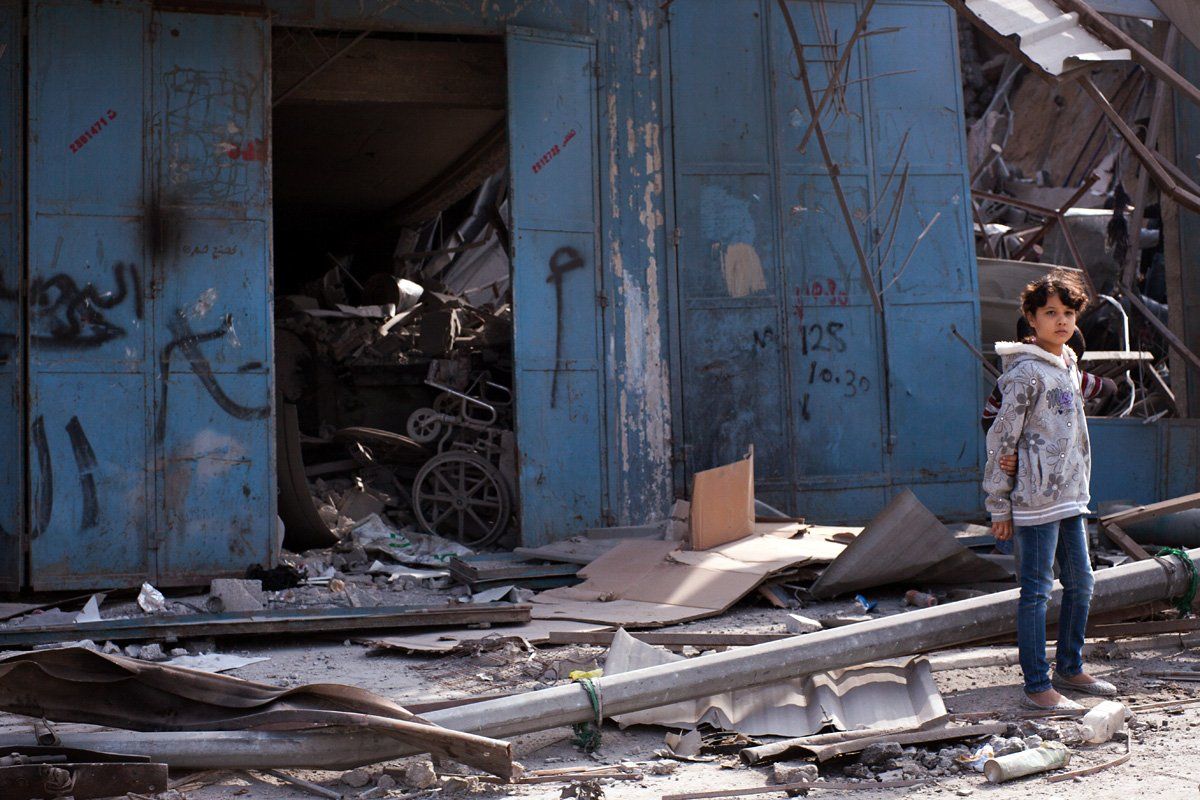 Roni Keidar's house is close to the Gaza Strip—so close that when the border heats up, she hears the attacks from both sides: the thud of Israeli missiles hammering targets inside the Hamas-controlled area and the whoosh of Palestinian rockets being launched into Israel. When the fighting began again a couple of weeks ago, the 69-year-old Israeli took extra precautions. She moved her bed to the bomb shelter adjoining her kitchen, so she and her husband wouldn't have to get up when the sirens wailed at night. "He has a bad hip, so it's hard for him to move quickly," she told Newsweek last week at the home where they've lived for nearly 30 years. She said goodbye to her grown children as they relocated north to get their own children out of the line of fire. And then Keidar did something unusual for most Israelis: she texted a Palestinian friend in Gaza.
The friend, who asks that we call her Mimi Ibrahim, opened the conversation on the second day of the fighting, as Israeli airstrikes shook homes throughout the crowded enclave. "Hi Roni," she wrote. "I hope you and your family are well and safe. What's happening is really insane. Please take care and stay safe. Love, Mimi." Keidar felt the warmth of the gesture but also the sheer weirdness of the circumstances. Rockets fired from Gaza—maybe even from Ibrahim's neighborhood—were raining all around Keidar's tiny farming town, Netiv Ha'asara. "Thank you for your concern," Keidar replied. "I'm thinking of you since it all started and I hope you and your family are okay. If only our leaders would talk. Take care." It took only a minute for Ibrahim to respond: "Our leaders don't care about us. The situation is really bad and I expect it to get worse. I hear bombing everywhere. We are safe so far. Take care."
The two friends were able to relax slightly last week, after Egyptian President Mohamed Morsi brokered a ceasefire between Hamas and Israel. But no one was sure how long the truce might last, and violent incidents continued along the border. Keidar and Ibrahim could only hope for the best and share their text messages. They live less than three miles apart. In Europe or the United States, they'd probably share the same postal code. And yet their connection is so unusual in this troubled landscape that people who hear of it—Israelis and Gazans alike—either scoff at the two women's naiveté or imagine sinister motives for the friendship. Gazans have been cut off from Israelis for years. They're barred from entering the Jewish state, except in extraordinary circumstances. Israelis, even if they wanted to visit Gaza (and just the suggestion can elicit a snort), would be turned back at the border, both by Israeli officials at one end of the crossing and by Hamas border guards at the other.
As a result, Israelis and Gazans have become more disconnected than ever, blinded by stereotypes and misperceptions at the expense of any genuine understanding or insight. It's rare to hear Palestinians acknowledge the nerve-racking (though not usually lethal) impact of their rocket attacks on the other side, or to hear Israelis concede that their military's airstrikes terrorize Gaza's 1.7 million residents and often kill civilians. Even chronology is disputed. When you ask Israelis about the latest flare-up, most blame it on the surge in Palestinian rocket launchings over the past weeks and months. Gazans tell a different story: they say Israel started the war by assassinating Hamas military leader Ahmed Jabari on Nov. 14. "The two sides perceive these things very differently," says Yossi Alpher, an Israeli who in 2001 launched a website dedicated to dialog between Israelis and Arabs, finally shutting it down this year. "It's become hard to find a common narrative."
During last week's fighting, Newsweek searched for the outliers—those Israelis and Gazans who have managed to forge some connection with the other side, despite their leaders' constant hostilities. And there are a few exceptions to the prevailing mutual animosity. Although Israel has kept at least a partial blockade on Gaza ever since the Islamic Hamas group grabbed power there in 2007, some Palestinian businessmen have maintained contact with their old suppliers in Israel. Israeli doctors continue to see patients from Gaza—those patients whom Israel agrees to let out of the Strip, that is. And some peace activists have kept working to sustain a dialogue. "If you understand their misery and talk from this [vantage] point, they will feel that you are touching their pain and they will feel your pain," says Sami Ajrami, a Gazan journalist who writes for an Israeli newspaper and is practiced at explaining his people in ways the other side can grasp.
Still, the two sides' efforts to find common ground in humanity have sometimes had terrible consequences. A Gaza man who attended a peace conference in southern Israel in 2010—put on by residents of the very area Palestinians habitually target with their rockets—was detained by Hamas on his way home and publicly branded a collaborator with Israel. Fearing for his life, he fled Gaza to Egypt through a smuggler tunnel and has never dared to return. In another case, one that Israeli hardliners cite when advocating even tighter restrictions on the Palestinians, a Gaza woman who had received treatment at an Israeli hospital was later caught trying to sneak explosives across the border and carry out a suicide attack.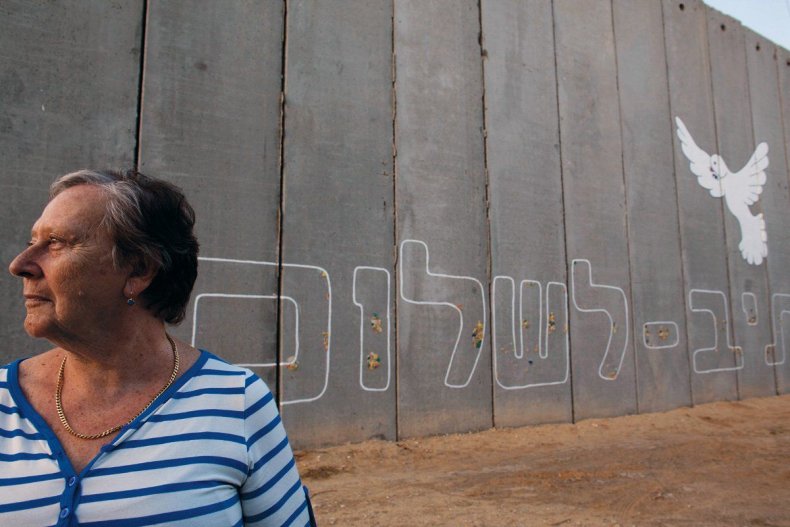 Nevertheless, we were able to find a few people who have maintained at least some contact across the divide. The open lines seemed to have given them a better understanding of the other side—and occasionally a surge of empathy. How much that's worth is an open question, after years of failed peace efforts. Yet the phenomenon itself is remarkable, even more so after one of the darkest weeks of the Israeli-Palestinian conflict in years—a week in which more than 160 Palestinians and five Israelis were killed. "If the ordinary people here and the ordinary people there have the chance to just meet and sit and talk on the human level, away from the politics, away from religion, I think they will get along," Ibrahim said in an interview last week, amid the bombardments in Gaza. "They want to be safe, they want their children to be safe. And on the other hand, we want to be safe, we want our children to be safe."
Ibrahim was accompanying her teenage nephew to a hospital in Israel when she first met Keidar. The nephew suffers from a serious illness that necessitates years of regular doctor visits. (At Ibrahim's request, we're withholding her real name and some identifying details.) Although Gaza has several hospitals of its own, doctors there generally refer the most difficult
cases to Israel, which accepts a few thousand Palestinian patients a year. Keidar volunteers with an Israeli peace group that helps transport Palestinian patients from the border to the hospital and back. "The taxi drivers down there take advantage of the fact that Palestinians don't know much about Israel," she says. "For me, the idea is to help them out but also to have a chance to talk to someone from the other side." On the day 18 months ago when Ibrahim and her nephew emerged from the long gauntlet of concrete barriers and sentry pillboxes between Gaza and Israel, Keidar was there to pick them up.
Ibrahim had already made several trips into Israel. Frightening and sometimes dehumanizing as the border procedures could be, the chance to leave Gaza's stifling confines even briefly had become a delight. On one trip, she visited Jaffa, the old Arab town on the Mediterranean just south of Tel Aviv. On another, she detoured to Haifa, the mixed Jewish-Arab city that Israelis say resembles San Francisco—always rushing to return to the border by 7 p.m., when the one-day permits expire. "Just to get out of Gaza for a few hours means a lot to us," she says in fluent English, which she learned while studying abroad.
But this trip turned out to be even more than that for Ibrahim. She and Keidar hit it off instantly, talking about politics and women's rights as they drove. Ibrahim, in her early 40s and unmarried, accents her brown eyes with black eyeliner and chafes at the need to wear a headscarf in Gaza, where Hamas has ratcheted up solcial pressure on women to dress conservatively in public.
And the chance to talk with Gazans like Ibrahim is a lifeline for Keidar. Originally from London, she lived on a settlement in Sinai in the 1970s until it was dismantled under the 1979 Camp David agreement between Israel and Egypt. Nevertheless, she says, she never questioned Israel's policies toward the Palestinians until she moved to Cairo in the 1980s. The Israeli government had sent her husband there to work with Egyptians on agricultural projects as part of the Camp David package of normalization efforts. For five years Keidar lived among Arabs and sent her children to school with them. "We came to know a lot of Egyptians and a lot of Palestinians who live there," she says. She thinks back fondly of one particular Egyptian girl her daughter had befriended. It took three years for the Egyptian mother to let the girls see each other outside of school. But once the wall came down, the two children became inseparable. "It's hard to hold onto stereotypes when you're engaging with people directly."
Back in Israel, Keidar looked for ways to keep the channels open. Eventually she discovered the group she works for, transporting Palestinians to receive medical help in Israel. It was founded by an Israeli whose son was killed in a Palestinian bombing years ago. She says her trips with Palestinians offer a view of life in Gaza, which for most Israelis is a black hole. One man she transported to the hospital told her as they passed the Israeli town of Ashkelon that his family had lived there before Israel was created. Another Gazan, who needed radiation therapy in Israel for cancer, told her he had frozen his sperm in case the procedure made him sterile. She later ferried him and his wife to the hospital several times for fertility treatments.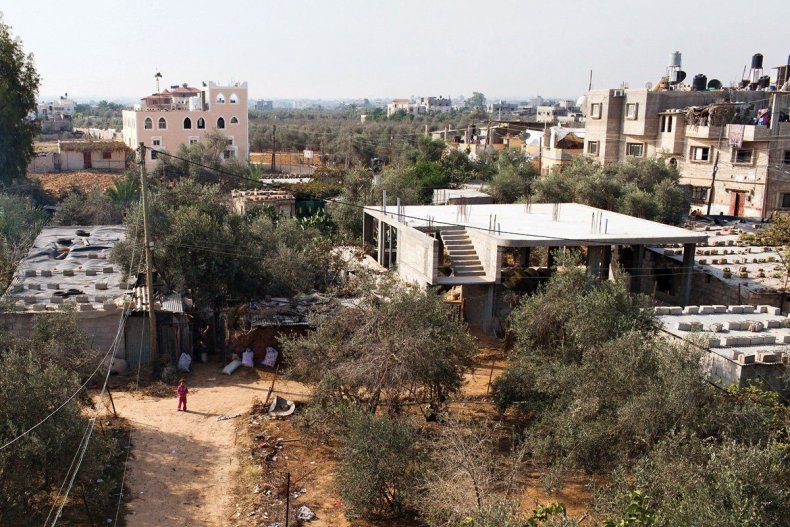 Two months ago, Keidar got a call from Ibrahim. The Gazan woman was in Israel again and wanted to meet for coffee on her way home from the hospital. She had bought a scarf as a present for Keidar. At a truck stop near the border, the two were joined by two other women Ibrahim had met in Israel over the years. For more than an hour, the four women talked and laughed while Ibrahim's nephew played on a laptop computer. Speaking with her friends, Ibrahim tried to describe life in Gaza, the feeling of being trapped by the traditional customs of her family and the male-dominated society. "When I think of my age, I didn't live happily," she tells Newsweek at home in Gaza. "I didn't enjoy my life, and the years pass so quickly and it's like, until when? Life here is no life. It's suffocating me all the time."
Keidar texted Ibrahim later: "Thank you for the lovely scarf. Meeting you and your nephew gave me hope for a better future. There is so much for us to do but unfortunately there is so much that is not up to us. We should not give up and we'll continue to strengthen our ties with our friends in Gaza." Ibrahim, back inside the Palestinian enclave, responded: "I feel the same way and meeting you today made my day. You are so close to the heart. I feel I know you for so long. God bless you and your family."
When renewed warfare erupted in November, Ibrahim realized she had more people to check up on in Israel than in Gaza. She imagined events on the other side—the sirens sounding, her friends rushing to their shelters or the safe rooms that are standard in most Israeli homes. Members of her family began asking about the ordeal across the border. Most of them were initially put off by her connection with Israelis, she says, but they came around. Keidar's husband similarly had misgivings about the contacts. "People here in general don't understand, but my family understands," says Ibrahim. "They don't think of [Israelis as] enemies because I tell them about how human they are."
All the same, she keeps her Israeli friendships a secret from other Palestinians, for fear of their reactions. Some of her neighbors know about her regular visits to Israel, and they make barbed jokes that she and her nephew have become traitors. Even the most innocuous insinuation can be chilling—six accused collaborators were summarily executed in Gaza just last week. To anyone who raises the question, Ibrahim tries to explain that she remains opposed to the Israeli government and military, but that she has met some good people on the other side. "I didn't put Hamas in power, and I didn't ask militants to launch rockets," she says. "And they [her Israeli friends] are the same: they don't agree with what their government is doing."
During last week's fighting, Ibrahim's thoughts turned to another Israeli family she knows. She met them years ago, during a three-week hospital stay. The Israelis' son befriended her nephew and gave him a superhero figurine, along with a message: "I hope peace prevails one day and we can come to visit you and you can come to visit us." When Ibrahim met up with the family again years later, the mother pulled her aside to share some news: the son had announced that when the time came, he would refuse military service, despite Israel's mandatory conscription. He didn't want to do anything that might harm Ibrahim and her family.
Days before the fighting stopped, Israel targeted a government building close to the multi-story home where Ibrahim lives with her extended family. Gazans have neither warning sirens nor safe rooms. Instead, Ibrahim says, her family members huddled together in the living room, covered in blankets, during the nightly bombing raids. "If something happens, we will all die together, at once," she says. But this particular round of strikes caught her in the bedroom, sitting at her computer. The force of the explosions blew out windows in the house and knocked the doors off their frames. During one particularly strong hit, a flying piece of window glass gashed the back of Ibrahim's head. The wound was swollen for days, she says.
Ibrahim texted Keidar after the attack. "Israeli warplanes heavily bombed… my area with 5 missiles this morning," she wrote. "We are okay but some damage has happened to my house." Keidar, unnerved already by the Palestinian rockets falling on her town, dropped her head and wept. After a time, she regained control and finished reading the message from her friend. It only added to her sense of hopelessness. "It's getting worse, Roni. Please take care and stay safe."