'Brave New World' on Peacock: A Big Change to the Book That Set Up Season 2
Brave New World, the classic 1932 sci-fi novel by Aldous Huxley, has been adapted a number of times, but the two previous adaptation have been limited series that mostly tell the story from beginning to end. The Peacock version, in contrast, tries to follow The Handmaid's Tale and take a book with a definite ending and turn it into a show that can run for multiple seasons.
WARNING: The following contains spoilers for the book and TV version of Brave New World.
To do that, the Peacock version of Brave New World has to get rid of the novel's very definite, very downbeat ending. In the book, John (Alden Ehrenreich) becomes disillusioned with the artificial pleasure of life in New London and becomes a hermit, living in a tower and purifying himself with a whip.
Partly, his reason for hiding himself was to get away from his celebrity, with the world fascinated by this "savage" who comes from a world where monogamous marriage is still practiced. Ironically, however, his hermitage makes him even more famous, bringing crowds of people to his tower who are fascinated by this (to them) primitive man who eschews pleasure and instead chooses to whip himself.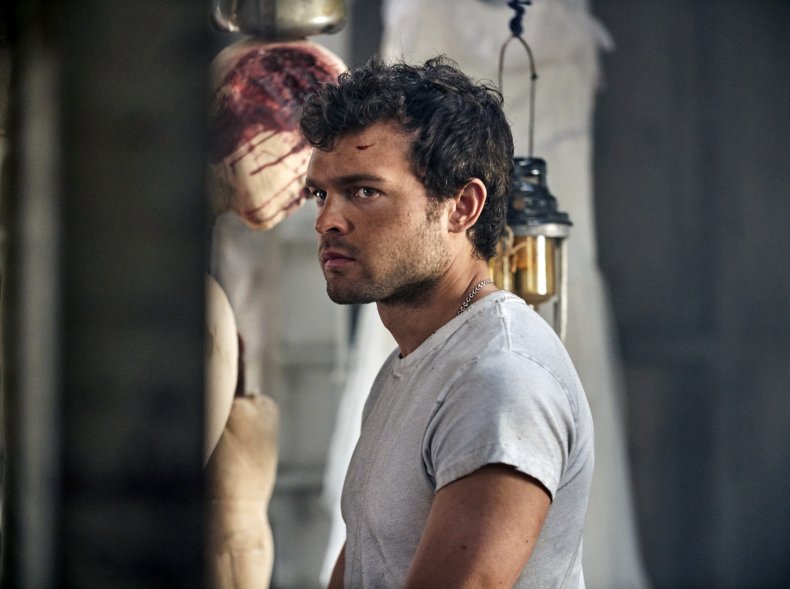 Seeing his love interest Lenina (Jessica Brown Findlay) in this crowd in the book, John snaps and beats her with his whip. The next day, distraught at what he has done and realizing he can never escape his fame, John hangs himself.
Unsurprisingly, as Ehrenreich is the biggest star in the Peacock show, the show decided not to kill him off. By the end of the TV series, John has also become a hermit, living a simple hunter-gatherer life, but none of the problems that the book John faces are troubling TV John yet.
This could mean one of two things: Either the TV show is completely deviating from the novel and having John live on, or John's fate is still waiting for him in Season 2.
According to an interview Brave New World showrunner David Wiener gave with Inverse, the TV version seems likely to live on, and could be part of an Epsilon uprising.
Though Huxley does not pay much attention to the underclass in his novel due to his own elitism and interest in eugenics, in a year where many are rising up against organizations that oppress them, it would be remiss of the show not to have the Epsilons try to speak truth to power.
Wiener said of this: "Huxley doesn't engage with what it's like to be an Epsilon, ever. You don't meet those people. But our show would feel incomplete if we didn't. What happens when they engage with John, the Epsilons analyze if they are really happy. They've been conditioned to perform functions but once they're open to the idea of something else, it has a big effect on them...I think it would feel untrue if we were to let the Epsilons go on without any consideration of fairness. It's a big part of the story at the end."
Brave New World is streaming now on Peacock.
If you have thoughts of suicide, confidential help is available for free at the National Suicide Prevention Lifeline. Call 1-800-273-8255. The line is available 24 hours every day.