'Brave' Olympian Used Uyghur Independence Imagery in Ski Jump: Activists
Activists are hailing the bravery of an Olympian who may have worn Uyghur independence imagery during a ski jump at the 2022 Winter Olympics in Beijing on Saturday.
During the ski jump, Turkish athlete Fatih Arda Ipcioglu used a pair of sky blue skis with a crescent moon and star symbol on them. Some online noted that this design mirrors the flag of the East Turkestan independence movement, which is unofficially used by activists to represent China's Xinjiang province. In that region, the Chinese government is accused of carrying out human rights abuses against the Uyghur Muslim population. China has, in the past, directly accused the movement of threatening the stability of Xinjiang.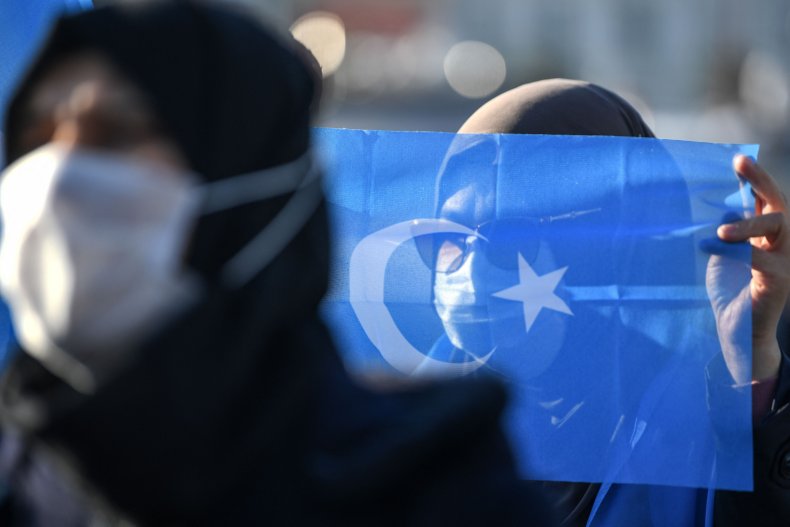 "The first Turk to qualify in ski jumping, Fatih Arda Ipcioglu competed with the East Turkestan flag on his helmet and skis, protesting the Chinese persecution in China," Uyghur sympathizer Bulent Aksoy posted on Twitter, "Congratulations Fatih Arda."
"Turkish athlete Fatih Arda Ipcioglu went to a ski jumping game in #Beijing2022 with the East Turkistan flag on his skis! Thank you," Frances Hui, journalist and self-described Hong Kong activist in exile, posted in a tweet.
Uyghur rights activist Abdugheni Sabit also shared praise for Ipcioglu on Twitter, alongside a video of the Olympian with the blue skis prominently displayed.
Ipcioglu, for his part, was evasive and dismissive when pressed by journalists about the potential meaning behind his skis.
"I don't want to answer those questions," he told Reuters. "I changed my skis; these are my competition skis...I try my best and we will see. I showed my jump under the Turkish flag."
The Turkish flag sports a design almost identical to the East Turkestan flag, except that it has a red background instead of a blue one. On Sunday, the athlete competed with blue skis that lacked the crescent and star symbol.
"Like I said, I am a sportsman, I just do my job," he added. "The other things I don't care about; it's not my job. I don't want to answer those questions."
When pressed by Reuters, the Olympic Committee of Turkey also downplayed the initial design of Ipcioglu's skis.
"This was not a political statement. As you may know, the official Turkish flag includes a white crescent and a star on it," the committee said in a statement. "However, in order to avoid any confusion, only the National Olympic Committee of Turkey emblem [will be] used on our athlete's skis for the remainder of the Games."
The display of political symbols, like the East Turkestan flag, is strictly forbidden at the Olympics in Beijing.
At 50,000 people, Turkey hosts the largest population of Uyghur residents outside of the Xinjiang province.
The 2022 Winter Olympics arrived under a cloud of controversy, owing largely to China's abuses of the Uyghur people. While the U.S. withheld diplomatic envoys from the games in protest, activists said it wasn't enough, with some calling for a wholesale boycott of the event. On Friday, the opening ceremony drew 14 million viewers on NBC Sports, one of the lowest ratings in Olympic TV history and down 43 percent from the 2018 games in Pyeongchang, South Korea.
On Friday, a clip from Dutch national broadcaster, NOS, went viral when reporter Sjoerd den Daas was dragged away by Chinese authorities during a live broadcast. Den Daas later explained that his team was able to set up in a nearby parking lot, but was given no explanation for the initial incident. He also noted that numerous foreign news teams have faced similar interference from Chinese authorities.
Athletes quarantined after testing positive for COVID-19 have also accused China of providing inadequate food and poor housing. Others have called the COVID protocols surrounding the games confusing, with some symptomatic athletes being taken to hospitals while others are kept in hotel rooms.