Bravo, Gustavo! How Maestro Dudamel Is Saving Classical Music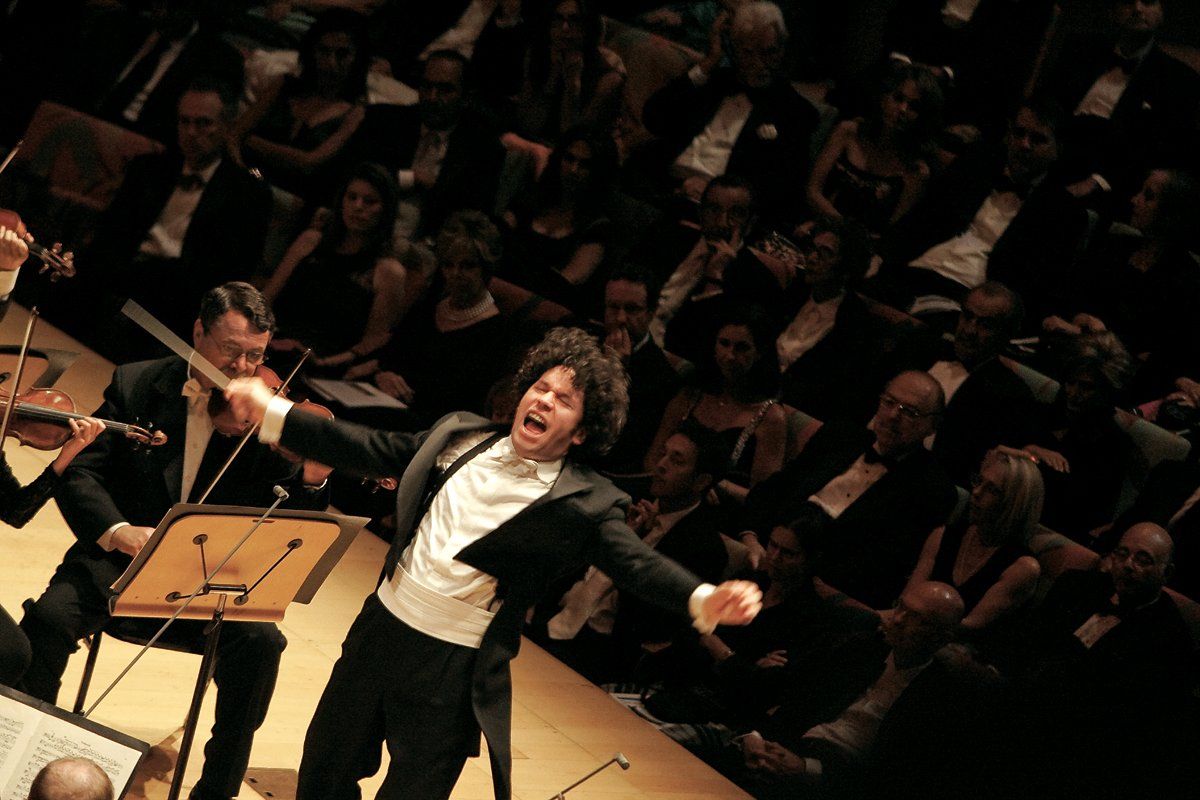 Gustavo Dudamel explodes out of his seat at the podium during a rehearsal at Los Angeles's Walt Disney Concert Hall and stands on the tips of his toes, jabbing the air violently with his conductor's baton, a look of ice pick–murderer concentration crossing his face. Arrayed in front of him, a massive choir of some 800 singers lifts its voices in an ebullient passage from Gustav Mahler's Eighth Symphony. Impatient with what he's heard so far, yet intent on coaxing every last bit of romantic drama from the score, the young maestro grabs a nearby microphone to address the group. "We have a phrase in Venezuela: 'You killed the tiger and now you're afraid to take the skin,'" Dudamel tells them with loose cordiality. "This is happening here. You have to take the skin! Be more in the moment!"
The tiger Dudamel is taming today—known as the "Symphony of a Thousand" because of the sheer number of performers it takes to stage—has the maestro behaving like the exacting tiger mom his musicians have come to admire. Dudamel's interpretation of Mahler's Eighth has been the most anticipated orchestral event of the season: a sold-out performance (scalpers got $850 for a pair of tickets) featuring singers from 16 local choruses and more than 250 musicians from the two orchestras he commands, the Los Angeles Philharmonic and the Simón Bolívar Symphony Orchestra of Venezuela. As one of the largest-scale works in the classical concert repertoire and a singular fusion of song with symphony, Mahler's Eighth is a fitting finale for what Dudamel refers to as his "crazy dream," the Mahler Project. A series of concerts to commemorate the 100th anniversary of Mahler's death, the project has Dudamel conducting all nine of the Austrian composer's completed symphonies (as well as the opening movement of his unfinished 10th and "Songs of a Wayfarer")—completely from memory. Having just finished a blockbuster run in Los Angeles, Dudamel and his orchestras depart this week for Caracas to perform the whole nine yards again.
Meet the maestro called the savior of classical music. "The Dude," as he's come to be known, is widely hailed as "the rock-star conductor," the classical world's answer to Elvis Presley or Michael Jackson. The diminutive conductor is a towering figure in symphonic music, whose cultural influence belies his relatively young 31 years. With his undulating mane of corkscrew curls, ecstatic podium presence, and unabashedly modern interpretations of cherished orchestral works, Dudamel has unleashed a flood of new interest in classical music, bridging the generation gap between pension-age high-culture appreciators and younger listeners.
And the show is just beginning. "The Mahler Project is immense," says Deborah Borda, president and chief executive of the L.A. Phil. "When we planned it, I don't think the two of us completely took in how big it would turn out to be." It is the kind of bar-raising command performance that audiences have come to expect from the Venezuelan wunderkind—a musician who, whether taking on a Sibelius violin concerto or a Strauss symphony, makes a policy of raising the roof whenever he performs.
The grueling project also underscores Dudamel's commitment to El Sistema—"The System"—Venezuela's tough-love musical-outreach program for youth that made the conductor what he is and still counts him as its most forward face. "An orchestra is a model for an ideal global society—a symbol," he says in his heavily accented English. "You have to create harmony. Everyone has to listen to each other, this large, complex group of people with different personalities that has to communicate. You have to have discipline. This is where The System works! The point is not to build better musicians. It's to build better citizens, to see children building their lives from music."
Born to a salsa-trombone-playing father and a vocal-coach mother, Dudamel grew up in a loving but disadvantaged household. He famously enrolled in El Sistema (full name in translation: the National System of Youth and Children's Orchestras of Venezuela) at the age of 5. His talent as a violin prodigy was spotted early on, and soon he was receiving tutelage from The System's founder, José Antonio Abreu, who over the last 37 years has reshaped the lives of hundreds of thousands of disadvantaged Venezuelan youths with his music-education program. By age 18, Dudamel had assumed the role of musical director and conductor of the Simón Bolívar orchestra, El Sistema's house ensemble.
"People say, 'He's very young!'" Dudamel says. "The image of a conductor is with white hair, 50, 60 years old. But people must remember: I started to conduct when I was 12 years old."
Soon the conductor's aggressively modernist outlook, his exacting vision as an orchestra leader, and his galvanizing pasión with the baton were coaxing reluctant audiences in London, Paris, and New York to give standing ovations of "Bravo, Gustavo!" Critics, meanwhile, began to view the Dude as the charismatic prodigy who could resuscitate the art form (perhaps inevitably, he has also been written off by some critics as "overhyped"). In 2004, the maestro won the first Gustav Mahler Conducting Competition in Bamberg, Germany, and acclaimed conductor Simon Rattle was hailing him as "the most astonishingly gifted conductor I have ever come across."
The L.A. Phil's Borda recalls chasing Dudamel "around the world" to secure his commitment as the orchestra's music director. After visiting Caracas, Borda in 2007 maneuvered to help found Youth Orchestra Los Angeles (YOLA), which provides free instruments and intensive music and academic training to students from several of L.A.'s most underprivileged neighborhoods. "I remember getting on the plane thinking, 'I don't know that I'll be able to bring Gustavo to Los Angeles,'" Borda says. "'But I must bring El Sistema back to our city and country.'" The move not only established the first El Sistema program outside Venezuela, it lured Dudamel to the City of Angels, where he took over from Esa-Pekka Salonen as the L.A. Philharmonic's conductor and musical director in 2009. El Sistema affiliates have since cropped up in American cities such as Chicago, New York, and Baltimore, and as far away as South Korea, Greece, Norway, Denmark, and Scotland.
At a recent YOLA rehearsal inside the swooping architectural confines of the Frank Gehry–designed Disney Hall, Dudamel's commitment to his young charges was on vivid display. Guiding an ensemble of 40 kids through a performance of Brahms's Hungarian Dance No. 5, the conductor was by turns goofy and cajoling. He was also stern, leaving no doubt about his expectations. After the orchestra performed one none-too-satisfactory passage, Dudamel said: "The first time was perfect. The second time was bad. The third time was worse. And the last time was horrible. Sorry, Brahms!"
Dudamel's professional habit of holding youth-orchestra members to the high standards he sets for his adult players—even at the risk of riding them—is textbook El Sistema, says Gretchen Nielsen, director of education activities at the L.A. Phil. "There's a thing they do in Venezuela: they throw out this goal that's way too lofty for any kid to attain," she explains. "But it makes them want to rise to that. And it sets up this deep trust. They think about Gustavo as a friend and this great artist. They want to fulfill both of those contracts."
Helena Wessman, the managing and artistic director of the Göteborg Symphony, where Dudamel was conductor for five seasons, can attest to the positive impact his nucleos—as teaching centers for El Sistema are known—have had across Sweden. "This El Sistema thing: Gustavo is the icon, the ambassador of it," she says. "I think within 10 years it will be a strong global movement. What Gustavo is doing is creating big waves of energy throughout the world."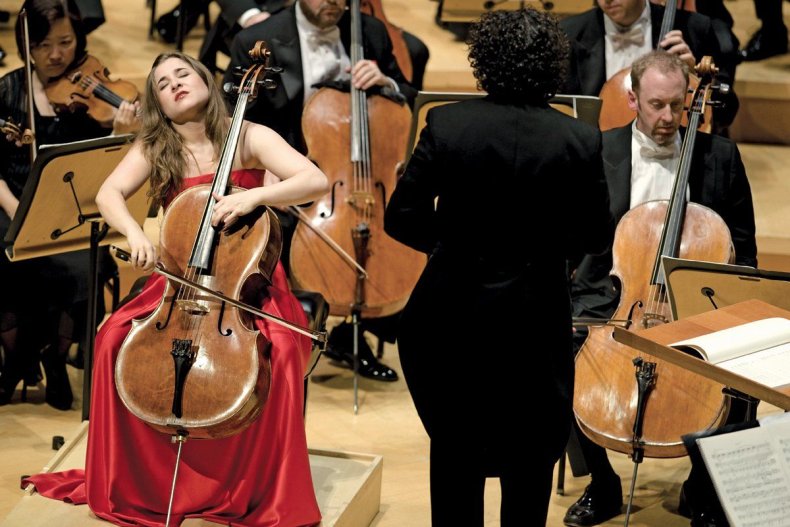 To hear it from Dudamel, the endgame of his international acclaim is to provide inspiration. "Fame has two sides for me," he says. "One is when fame is an inspiration for other people. The other is when fame is an inspiration for you. What that means? In the second case, it becomes an ego thing. 'I'm the best and everybody knows me.' In the first, you see the children calling you, and your image is an inspiration for them to accomplish things. For me, that's amazing. You feel like things are going the right way."
Dudamel's efforts to conjoin his past with his future legacy were thrown into stark relief on a recent afternoon at Heart of Los Angeles, a nonprofit after-school program for underprivileged kids in L.A.'s gritty Rampart district, which houses one of the city's two El Sistema nucleos. Some 20 members of the Simón Bolívar Symphony Orchestra were giving tutorials on cello and violin to the appreciative and surprisingly well-behaved elementary students. "When we see the children play, it's like going back in time to watch ourselves learning how to play," says Manuel Jurado, 20, of the Bolívar Symphony. The young Venezuelans made no secret of how they revere the Dude as something between a national hero and an inspirational icon. "He's kind of a god for us," says Bolívar Symphony assistant conductor Jesús Parra, 17. "He's opened the doors for many conductors to believe in what they do. Out of thousands of children, Gustavo is the main example of what El Sistema can create."
Lost on no one is the fact that this savior of classical music comes from the so-called Third World—and doesn't resemble any of the elderly maestros who've been the face of European orchestral music for centuries.
For his part, Dudamel is happy to function as an antidote to elitism and bridge the cultural divide. "I'm coming from a Latin culture where everything is so energetic," he says. "I cannot avoid that. It's in my blood."