Who Is Eliza Limehouse from 'Southern Charm' Season 6? Meet Bravo's New Cast Member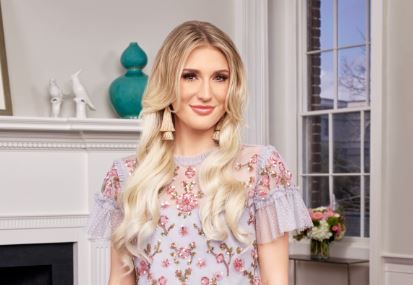 Eliza Limehouse may be new to the cast of Southern Charm but she's certainly not unknown to her fellow cast members and Season 6 won't be her debut appearance on the show.
Premiering on Wednesday, this season will be Eliza's first time being a regular cast member on the Bravo television show. With connections to several other people in the Season 6 cast, the network touted this season as one that shows Eliza's journey finding her place in the group.
She isn't a central focus of the Season 6 trailer, but the almost three-minute clip suggested there could be tension between her and one of her female cast mates.
Personal
Eliza is a ninth generation Charleston, South Carolina, native and grew up intertwined with the social scene, according to Bravo. She attended Clemson University in Clemson, South Carolina, located about 250 miles from Charleston, and then returned to her home town.
Growing up, she rode horses at Airy Hall, her family's plantation, and became a polo player.
Eliza's father, Chip Limehouse, served in the South Carolina House of Representatives from 1995 until 2017. In 2018, he appeared with rapper Bone Crusher on comedian Sacha Baron Cohen's Showtime series Who Is America? Throughout the segment, Chip largely offered basic answers to questions.
Business
After she graduated from college, Eliza worked at Limehouse Properties, her family's business. She also founded Snaffle Bit Bracelet Company, a jewelry line, and co-founded Plantation Candle Company.
Relationships With the Southern Charm Cast
Prior to joining the Season 6 cast, Eliza had several connections to the Southern Charm cast.
She made an appearance early on in Season 4, when she hosted a pool party that several of the then-cast members attended. At the time, Eliza was friends with Shelby, Kathryn Calhoun Dennis' cousin, and invited Kathryn to attend, as well.
In that episode, she's also seen chatting with Cameran Eubanks, one of the show's original cast members. Eubanks married Dr. Jason Wimberly in 2014, another bridge connecting Eliza to Southern Charm. Eliza's known Wimberly "for a long time," according to Bravo, and grew closer to Cameran over the years.
As a long-time Charleston native, it would be surprising if Eliza didn't know former cast member Thomas Ravenel, whose family was such a staple in Charleston that there's a bridge named after his father, Arthur Ravenel Jr. Eliza and Thomas, who both have a love for horses, have competed in polo matches together, and it's been reported their families are friends.
Thomas, who is facing jail time for sexual assault and battery, will not appear on the upcoming season.
In August, Southern Charm guest Jennifer Snowden posted a photo of a group of people at a restaurant on Instagram in honor of cast member Naomie Olindo's birthday. Along with Snowden and Olindo, Eliza and Elizabeth Madison, also a guest on the show, appeared in the photo.