Brawl, Exploding Cell Phone on Flight Leads to Emergency Landing
A Southwest Airlines flight was forced to make an emergency landing when a brawl broke out in the air on Wednesday, and a phone reportedly "exploded." It's the latest in a long string of passenger-related incidents to occur on Southwest planes this year.
A flight from Dallas to Fort Lauderdale on Wednesday was diverted to Pensacola, Florida to let off two passengers, an unidentified man and a woman traveling together who allegedly got into a scuffle. What triggered the fight is unknown at this time.
The woman began hitting the man with a cell phone, according to reports. A passenger who saw the fight told Local 10 News said that as the woman was hitting him, the phone began to smoke.
"She was beating him with the phone and the phone exploded and caught on fire," said passenger Katie Engleson. "Everyone kind of went crazy and then all of a sudden we see smoke and I heard the words 'fire' and then next to us there was the object literally smoking. It was definitely very, very frightening."
A few passengers were quick to grab water and take care of the smoldering device, and law enforcement came aboard to escort the couple off the plane, according to Engleson.
She said she was thankful for the way Southwest Airlines handled the situation. "They truly made everyone feel super safe, and I can not be more grateful for how the situation ended," she told Local 10 News.
Southwest Airlines has seen its fair share of drama lately, as they've reported a significant increase in passenger incidents on flights since January. The Federal Aviation Administration told Newsweek in an email in May that they can say "with confidence that the number of reports we've received during the past several months is significantly higher than the numbers we've seen in the past."
Last month, a fight broke out between a passenger and a Southwest flight attendant, resulting in the flight attendant losing two of her teeth.
In a statement on the most recent incident, Southwest Airlines said, "A Southwest flight operating from Dallas Love Field safely diverted to Pensacola International Airport on Wednesday afternoon due to a dispute between two passengers traveling together that resulted in a broken cell phone which smoldered and was placed into a battery containment bag by our Flight Attendants. After the two passengers exited the aircraft in Pensacola, the flight continued to Fort Lauderdale-Hollywood International Airport. We appreciate the patience, cooperation, and support of the customers on board today."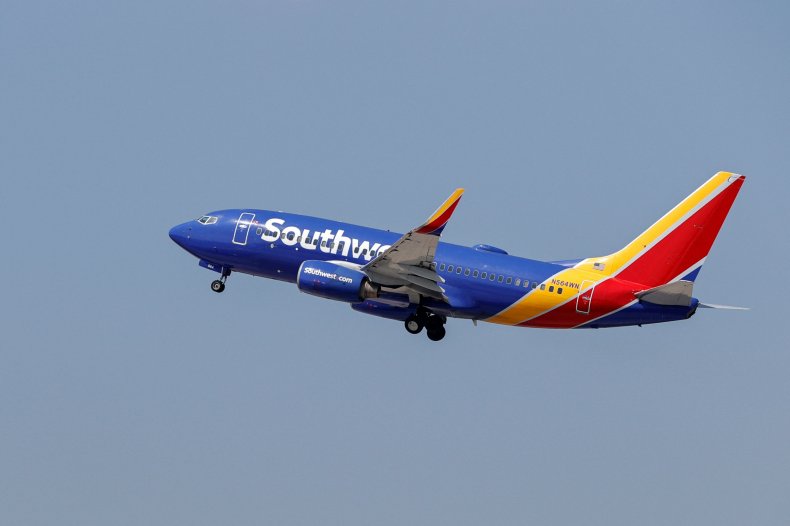 Newsweek reached out to Southwest Airlines for more information.