Bray Wyatt's Abby the Witch Appears Backstage at SmackDown Live
Another episode of WWE television, another appearance by one of Bray Wyatt's Firefly Fun House puppets.
On the July 2 episode of SmackDown Live, Abby the Witch appeared backstage while Apollo Crews was walking to gorilla position for his match with Andrade. The spooky pupper appeared to Apollo's left where it poked its head out.
Check out Abby the Witch appearing on SmackDown Live below.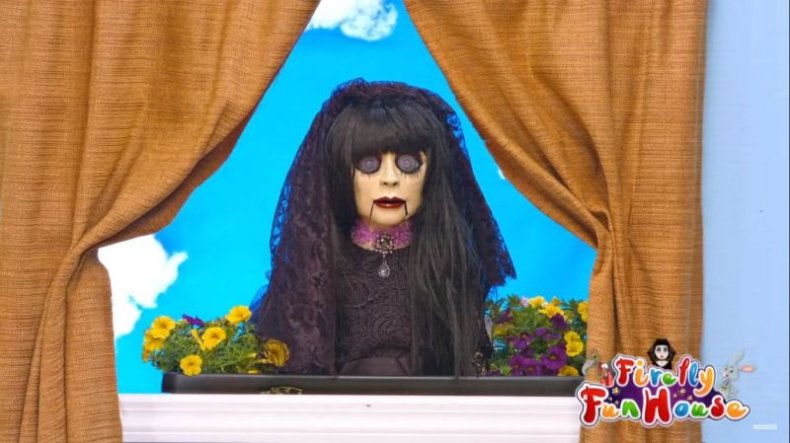 Abby's appearance on SmackDown Live comes a day after Mercy the Buzzard showed up on Monday Night RAW. Mercy would appear to the side of The Miz when he was walking to gorilla for his match with Elias. It seems that Ramblin' Rabbit nor Huskus the Pig didn't make cameos on this week's episodes.
Last week, two of Bray Wyatt's puppets appeared on RAW and two on SmackDown Live. Abby and Mercy both appeared on Monday Night RAW while Ramblin' Rabbit and Huskus popped up on SmackDown.
It's also interesting to see who the puppets appear next to backstage as it may give a clue as to when Bray Wyatt will finally enter the ring.
Miz has been visited twice so far, and is the only WWE superstar to get that treatment. This marks Apollo's first time having one of the puppets appear when they are on camera. Here's a rundown of who has one of the Firefly Fun House puppets appear with them.
Miz - Abby the Witch, Mercy the Buzzard
Apollo Crews - Abby the Witch
Kofi Kingston - Mercy the Buzzard
Daniel Bryan and Rowna - Huskus the Pig
Carmella, Mandy Rose and Sonya Deville - Ramblin' Rabbit
Another interesting tidbit from this week's episodes is how infrequent the puppets have shown up compared to last week. Only one puppet has been confirmed to have make cameos on both RAW and SmackDown this week. This could be signifying the official in-ring return of Bray Wyatt after weeks of his masterful Firefly Fun House segments.
The Firefly Fun House segments ended two weeks ago when "The Fiend" - Bray's alter ego - seemingly escaped from the children's show. While the man behind the mask has yet to arrive, it seems aspects of the Firefly Fun House are spilling into WWE television.
Bray Wyatt and his new revamped character made its debut on the April 22 episode of Monday Night RAW after weeks of video teases.
For nine weeks, a new episode of the Firefly Fun House aired introducing new characters like Mercy, Abby the Witch and even a "Devil" Vince McMahon puppet. It also gave nods to different points in Wyatt's career including his older gimmicks as well as past feuds.
What do you think of Bray's puppets appearing backstage? When do you think Wyatt will return? Let us know in the comments section below.