Bray Wyatt Debuts New Entrance and Song at SummerSlam
The highly-anticipated in-ring debut of Bray Wyatt's The Fiend happened at SummerSlam 2019 and it was as creepy as you would expect.
Wyatt went against Finn Balor on Sunday and took home the victory. While Balor got some offense in, the former Universal Champion was no match for the vicious Fiend. But while the match was short, Wyatt's entrance and new theme song will be the talk of the WWE Universe for days to come.
Check out Wyatt's entrance and new theme song below.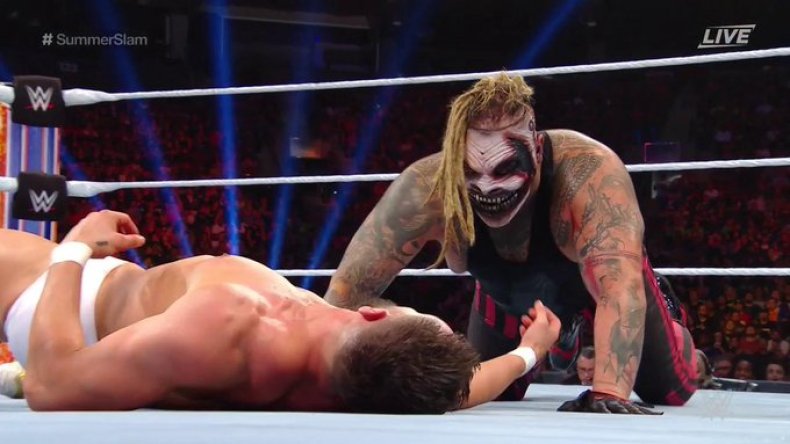 Some notable aspects of the entrance are the lanturn that The Fiend holds. It's shaped and looks like Wyatt's head in his old gimmick. The theme song is a remix of Wyatt's old music. The new song is written and performed by the band Code Orange. Fans of NXT may remember Code Orange for when they performed Aleister Black's entrance theme at NXT Takeover: Brooklyn in 2017.
The story behind Bray Wyatt and his new in-ring alter ego goes back to an April episode of Monday Night RAW. After weeks of video teases, Wyatt's revamped character made its debut in a series of vignettes called the Firefly Fun House.
For nine weeks, a new episode of the Firefly Fun House aired introducing new characters like Mercy, Abby the Witch and even a "Devil" Vince McMahon puppet. It also gave nods to different points in Wyatt's career including his older gimmicks as well as past feuds.
After the final episode of the Firefly Fun House, the puppets that appeared in the series would pop up backstage at Monday Night RAW and SmackDown Live. However, it wouldn't be until the July 15 episode of RAW that Wyatt would return outside of the Firefly Fun House. On this episode, Wyatt would attack Finn Balor setting up their eventual SummerSlam feud.
Finn Balor appeared on SmackDown Live to address Bray Wyatt's attack, and challenged The Fiend to a match at SummerSlam. The Fiend would accept.
Wyatt and Finn's SummerSlam match announcement comes a day after Bray attacked Mick Foley on the RAW Reunion show. In that episode of Monday Night RAW, Bray interrupted a speech from the WWE legend before appearing in the ring and taking him out with the Mandible Claw.
Bray Wyatt and Finn Balor feuded back in 2017. In the build, Wyatt supposedly unleashed the power of Sister Abigail and was set to take on Demon Balor at TLC that year. However, Bray Wyatt came down with a sickness that led to an impromptu match between Balor and AJ Styles.
Wyatt has used social media along with the Firefly Fun House segments to tease potential feuds by bringing up old stories with The SHIELD, The Rock and more. But it was this tweet after the attack on Finn that really shows Bray's motivation.
What did you think of The Fiend's entrance and theme song? Let us know in the comments section below.