Bray Wyatt's Firefly Fun House Shows More Psychotic Tendencies and a Possible Jab at a Former Star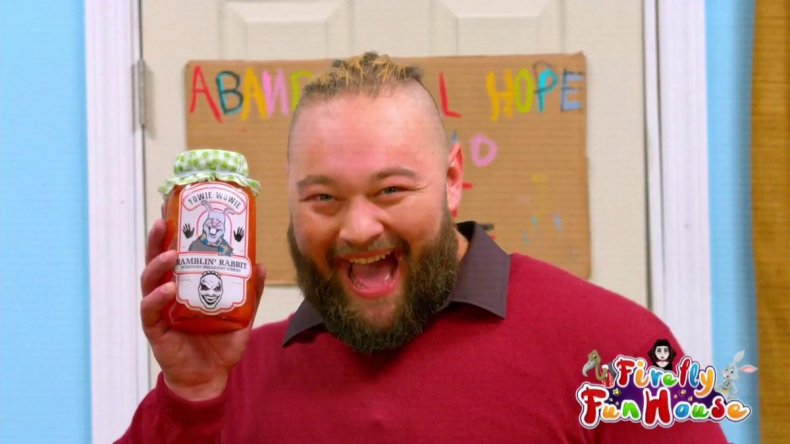 The eighth episode of Bray Wyatt's Firefly Fun House premiered on the June 10 episode of Monday Night RAW and showed more of Wyatt's insane tendencies.
The episode began with Wyatt appearing with a hammer and hard hat when he hears someone fighting. He sees Ramblin Rabbit and Mercy the Buzzard are fighting when he breaks it up and asks what's going on. Ramblin Rabbit says Mercy is trying to eat him again while Mercy says it's the law of the jungle.
Wyatt asks them if they want him to get The Fiend, which Ramblin Rabbit and Mercy respond by shaking in fear. Bray says he didn't think so, but puts his gloved hands - one saying hurt, the other saying heal - to his hears to decide what to do.
Check out the latest episode of Firefly Fun House below.
Bray tells Ramblin Rabbit that it's his lucky day and that he has the floor. Ramblin Rabbit starts to say that he's about to tell everyone what it's really like in the Fun House when Bray appears with a clown nose and some makeup and brandishing a giant hammer. He takes the hammer to Ramblin Rabbit and continues to smash the puppet until there's red jelly coming out. Bray tastes the jelly and says it's delicious. Wyatt then shills Ramblin Rabbit Breakfast Jelly to eat before he tells the audience that they just need to let him in.
One interesting part about this latest episode of Firefly Fun House is that fans believe Ramblin Rabbit about to "reveal the secrets of the Fun House" is a subtle jab at Jon Moxley, the former Dean Ambrose.
At the end of May, Moxley appeared on Chris Jericho's podcast to reveal why he decided to not re-sign with the company and how his creative was handled.
It's been eight weeks of these vignettes for Bray, but he has yet to appear in a ring since his tag team partner, Matt Hardy, was injured back in late 2018. His repackaging has done wonders for the wrestler as his Firefly Fun House segments are some of the most talked about parts of Monday Night RAW.
What did you think of the latest episode of Firefly Fun House? Let us know in the comments section below.
Bray Wyatt's Firefly Fun House Shows More Psychotic Tendencies and a Possible Jab at a Former Star | Sports