Bray Wyatt's Firefly Fun House Brings Back Devil Vince and Teases Possible Hell in a Cell Title Match
A new episode of the Firefly Fun House premiered on Monday Night RAW and it teases what's next for Bray Wyatt and "The Fiend" as well as mark the return of the Devil Vince puppet.
On the September 2 episode of RAW, Bray Wyatt appears in the Firefly Fun House and begins by apologizing to Finn Balor for what "The Fiend" did. But before he can continue, he's interrupted by the Devil Vince puppet.
The Vince puppet scolds Bray for challenging Seth Rollins or Braun Strowman at October's Hell in a Cell pay-per-view. If you haven't been following WWE news from last week, the Golden 1 Arena in Sacramento - where Hell in a Cell is taking place - put out an advertisement for the event that states The Fiend will challenge either Rollins or Strowman for the Universal Championship. This bit is referencing to that. Of course, "the card is subject to change" but it could be a sign of what's next for Wyatt.
Devil Vince continues to berate Bray and is about to fire him when Wyatt pulls out a wad of cash and shows him what he's been doing since he returned - make money. Vince is happy to see the cash and Bray even feeds the bills down the puppet's mouth causing the boss to leave.
Check out a portion of the latest episode of the Firefly Fun House below. We will update with a full upload when it is available.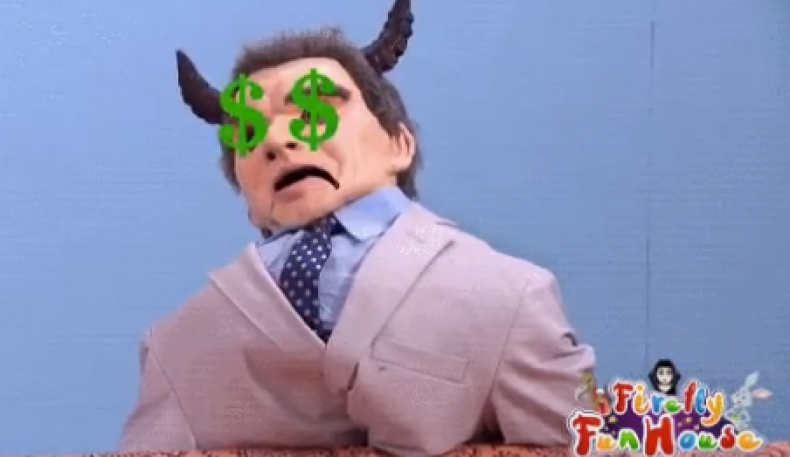 Once Vince leaves, Bray tells Seth and Braun that they don't know how to be a team because they are selfish. They also took something from Bray. Wyatt says that he knows how to be a part of a team as his puppets appear. He says that his friends have helped him cope with the pain, while The Fiend has helped Bray inflict it.
The episode ends with Bray saying "See you in hell" before waving goodbye.
Rollins and Strowman are scheduled to square off at Clash of Champions for the Universal Championship. The two superstars are also RAW Tag Team Champions, which they will have to defend at the pay-per-view against Dolph Ziggler and Robert Roode. Both competitors will be pulling double duty that night.
Clash of Champions will stream live Sunday, September 15 on the WWE Network.
What do you think of The Fiend challenging for the Universal Championship so soon? Let us know in the comments section below.