The puppets of Bray Wyatt's Firefly Fun House have begun appearing backstage at both Monday Night RAW and SmackDown Live.
Fans were treated to cameos from two of the characters during quick backstage shots on Monday Night RAW but it continued Tuesday. The first SmackDown Live cameo came when Daniel Bryan and Rowan were walking backstage to the ring for their match against Xavier Woods and Big E. Huskus the pig appeared briefly, which you can see below.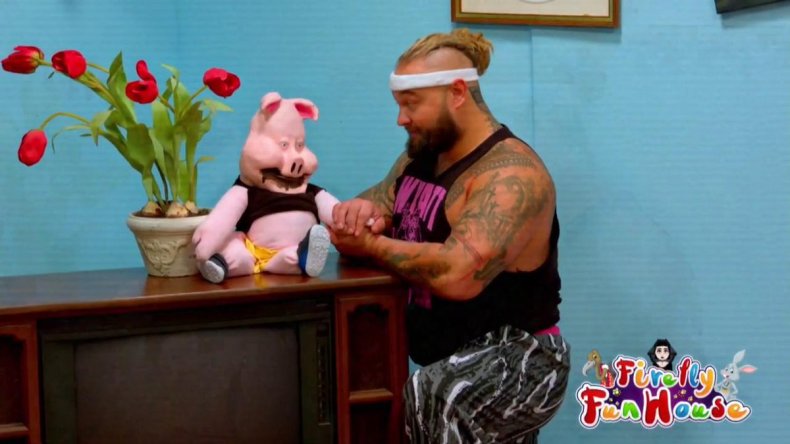 Later on in the evening, Ramblin' Rabbit shows up during the Carmella and R-Truth segment. It's a little hard to notice, but the puppet shows up just when Carmella crosses paths with Sonya Deville and Mandy Rose.
On Monday Night RAW, Abby the Witch appeared behind The Miz while Mercy the Buzzard showed up next to Kofi Kingston before his match with Sami Zayn.
This the first week in months without a new episode of Firefly Fun House but it seems that after teasing the escape of "The Fiend," the puppets are making their presence known backstage.
It would seem that they are getting ready for the return of Bray Wyatt. And it seems the "eater of worlds" is ready to finish what he started.
Bray Wyatt and his new revamped character made its debut on the April 22 episode of Monday Night RAW after weeks of video teases showing creepy dolls and vulture puppets. However, Bray's Firefly Fun House was nothing like anyone expected.
Instead of the creepy, cult leader character Wyatt transformed into a children's show host in the same vein of Mr. Rogers Neighborhood and Sesame Street. While Wyatt looked innocent enough, there was something ominous beneath the surface.
For nine weeks, a new episode of the Firefly Fun House aired introducing new characters like Mercy the Buzzard, Abby the Witch and even a "Devil" Vince McMahon puppet. The Fun House was a representation of Wyatt's mind with the many characters he's portrayed over the years. The episodes even mention past moments in Bray's WWE history like when Randy Orton burned down the Wyatt Family Compound and their eventual WrestleMania bout where Wyatt put images of worms in the ring.
What do you think of the puppets appearing backstage? When do you think we'll see Bray? Let us know in the comments section below.
Uncommon Knowledge
Newsweek is committed to challenging conventional wisdom and finding connections in the search for common ground.
Newsweek is committed to challenging conventional wisdom and finding connections in the search for common ground.
About the writer
Phillip Martinez is a game and culture reporter for Newsweek. Prior to joining Newsweek in 2018, he was a reporter and editor for iDigitalTimes and Player.One. A Bronx native, he graduated with his Bachelor's degree in Journalism from St. John's University in 2010. An avid Nintendo fan and wrestling mark, he's always looking to become a Pokémon Master while fantasy booking this year's WrestleMania. You can contact him at p.martinez@newsweek.com