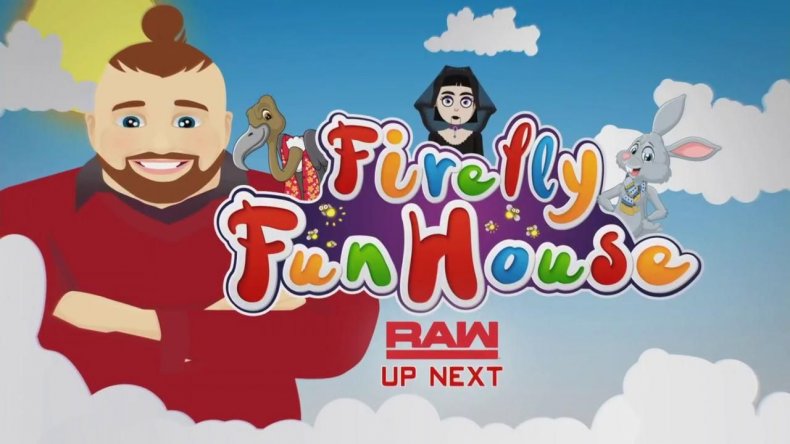 The latest episode of Bray Wyatt's Firefly Fun House is a much shorter installment than past weeks, but continued the creepy trend.
On the May 20 episode of Monday Night RAW, Wyatt's Firefly Fun House premiered the show's theme song filled with introductory slides for Abby the Witch, Mercy the Buzzard, Rambling Rabbit and Bray Wyatt himself.
Cut in between them are children who look happy playing before they shift to being upset with "Let Him In" appearing on the kids' foreheads, shirts and more. The segment ends with Bray Wyatt in his new mask, appears and says "Let me in."
Check out a clip from this week's latest Firefly Fun House and we'll update with the official upload when it arrives.
This is the fifth week of Firefly Fun House and after last week's revealof Wyatt's true dark nature, it's easy to see how this time there wouldn't be a lot to see. This is especially true considering Bray and Jojo Offerman bringing their son into the world over the weekend.
The WWE Universe is still wondering when Bray Wyatt will return to in-ring action, but now that MITB is in the rearview it's only a matter of time.
After being off television after his tag team partner, Broken Matt Hardy left due to injury Wyatt has come back with a fresh take on his character that incorporates parts of his past gimmick into something new.
Bray Wyatt made his long-awaited return to the WWE a few weeks back. The first episode became the number one trending topic on Monday night and gave the WWE Universe a peek at Bray's new character. While Wyatt's new character and show is akin to children's shows like Mister Rogers' Neighborhood and Blue's Clues , there's still something sinister beneath the surface - which we would see.
What do you think of this short installment of Firefly Fun House? When do you think Bray will return to the ring? Let us know in the comments section below.
About the writer
Phillip Martinez is a game and culture reporter for Newsweek. Prior to joining Newsweek in 2018, he was a reporter and editor for iDigitalTimes and Player.One. A Bronx native, he graduated with his Bachelor's degree in Journalism from St. John's University in 2010. An avid Nintendo fan and wrestling mark, he's always looking to become a Pokémon Master while fantasy booking this year's WrestleMania. You can contact him at p.martinez@newsweek.com