Bray Wyatt's Firefly Fun House Introduces Rambling Rabbit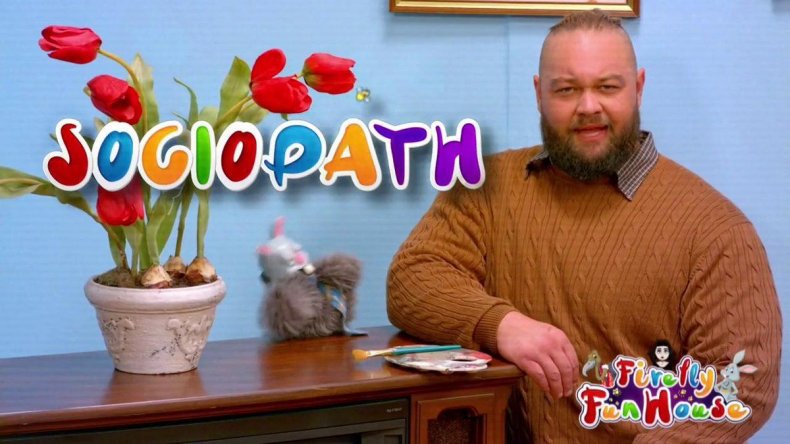 The second episode of Bray Wyatt's weird - yet intriguing - Firefly Fun House aired on Monday Night RAW and introduced a brand new character to the cast.
After the introduction of Abby the Witch and Mercy the Buzzard, Rambling Rabbit made its debut as Bray's friend. Check out Firefly Fun House episode 2 below.
The episode starts with Wyatt explaining how much he likes painting because it gives him an opportunity to express his true feelings. Rambling Rabbit appears and talks to Bray. Wyatt shows off his painting and it's of a shed up in flames. If you look closely, you can see Abby the Witch in one of the windows.
This is of course a reference to when Randy Orton burned down the Wyatt Compound, and releasing the soul of Sister Abigail.
Abby the Witch wakes up and scolds Wyatt for being too loud. Bray apologizes for being bad last week and wants forgiveness. Abby accepts the apology and goes back to sleep allowing for Bray and Rambling Rabbit to walk away. Bray explains to Rambling Rabbit that Abby is a sociopath, which happens to be the word of the day.
Bray proceeds to spell sociopath before telling audience that they just need to invite him in. He waves goodbye, which ends the episode.
Last week, Bray Wyatt made his long-awaited return to the WWE in the first episode of Firefly Fun House. The first episode became the number one trending topic on Monday night and showed the WWE Universe a peek at Bray's new character. While Wyatt's new character and show is akin to children's shows like Mister Rogers' Neighborhood and Blue's Clues, there's still something sinister beneath the surface.
It's unclear when Bray will return to the ring, but fans can expect a continuation of the Firefly Fun House series until he does.
What did you think of the second episode of Firefly Fun House? Which of the three characters is your favorite? Let us know in the comments section below.