Bray Wyatt's Firefly Fun House Introduces "The Fiend"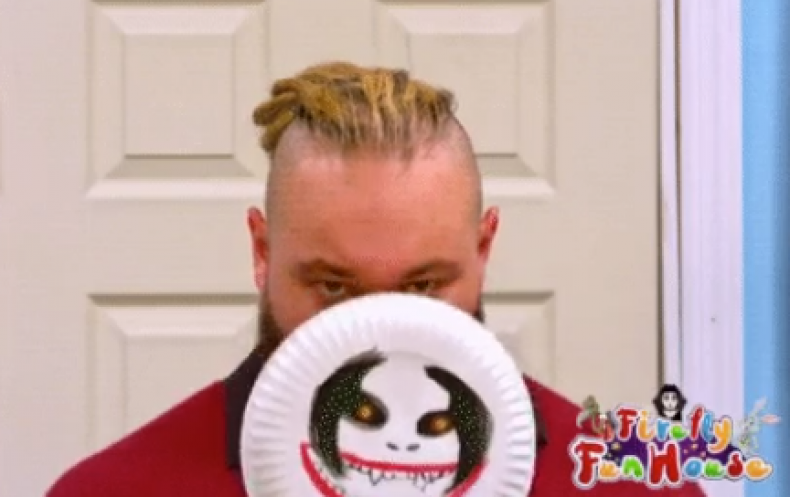 On the May 27 episode of Monday Night RAW, the latest installment of Bray Wyatt's Firefly Fun House premiered introducing "The Fiend" to the WWE Universe.
Check out the latest episode of Firefly Fun House below.
The new episode of Firefly Fun House starts with Bray with a white paper plate in front of his face. The plate has a rough drawing of the clown mask from two episodes ago.
Bray asks if the viewers liked his secret. He says that the man in the clown mask is called "The Fiend" and that sometimes he feels scared. Bray says that when he puts on the mask, he can be anything he wants to be. Abby says that she doesn't know what Bray is talking about, she says
She asks if he's a doctor now. Bray thinks about it and then dresses up as a doctor. Bray says his diagnosis
Abby asks why Bray won't let her rest. She is tired of being stuck in Limbo. That leads to two kids in sombreros take out a pole for Bray to play limbo with. He does his backwards crab crawl under the pole and says that the fireflies just need to let him in with a serious face.
The WWE Universe is still wondering when Bray Wyatt will return to in-ring action, but now that MITB is in the rearview it's only a matter of time.
After being off television after his tag team partner, Broken Matt Hardy left due to injury Wyatt has come back with a fresh take on his character that incorporates parts of his past gimmick.
Bray Wyatt made his long-awaited return to the WWE a few weeks back with the first episode of the Firefly Fun House. The first episode became the number one trending topic on Monday night and gave the WWE Universe a peek at Bray's new character. While Wyatt's new character and show is akin to children's shows like Mister Rogers' Neighborhood and Blue's Clues, there's still something sinister beneath the surface - which we would see when he debuted the creepy clown mask.
What do you think of this short installment of Firefly Fun House? When do you think Bray will return to the ring? Let us know in the comments section below.