Bray Wyatt Responds to Seth Rollins After Firefly Fun House is Destroyed
Monday Night RAW ended with Seth Rollins burning down Bray Wyatt's Firefly Fun House.
It was a pivotal moment in the feud between the Universal Champion and Wyatt, but a lot happened once RAW went off the air.There were responses from both sides, as well as a dark match that the crowd in Denver, Colorado got to enjoy.
First, there was Seth Rollins, who took to Twitter to explain his actions to his followers. He said, "what choice did I have?" in reference to him finding and burning Bray's Firefly Fun House. This prompted Bray to respond to his own followers in a series of tweets.
The first was to inform the masses that Ramblin' Rabbit was lost in the fire started by Seth Rollins. Of course, Ramblin' Rabbit seemingly met his demise on several occasions to just return the next week so it's unlikely the puppet is actually gone.
But his next tweet is interesting. Bray asks Rollins how did he find "it?" It being the Fun House and then asked if Rollins was dead.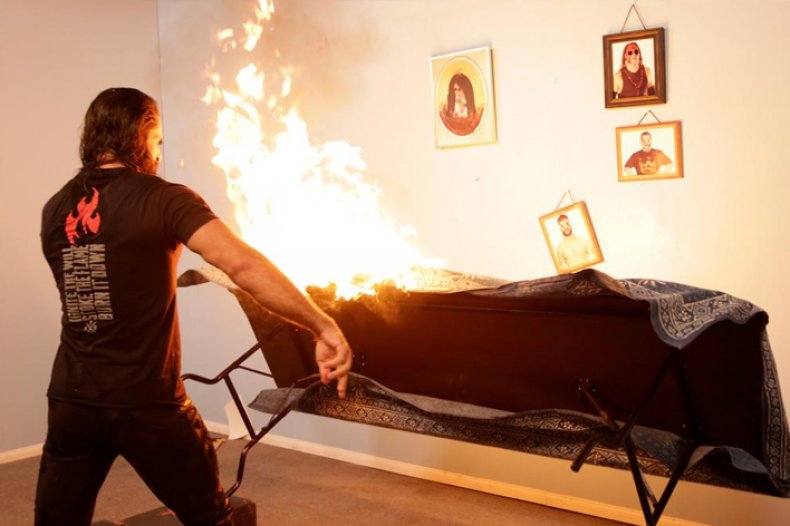 There have been rumors and plenty of speculation following the closing segment of RAW. Many believe that Rollins only found the Fun House because "The Fiend" let him in. Others are interpreting Bray's "dead" comment that Rollins has become dead inside and may start turning back to his heel persona.
Some more evidence of this was a dark match that followed Monday Night RAW between Rollins and Wyatt. Rollins won via disqualification after "The Fiend" put the Mandible Claw on the referee. Following the bell, Bray gets the better of Rollins putting him in the Mandible Claw also.
Its seems the WWE is determined to bathe the ring in red light for "The Fiend's" matches just like at Hell in a Cell. That match ended in controversy when the referee stopped the bout after Rollins hit Wyatt with a Sledgehammer. In a Hell in a Cell match, there is no disqualifications and usually no stoppages but this was the second year in a row the Hell in a Cell pay-per-view ended in this fashion.
Wyatt and Rollins are set for a rematch at this month's Crown Jewel event in Saudi Arabia. Rollins will put his Universal Championship on the line in a Falls Count Anywhere match.
What did you think of the closing segment of this week's RAW? Who do you think will win Rollins and Wyatt's match at Crown Jewel? Let us know in the comments section.