Bray Wyatt Returns With a Seemingly New Character in Firefly Fun House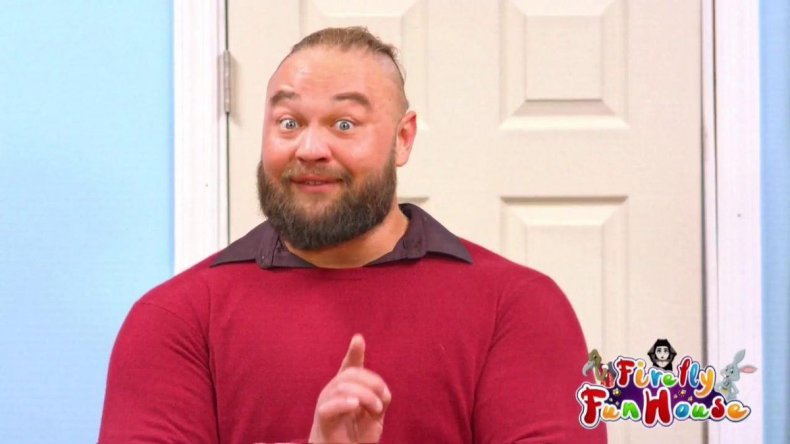 After weeks of creepy vignettes featuring vulture puppets and spooky dolls, WWE finally revealed who was behind the videos and it's a returning Bray Wyatt but he's unlike what he was before.
In a special video segment featuring Wyatt, Bray welcomes the WWE Universe to the Firefly Funhouse a parody of children's television shows like Pee Wee's Playhouse and Mr. Roger's Neighborhood.
Take a look at the full segment of Bray's return to Monday Night RAW below.
During the video vignette Wyatt introduces the WWE Universe to Mercy the Buzzard and Abby the doll. Abby is obviously a reference to Sister Abigail, a supposed demonic presence who Bray and the Wyatt Family have followed for years.
But is Bray's Firefly Funhouse as good as it seems? There's a part where Bray is hiding his face behind his gloved hands that say "Hurt" and "Heal." He also mentions his old gimmick and takes a chainsaw to a cardboard cutout of it.
Whatever this new direction in Bray's character is, the WWE Universe is intrigued as Bray Wyatt became the number one trend on Twitter after the segment aired.
Bray Wyatt was last seen as part of a tag team with "Broken" Matt Hardy. He and Hardy were feuding before having their much-lauded "Ultimate Deletion."
Hardy would eventually win their feud and Wyatt would return at WrestleMania 34's Andre the Giant Battle Royal to help Matt win. This is where the two wrestlers started to team as the Deleter of Worlds.
Matt's real life injury forced the team to split after dropping the RAW Tag Team Championships to the B-Team and Wyatt was put off television until now.
What do you think of Bray's new gimmick? Do you think he'll revert back to his cult leader self? Let us know your thoughts in the comments section below.