Bray Wyatt's Firefly Fun House Episode 3 Brings Creepy Children Into the Mix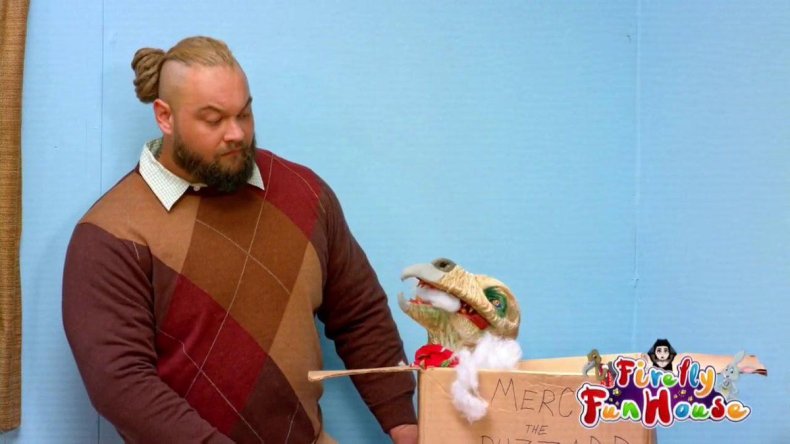 The latest episode of Bray Wyatt's Firefly Fun House aired on Monday Night RAW and it saw the end of one character introduced in these series of WWE vignettes.
Just one week after being introduced to Ramblin' Rabbit, it seems our fuzzy puppet friend has made his end at the beak of Mercy the Buzzard. Take a look at episode three of Bray Wyatt's Firefly Fun House below.
This episode of Firefly Fun House begins with Bray Wyatt entering when he sees Mercy the Buzzard eating something. Clearly whatever Mercy was eating it was stuffed with cotton. Wyatt tries to see what it is but Mercy snaps at him. Bray eventually pulls it away to reveal it's Ramblin' Rabbit split in two.
Abby starts to berate Mercy but Bray says that he can be forgiven just like he was for his past sins.
It's then time for the creepiest part of the episode when Bray says that it's time for a picnic with his fireflies. The camera zooms out to show small children sitting with blank looks on their faces. Bray kneels down next to them and waves goodbye to the WWE Universe.
This is the third week since Bray Wyatt made his long-awaited return to the WWE. The first episode became the number one trending topic on Monday night and gave the WWE Universe a peek at Bray's new character. While Wyatt's new character and show is akin to children's shows like Mister Rogers' Neighborhood and Blue's Clues , there's still something sinister beneath the surface.
It's unclear when Bray will return to the ring, but fans can expect a continuation of the Firefly Fun House series until he does.
In the meantime, Wyatt took to Twitter to tease a hidden message in his old promos that fans have started to try and decipher. He's even giving hints and will reveal the answer next week when a new episode is set to premiere.
What did you think of the third episode of Bray's Firefly Fun House? What is your best guess for his cryptic clues? Let us know in the comments section below.