Bray Wyatt's Latest Firefly Fun House Introduces a New Puppet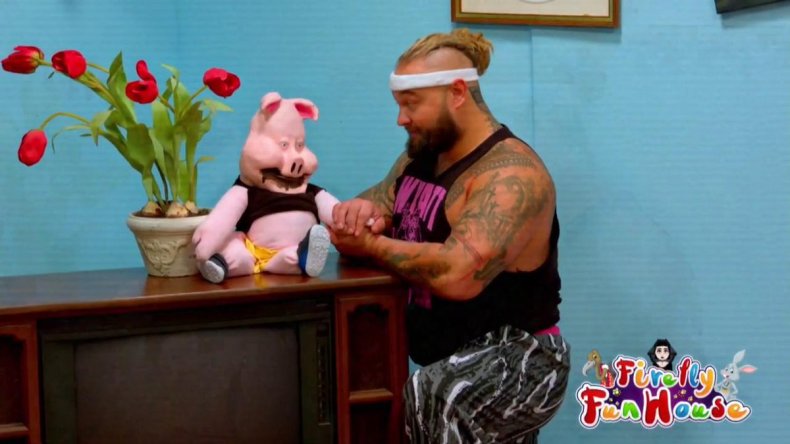 The latest episode of Bray Wyatt's Firefly Fun House is a "very special" one and gave viewers of Monday Night RAW some...interesting visuals to take in.
An official upload of the latest episode of Firefly Fun House has finally been released. Check it out below.
This week's Firefly Fun House began with Wyatt dressed in a Wyatt Gym shirt, sweatband and shorts and he has a super serious topic to talk about. He wants to talk about exercise.
A new puppet is introduced, a pig eating chocolate. Wyatt walks over to Huskus the Pig Boy and tells him that all the gluttony will bite him in the tail. But Huskus shouldn't worry because one day he'll be great, be called a genius and people will say he will have the whole world in his hands.
Another puppet shows up - one that looks a lot like Vince McMahon with devil horns - and says that Huskus and Wyatt need to get their act together or they are fired. Wyatt tells the Vince puppet that they will and an exercise montage begins.
Ramblin' Rabbit appears playing the keyboard as Huskus and Bray start to exercise. Abby the Witch doesn't look particularly happy and there's a quick cut of a serious Wyatt who says "erase your mind" as images of his evil alter-ego, The Fiend appears behind him.
Once the montage is over, Huskus says he feels better already. Wyatt ends the episode saying he will always light way, all you have to do is let him in.
Fans of Wyatt may recognize that Huskus the Pig Boy is likely a representation of Husky Harris, Bray's first gimmick when he was a part of NXT in early 2010 but would be eliminated from the promotion. Back then, NXT was more of a reality show than what fans have come to know.
Later that year, Harris would appear as part of the Nexus faction but it wouldn't be until 2012 when he would be repackaged as Bray Wyatt.
What did you think of the latest Firefly Fun House? When do you think Bray will wrestle? Let us know in the comments section below.